Char's Chopsticks: Peggy Sue's in Maui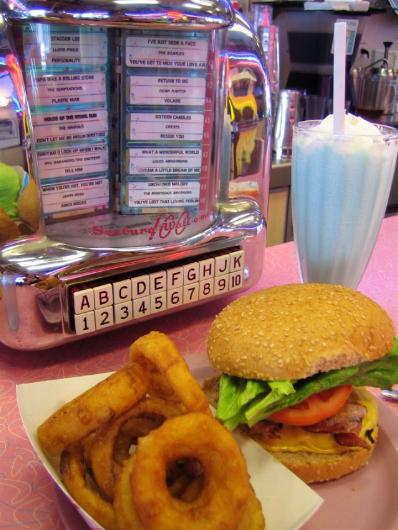 One of my favorite Maui restaurants in Kihei is Peggy Sue's, a '50s-style diner.
Unlike most people my age, I love the 1950s even though I was born several decades later. I've always enjoyed listening to Elvis Presley and wished I owned a poodle skirt. Sometimes I wonder if I was born in the wrong era.
Walking into Peggy Sue's felt as if I traveled back in time. The restaurant's walls were decorated with posters of Elvis Presley, Marilyn Monroe and Buddy Holly. Mini jukeboxes sat on each table, while music of the '50s played from the bigger jukebox. It reminded me of Frost Palace in the movie Grease.
Since it was quite crowded at lunchtime, I settled for a counter seat instead of a booth. As I looked over the menu, I was torn between ordering the Hunka-Hunka Burning Steak and the Big Bopper (a huge bacon cheeseburger). I chose the latter with a side order of onion rings. I also ordered my favorite: a Blue Hawaiian milkshake made with Maui's Roselani ice cream—one of the best milkshakes I've had in Hawaii.
While I waited for my meal to arrive, I threw a few quarters into the jukebox. My picks: Elvis and the Shirelles. I also talked to Marnie and Mallory (pictured left), who often sang along to the music. To my amazement, this restaurant's been around for 15 years.
I was happy when my food arrived. It was just as I remembered it. I may have missed out on the '50s, but I'm glad I didn't miss out on this burger-and-shake joint.