Cheap and easy Hawaii-related Halloween costumes
You can make these DIY Halloween costumes for $20 or less.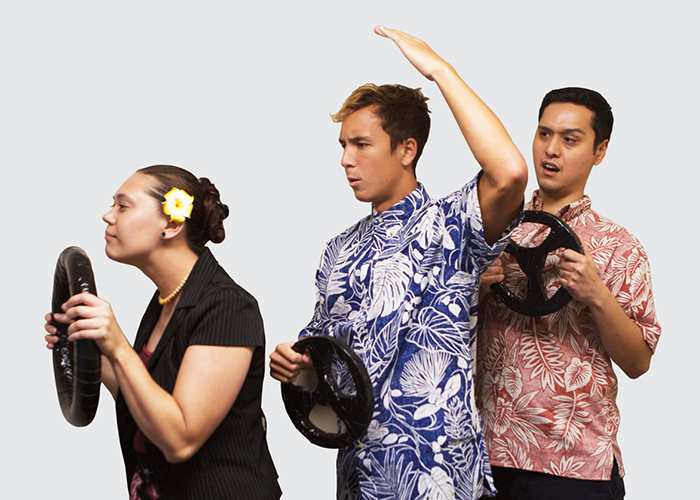 Halloween's making its yearly visit once more, and you know what that means. It's time for you to dig through your closet and scramble together some sort of a costume, because whether you're walking the Waikiki strip or having a small costume party with friends, Halloween is better enjoyed if you're dressed in a spooky guise. Here are a few cheap and easy DIY Halloween costumes that'll have your friends quaking in their slippahs—or you might just get them hungry.
4 p.m. Honolulu Traffic Jam
What you're going to need:
At least two willing participants
Business attire
Three round foam disks or craft foam wreath base
Black Duct Tape
Everyone who's driven the Interstate H-1 during prime time traffic has thought, "This track of asphalt is my new home, I live here now." To recreate this hopeless feeling, grab two willing participants and dress down in business casual attire. Aloha shirts, muumuu (gown) or cardigans will suffice. Wrap up your three, round foam disks in black Duct Tape to mimic steering wheels. Now here's the fun part: stand in a tight line and stop moving. To complete the look, act angry or annoyed at your current situation. For inspiration, think about roadwork, people cutting into lanes at the last second, really slow, oblivious drivers or the mysterious and unexplained 11:30 a.m. traffic jam.
Estimated cost: $15
Spam Musubi
What you're going to need:
A large piece of upholstery foam (used for seat cushions)
One yard of pink or red felt
Large black trash bag
White pants and shirt from your closet
Cover your piece of upholstery foam with pink or red felt. This will be your piece of Spam. Attach the Spam to your back by wrapping the large black trash bag around your body, which doubles as nori (seaweed). Have a friend help you get your Spam as tight as possible. Your white attire will serve as the rice and voila, you're everybody's favorite 7-Eleven snack.
Estimated cost: $12
The Pineapple
What you're going to need:
A yellow shirt from your closet
Paper or Styrofoam cup from your kitchen
Three to four sheets (8.5 x 11) of green craft foam
Black duct tape
String or rubber band
The cheapest option on our list, this costume probably won't scare anyone unless they were traumatized by getting lost in the Dole Plantation pineapple maze. Simply take your green foam and cut it into 15 or so leaves. Flip your cup over and glue or staple the leaves to the cup, working your way down until it is fully covered with green leaves. Attach a string or rubber band to each side of the cup. Now, cut your black duct tape into 10 little V's and stick them onto your yellow shirt, right side up. If you're feeling extra pineapple-y, make a pineapple jack-o'-lantern to accompany you.
Estimated cost: $7
Spilled Shave Ice
What you're going to need:
A piece (8.5 x 11) of white craft foam
Two or three rainbow tutus (from Halloween costume departments)
Two rubber bands or string
A sense of humor
The horror! The humanity! After waiting in the mile-long line to get a rainbow shave ice from Matsumoto's Shave Ice, that paper cone slipped out of your hand and now it's fallen to the dirty Haleiwa ground. Like a crime scene, your poor shave ice has its own chalk outline, except it's green, red and blue. To reenact this tragedy, fold and glue your white craft foam into a cone. Attach a rubber band onto both sides and wear it as a hat. Wear your tutus above the waist to finish the look of a rainbow shave ice. Be sure to look pouty, or, if you're willing to go the extra mile, lie on the floor and sob gently.
Estimated cost: $20