Christmas trees in Hawaii signal the holidays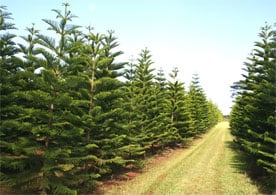 For Hawaii residents like myself, the start of the Hawaii holiday season is marked by one thing— the sight of tightly wound Christmas trees by the boatload.
The first large cargo of Noble, Douglas, Grand and Norman firs arrived at Honolulu Harbor last Saturday, straight from the shores of the Pacific Northwest. Matson Navigation Co. expects to bring more than 100,000 trees to Oahu where they will be distributed to local supermarkets, shopping outlets and throughout the neighbor islands.
By weekend's end, agriculture inspectors had gone through half of the more than 100 containers, searching for invasive alien species. No easy task considering each container holds about 300 trees.
But those aren't the only Christmas trees on Hawaii. The Norfolk Pine (pictured here at central Oahu's Helemano Farms) is Hawaii's native alternative—a unique confier that grows throughout the South Pacific.
We featured the Norfolk Pine and other Island Holiday Traditions in last year's Nov/Dec issue of HAWAII Magazine. Click here to order a copy and read it for yourself.
The Norfolk may not resemble the tree standing in Rockefeller Center or in the Charlie Brown Christmas special, but there is some history behind it. For years now, a 50 plus-foot Norfolk was the centerpiece of the annual Honolulu City Lights celebration.
And did we mention their needles don't fall off either? Always a plus in our books.
Whether you're pro-Norfolk or not, the holidays are upon us, and there's not a snowflake in sight.