Cinnamon's and Lucky Belly: Two restaurants serving comfort food classics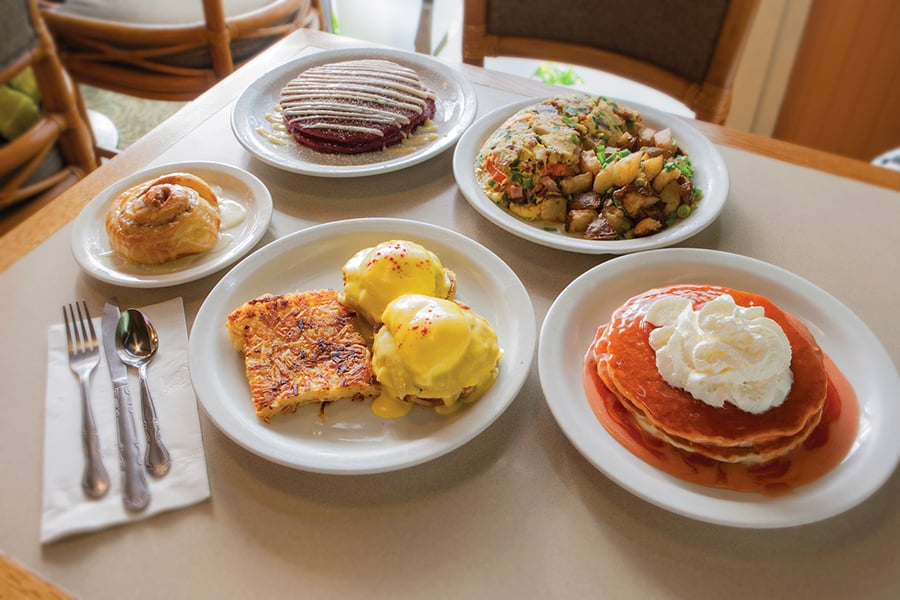 These Oahu restaurants may not be offering traditional Hawaiian dishes, but the people who own them show the versatility and ingenuity of kanaka maoli (Native Hawaiians) in the dining industry, all while filling our opu (stomachs) with delicious food.
CINNAMON'S
Tucked into an office building in Kailua, Oahu, Cinnamon's gathers flocks of locals and visitors for island-inspired versions of brunch standards. In the mood for pancakes? Go classic or try the guava chiffon or red velvet for a unique take. Looking for something heartier? Try the eggs Benedict or, for a local twist, order the kalua pig rendition. Those just scratch the surface. The omelets, skillet breakfasts and cinnamon rolls all hold their own. Cinnamon's is a true local brunch staple.
Behind the world-famous Cinnamon's, though, is a proud Native Hawaiian family. The Nam ohana (family) opened the restaurant in 1985 and the eatery is imbued with Hawaiian style. From employee manuals with a section on the company's devotion to Hawaii, to the local art and cultural implements that fill the recently renovated restaurant, diners are sure to feel like ohana, too.
Owners' favorite dishes: Puna chooses the crab-cake Benedict with home fries and three pieces of crunchy bacon on the side; Cricket chooses the guava chiffon pancakes.
Multiple locations, cinnamons808.com.
LUCKY BELLY
At the end of hip Hotel Street in the middle of Chinatown is a bistro-style restaurant serving up some of the best bowls of ramen in Honolulu.
Lucky Belly owners Grable, 30, and Jesse Cruz, 36, relied on the location, their experience with food and beverage and their knowledge of Oahu's unique food scene to realize their dream of opening a restaurant. What they came up with was local Asian comfort food: Pork belly bao (steamed buns), shrimp gyoza, lamb lumpia, lobster shumai (dumplings) and their staple item, ramen.
Lucky Belly, a popular lunch spot, is made even more unique by craft cocktails, a constantly curated wine list and an ever-expanding whiskey and sake selection that transform the restaurant into a hip dinner joint at night. At the heart of the restaurant is a focus on each diner's experience. Lucky Belly is committed to delivering delicious food and drink with genuine hospitality to every patron. The attention to every detail of the diner's experience—and the giant, tasty bowls of ramen—will bring you back time and again.
Owner Dusty Grable's favorite dish: Oxtail dumplings (served only at dinner).
Open Monday through Saturday, 11 a.m. to 2 p.m., 5 p.m. to midnight, 50 N. Hotel St., Chinatown, Oahu. (808) 531-1888, luckybelly.com.