Colbie Caillat shows Kauai roots in "Little Things" video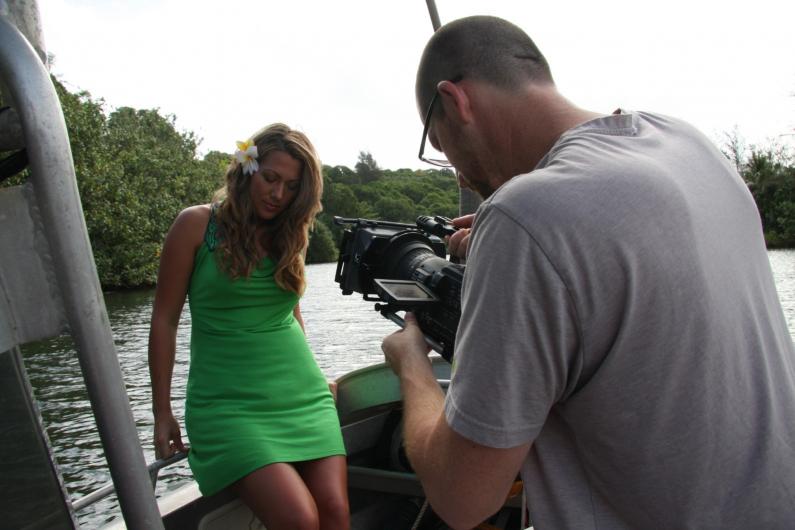 For the March/April 2009 issue of HAWAII Magazine, I caught up with singer-songwriters Colbie Caillat and Jason Mraz to discuss music videos each filmed in Hawaii last year with veteran music video director Darren Doane. In our print edition, Mraz and Caillat talk about why they wanted to film videos for their hits "I'm Yours" and "The Little Things" on Oahu and Kauai—turns out both musicians, and Doane, had some history in the Islands prior to the shoots. Here on HawaiiMagazine.com, we're featuring the trio sharing behind the scenes stories from the video shoots, which you can read while watching corresponding scenes in the videos.
In this, our first of two Web posts, Caillat and Doane talk about filming in the tranquil Kauai north shore towns of Kilauea and Hanalei—which Caillat, in HAWAII Magazine, describes as "her second home" since age 11. The video for "The Little Things" was modeled on Caillat's memories of a typical Kauai summer day when she was 18.
The time in parentheses in the text corresponds to the point in the video Caillat and Doane are discussing. You can view the video at the end of the post. Click twice on the video frame to enlarge the video.
Hanalei Bridge and taro fields (0:22)
In the video's opening scenes, Caillat rides a bike over single-lane Hanalei Bridge, past the picturesque taro fields of Hanalei Valley. It's the same route she regularly took to her real summer job.

Caillat: "The bridge is a landmark on Kauai's north shore. When we stayed in Princeville or Kilauea and I'd have to drive to work, we'd always have to go over the bridge into Hanalei. That was the route every day. Depending on how hard it's raining, they sometimes close the bridge.You can't get past and you can get stuck on either side."
Hanalei town (0:40)
Caillat bicycles shyly past the home of a surfer dude her video self has a crush on. The location is a residential neighborhood in Hanalei.
Doane: "I wanted a street Colbie could ride down, look at the house, make a sharp right turn after she sees the surfer guy and just cut out of there."
Caillat: "We'd always drive, ride bikes or walk through town. We'd just cruise the neighborhood every time we'd go to the beach in Hanalei."
Doane: "The house she's looking at photographed great. It was the kind of house where we could put a couple of surfboards and towels on the deck. The kind of house where you might have three surfer guys hanging out."
Caillat: "It's really a cute neighborhood, and you have to drive through it to get to the beach. One of the (other) houses I'm riding by is a friend's house."
Bubba Burgers (1:04)
Caillat arrives at Hanalei landmark eatery Bubba Burgers, where she once worked summers as a teenager.
Caillat: "I worked there just one summer. But then every time I would go back, I'd always get talked into taking up a couple of shifts because someone wanted my help or something like that."
Doane: "Everyone that works at Bubba's is in the video, just doing their thing … everyone that runs it, and all the cooks. We shot in the morning since they didn't open until 12:30 that day."
Caillat: "They had to open a bit late because we extended (the shoot) a little. The owners are the people I stay with every time that I go to Kauai, so it was fine. They were stoked on it."
Doane: "Once they opened, we took a lunch break and we all got to eat Bubba Burgers. Man, they really are some of the best burgers I've ever had! Just fantastic!"
Caillat: "I did the exact same stuff I did when I worked there. I was window. My friends were at the grill. You put the little order ticket up on the clothesline and you throw it. If someone puts a tip in the tip jar, you have to ding a bell and sing a song."
Hanalei Pier (2:06)
Caillat and her friends drive to the much-photographed landmark on Hanalei Bay. The pier—which her and her friends would jump from to wade in the water—was one of Caillat's regular hangouts as a teenager.
Caillat: "This is my favorite place. I love the view of Hanalei Bay at sunset. It's just so gorgeous."
Doane: "The day we filmed was a perfect day. The weather was great. We let Colbie just have fun and do what she normally did."
Caillat: "Every time my friends and I would get off from work, we'd walk to the pier, jump off, swim back, get our exercise and have fun. All of the girls in the video are my best girlfriends that I've known forever. Some of them had been to Kauai, and some of them hadn't."
Doane: "They all got to just go in the water and have fun for an hour."
Kilauea Falls (2:32)
Caillat and her friends next take a dip at the remote waterfall near Kilauea. Getting there isn't as easy as it looks in the video.
Caillat: "The falls are actually on private property so most people don't know about it."
Doane: "But people hike there all the time."
Caillat: "It's a kind of gnarly hike down to it. It takes about 45 minutes to hike to it and it's all downhill. So when you have to go back up, it's hard. We hiked down there with the entire crew, filmed and walked back up."
Doane: "It's just breathtaking, though. Big enough to really blow your mind, but not too big where you can't take it all in. When you walk up to it, you're, like, 'Wow! That's what a waterfall should look like."
Caillat: "It's the most ridiculous waterfall."
Backyard barbecue (3:15)
Caillat's video self finally summons up the nerve to talk to the surfer guy at a backyard party.
Caillat: "The house belonged to a friend of Mindy (Smith), who owns Bubba Burgers (in Hanalei). We asked if we could shoot there, and he said, 'Yes.' He had these really cool surfboards, and it's just a really cute backyard. And it was right there in Hanalei."
Check out part two of this post: Jason Mraz and director Darren Doane share behind-the-scenes stories from the "I'm Yours" video shoots on Oahu and Kauai. Click here for the post, and the video!
The March/April 2009 issue of HAWAII Magazine can be found in bookstores and on newsstands nationwide, or in a digital edition you can download here.