Contest at Pearl Harbor's Battleship Missouri Memorial reenacts WWII "Victory Kiss"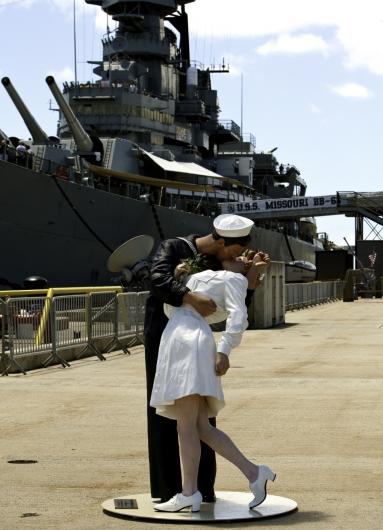 The iconic Victory Kiss photograph was snapped on Aug. 14, 1945 in New York City's Times Square, as President Harry S. Truman announced of the end of the war with Japan.
The black-and-white image captures an embrace between an uninhibited sailor and a nurse dressed in white. With one arm, the sailor has apparently grabbed the nurse about her waist. And with the other, he dips her into a slight back arch while planting his lips on hers.
According to Life magazine, which published the photograph a week later, the kiss was purely spontaneous. The photographer, Alfred Eisenstaedt, didn't have opportunity to get the names of the sailor and the nurse before New York's Broadway area was flooded with revelers.
Starting today, couples visiting the Battleship Missouri Memorial at Pearl Harbor on Oahu will be invited to enter the Victory Kiss Contest through which they'll reenact the famous smooch in front a 6-foot sculpture of the embracing nurse and sailor titled Unconditional Surrender. The artwork is on loan from The Sculpture Foundation.
Wanna enter the kissing contest? If so, be sure to give the photographer your name before dashing off. Why? The contest's grand prize: roundtrip airfare for two between Hawaii and U.S. Mainland cities served by Hawaiian Airlines. Plus, the winners will get hotel accommodations for two nights at Waikiki Beach Marriott Resort and Spa. Prizes for runners-up include Battleship Missouri Memorial Victory Store gift certificates and Fandango gift certificates.


Contest photos will be posted on the Battleship Missouri Memorial Facebook page, where the public can vote by "liking" the photo of their choice. The contest will wrap up on Oct. 30, and the voting will end on Sun., Nov. 6. The top 10 finalists will be couples who score the most "likes" with their kissing photo. Contest officials encourage the public to revisit the Facebook page each week to vote for their favorites. On Nov. 11, the finalists will be entered into a random drawing for the grand prize.
On Sept. 2, 1945, Supreme Allied Commander Gen. Douglas MacArthur and representatives from 10 nations assembled on the USS Missouri in Tokyo Bay to accept Imperial Japan's formal, unconditional surrender.

Earlier this month, the Battleship Missouri Memorial — now located a ship's length from the USS Arizona Memorial in Pearl Harbor —marked the 66th anniversary of the end of World War II in the Pacific on the "Mighty Mo's" forward main deck.
For additional information about the Battleship Missouri Memorial or the kissing contest, click here.