Cool Down with These Sweet Hawaii Treats
Shave ice isn't the only cool dessert Hawaiʻi is known for. Try these local favorites to satisfy your sweet tooth.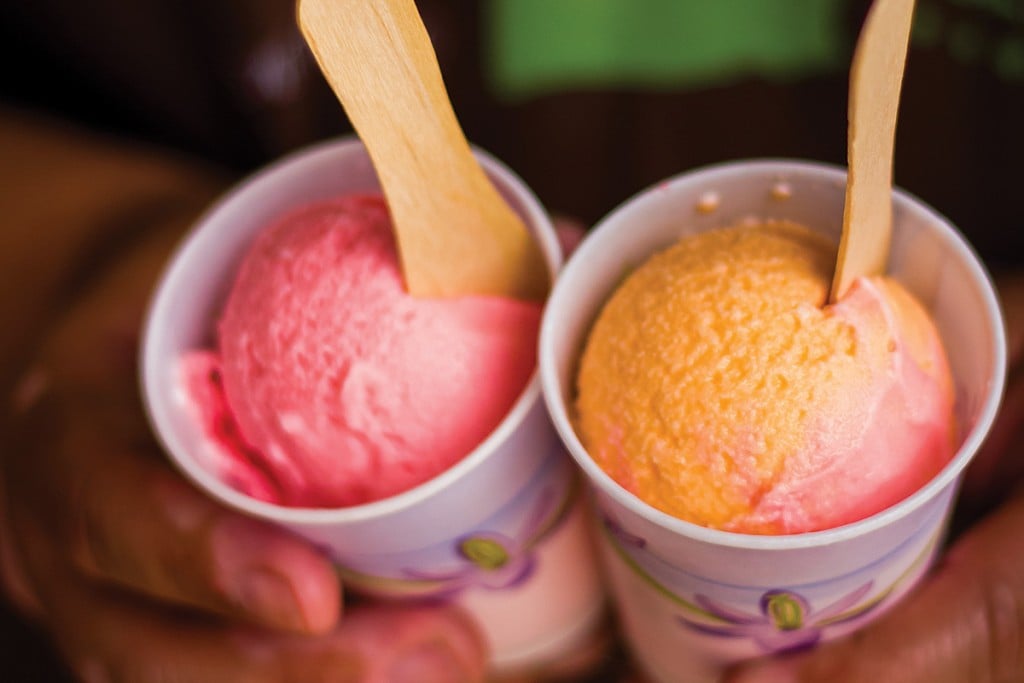 When you think of cooling down with a cold treat in Hawaiʻi, shave ice is the first thing that might come to mind. But here in the tropics, where it's warm all the time, we've got plenty of other options to beat those hot summer days. Here are some local favorites that really hit the spot.
Tasaka Guri Guri Shop
Somewhere between sherbet and ice cream is the top-secret recipe for the signature Maui cool treat, guri guri and only comes in strawberry and pineapple flavors. Maui Mall, 70 E. Kaʻahumanu Ave. Kahului, Maui, mauimall.com/store/tasaka-guri-guri.
What's Shakin'
The best all-fruit smoothies on the Big Island, many made with produce from the owners' neighboring farm. 27-999 Old Mamalahoa Highway., Pepeʻekeo, Big Island.
Blue Hawaii Lifestyle
Killer menu of açaí bowls, topped with a variety of fresh fruits and finished (by request) with a squeeze of lime juice. Ala Moana Center, 1450 Ala Moana Blvd., Honolulu, Oʻahu, bluehawaiilifestyle.com.
Leoda's Kitchen and Pie Shop
We won't waste words. Order the miniature Olowalu lime pie, a pineapple-lemon tart and a chocolate-coffee coconut snowball. 820 Olowalu Village Road, Olowalu, Maui, leodasmaui.com.
Via Gelato
Truly homemade and near-exclusively flavored by local ingredients, the gelato from this little shop, once a roaming food truck, is the best in Hawaiʻi, hands down. Two locations on Oʻahu, 1200 Ala Moana Blvd. and 1142 12th Ave., viagelatohawaii.com.
Frostcity
Sweet, fruity Taiwanese snowflake ice treats—a sort-of blending of fine shave ice and ice cream— served up delicious until 11 p.m. on weekends. 2570 Beretania St., Honolulu, Oahu, frostcityhawaii.com.
ʻOno Gelato Co.
A menu of tasty, inventive flavors—bacon doughnut, cucumber mint, chocolate stout, among them—and evening hours keep us coming back. 115 Hana Hwy., Pāʻia, Maui; 815 Front St., Lahaina, Maui.
Bubbie's Homemade Ice Cream & Desserts
Creamy and buttery ice cream and the largest menu of mochi ice cream treats we've yet seen. Sadly, the original Bubbie's on University Avenue has closed, but you can still get your fill of these little sweet treats in Hawaiʻi Kai's Koko Marina and at Safeway and Whole Foods locations. 7192 Kalanianaole Hwy., Honolulu, Oʻahu, bubbiesicecream.com