Countdown to Kalalau: My go-to East Oahu valley loop hike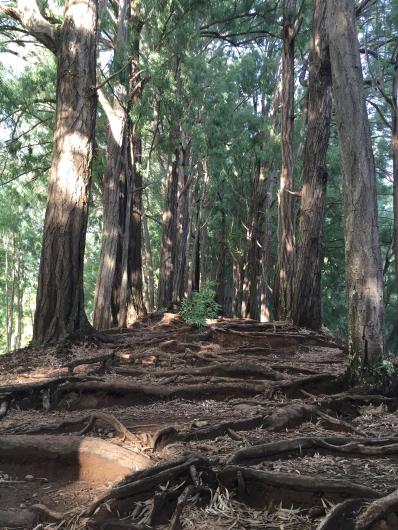 One of my go-to hikes is the Makiki Valley Loop. It's close to my apartment, a short and easy hike and it's a dog friendly trail. Sure, it may not be the most scenic, or challenging hike, but the fun is in the small changes in the landscape, the babble of the stream below and the chirping birds above. Plus, sometimes you just need to get outside for an hour.
This east Oahu valley has a network of trails. Makiki Valley Loop connects three trails, Makiki Valley, Maunalaha and Kanealole. It's a popular hike with trail runners and with the folks of the Hawaii Korean Hiking Club.
Getting there: Turn left on Nehoa Street from Punahou Street. Take the second right onto Makiki Street and veer left onto Makiki Heights Drive. Just before the road curves sharply left, drive straight into the Makiki Valley State Recreation Area. You'll see a gravel parking lot on your left. Walk up past the Hawaii Nature Center on your right, and follow the signs to the trailhead. (Don't miss the small loi, or irrigated kalo field terrace, near the trailhead.)
Where to start: The trailhead begins behind the Hawaii Nature Center. The loop trail is about 2.4 miles long and going at a regular pace takes just more than an hour.
Two ways to do this: Since it's a loop, you can begin the hike by asking yourself this: Do you want an incline right away? If so, then go to your right where you'll hike up the ridge.
If you'd rather walk down said slope—the trail can get muddy during the rainy season—then start to your left. You'll traverse a milder incline of knotted roots and to the left see views of Honolulu peeking through the vegetation.
You'll also cross the streams along the way, but they are small.
There's a plastic bench along the trail, although it's not at the halfway point, providing views of Manoa Valley below.
Along the trail, you'll traverse through bamboo groves and walk past eucalyptus as well as Native Hawaiian ferns and plants. Even better, this trail was recently cleared of fallen trees and overgrown vegetation.