Countdown to Kalalau: Why I'm choosing to hike Kauai's Napali Coast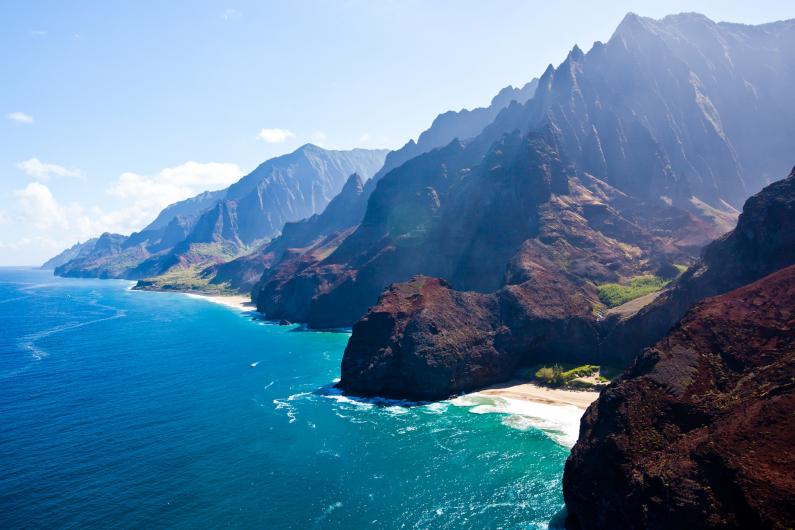 The Napali Coast State Wilderness Park on the west side of Kauai is at the top of the to-see list for many visitors, and it's not hard to understand why. Napali in Hawaiian means "the cliffs" and its coastline is breathtakingly beautiful. Many people opt to see the coast via boat or helicopter, which are very rewarding and awe-inspiring experiences, but I'm deciding this time to backpack the 11-mile Kalalau Trail.
Most people are familiar with the popular 2-mile day hike on the Kalalau Trail that goes to Hanakapiai Beach and back, and can be completed within two to four hours. Hiking to Kalalau Valley, however, at the end of the 11-mile trail takes much longer than that—for some, a full day—and requires more preparation such as:
A permit from the state
A backpack with camping gear to last you two to five days (dependent on how long you plan to stay)
An idea of what to expect on the trail by researching ahead
All your physical stamina
Kalalau Trail is a challenging one, and just like any hike—easy or difficult—it comes with its risks, and slippery slopes and muddy paths are only a part of it. The trail weaves in and out of valleys along the coast with quick elevation gains. Hazards include falling rocks, flash floods and steep cliffs, according to the State of Hawaii's Department of Land and Natural Resources' website. There's also no cell phone service, and there are risks of dehydration, fatigue, sunburn and inclement weather. The beach at the end of the trail is what motivates people to make this journey. Kalalau Beach, in the largest valley on the Napali Coast, is described by people who've done this hike as paradise.
Though I've hiked to Hanakapiai Beach many years ago, this will be my first attempt to hike the 11 miles to Kalalau. It's been something I've wanted to do for a very long time and a boat tour I took of the Napali Coast earlier this year made me want to do it even more. I saw the towering high cliffs with waterfalls falling to the ocean, spectacular sea caves, secluded beaches, clear blue-green waters with dolphin pods spinning about, a honu (turtle) popping its head above water, a seal slumbering on a beach. We even spotted a whale breaching in the distance. It was a scene right out of a Wyland painting. And, it's a scene I want to be immersed in again but not only for its beauty, but also because, as a part-Native Hawaiian, I want to learn more about the Napali Coast's history and see where Native Hawaiians once thrived.
I'm going on this trek with a group of people that includes friend and writer, Tiffany Hill, in 2016. We are actively training by hiking Oahu's trails, getting our gear together and researching what to expect. Tiffany and I look forward to sharing our hiking adventures with you over the next few weeks as we train for what's to come. And, we'll also be sharing what we learn about the history, culture, little-known facts and hiking tips we gather of Kalalau and the Napali Coast in this blog. Wish us luck!
Have you hiked to Kalalau Beach in the past? Share your stories, experiences and photos with me at christineh@hawaiimagazine.com. Also, follow our Instagram hashtag #CountdownToKalalau.
Updated: 12/28/15