Crazy for Kulolo, Kauai's Dessert Staple
Nobody does the Hawaiian dessert made from mashed kalo (taro), coconut milk and sugar, better.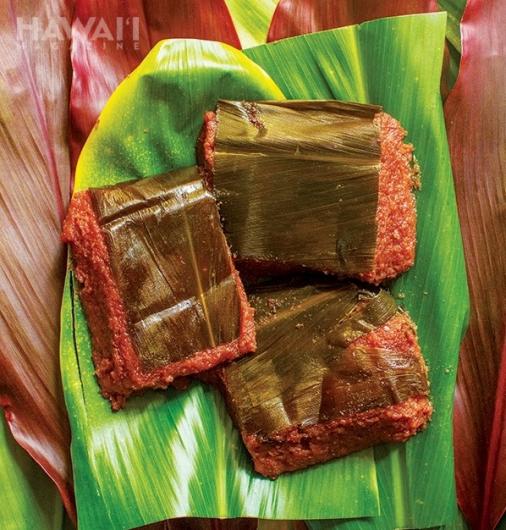 I can't remember a time when I've visited Kauai and someone—a coworker, a neighbor, my mom—didn't ask me to bring back a brick of kulolo. You can find kulolo—a Hawaiian dessert staple made from mashed kalo (taro), coconut milk, sugar and little else—for sale on just about every Hawaiian Island. Most local grocery stores sell variants of it. It's common to see roadside stands or truckbed entrepreneurs selling the popular treat—often compared to mochi, the Japanese rice cake, for its density and sweetness—out of coolers.
Still, there's just always been something a little extra special about kulolo from Kauai. Many I know claim that Kauai kulolo simply tastes better than kulolo from other islands. There also seems to be far more places on Kauai to find kulolo for sale compared to its neighbor islands.
Generations ago, kulolo was only made with the freshest of its basic ingredients—just-harvested kalo, fresh-cracked coconut meat and milk, and raw sugar. The mixture was wrapped in ti leaves and baked in an imu (underground oven) for hours. Today's commercially sold kulolo is often made with processed sugar and canned coconut milk—the fresh stuff is too difficult to obtain in sufficient quantity—and baked in standard ovens for less than half the time an imu takes to finish it. Then there's the kalo, likely the reason you'll find more kulolo, more kulolo makers and more varieties of kulolo on Kauai.
According to the U.S. Department of Agriculture, Kauai is the state's largest producer of kalo, accounting for nearly 80 percent of the state's annual harvest. Kulolo aficionados say that good kalo makes all the difference in the dessert's taste. A good many of these fans also believe that the best kalo in the state is grown on the island with the most acreage devoted to the crop.
"Kauai has the best taro, absolutely, no question," says Rankin Pang, who, along with his wife, Susan, operates the Kapaa Poi Factory in the East Kauai town of Kapaa. "You cannot make good kulolo without good taro."
The Pangs are the third generation of their family to run the factory, processing more than a thousand pounds of kalo a week to make their signature kulolo. Grown on a handful of local farms, the kalo is combined with canned coconut milk and sugar to make the dessert. The factory, a simple building built in 1947, with a galvanized iron roof—a veteran of two hurricanes—is located in the Kapaa-area highlands, seven winding miles inland from island-circling Kuhio Highway. The factory produced fresh poi until 1998, when its milling machines broke down. Today, kulolo, which Kapaa Poi Factory has been making and selling for more than 50 years, is its only product.
Susan and Rankin—sometimes with their teenage daughter, her friends and Susan's 81-year-old mother—prepare, mix and bake all of Kapaa Poi Factory's kulolo. The process begins with the cleaning and skinning of the lehua (red) variety of kalo—the only type the Pangs use. The kalo is next chopped, grated and mixed with sugar and coconut milk, transferred to a baking pan and steamed for several hours. The whole process, from start to finish, spans a couple of days.
Kapaa Poi Factory's kulolo recipe was handed down from Susan Pang's uncle, Kenneth Lai. Kenneth and his brother, Koon Chow Lai, began running the business in 1956.
"He talked to people and experimented," Susan says of her uncle Kenneth. "We added kulolo [to the factory's production] because we had so much kalo back then."
Over the years since, the Pangs have changed the original recipe, which called for fresh coconut milk and local sugar. Only a handful of people—all of them family members—are privy to the recipe.
At its busiest in the early 2000s, the factory cranked out more than twice the kulolo it currently does. Business is steady, but the Pangs have ramped down production to a manageable amount, allowing most of the work—from cleaning to packaging—to be completed themselves. The bulk of Kapaa Poi Factory's kulolo is sold at Kauai markets in brick-size packages. The factory ships kulolo to Oahu weekly and has, on occasion, shipped trays overnight to California, Nevada, Utah and Texas. Customers have asked the Pangs to create variations of their kulolo—adding bananas or giving it different hues, for example. The original-recipe kulolo, however, is still the only one you'll find for sale.
"We're consistent. And we're using fresh taro," says Susan, explaining reasons for the longtime popularity of the family's kulolo. "I like to say that we're putting our hearts into it, too."
Loyal customers are also key to the success of the kulolo made by Hanalei Taro & Juice Co., a food truck just off Kuhio Highway in the north shore Kauai town of Hanalei. The truck's owners, Lyndsey Haraguchi-Nakayama and her husband, Brad, have been selling their version of the dessert—one of the most popular items on the menu—for the past decade. Its main ingredient is lehua kalo from the family's 30-acre, six-generation-old W.T. Haraguchi Farm in Hanalei. Haraguchi-Nakayama's great-great-grandfather began working Hanalei's kalo and rice fields in 1924.
"It's very much labor intensive and truly farm fresh," says Haraguchi-Nakayama, of the truck's kulolo. "We try to incorporate our family recipes and include customer feedback."
Down the road from Hanalei Taro & Juice Co.'s truck, third-generation kalo farmers Diana and Charles Spencer sell their homemade kulolo out of their garage. The couple initially learned how to make the dessert from a friend, then refined the recipe utilizing kalo from their commercial farm, raw and processed sugars and canned coconut milk. They steam more than a dozen trays for a half-day each week in a 55-gallon stainless steel drum. Loyal fans of the Spencers' kulolo often reserve trays weeks in advance.
"People just go nuts for kulolo," says Diana, 75, shaking her head. "I don't know why. I just nevah know people would go so crazy for kulolo."
Count me in that mix.
This feature was originally published in the November/December 2014 issue of HAWAII Magazine.