Defining Chinatown: Touring Honolulu's storied downtown district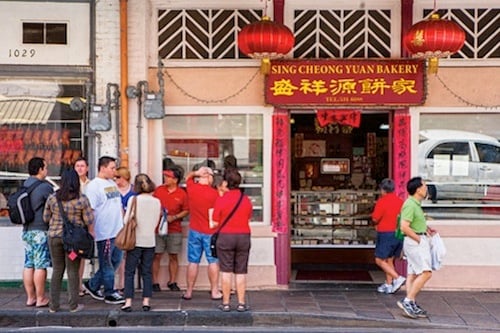 Just before the start of Hawaii Heritage Center's guided walking tour of Downtown Honolulu's 163-year-old Chinatown district, which crisscrosses the heart of this eclectic urban neighborhood and business and arts area, Karen Motosue shares a brief overview of the district's past and present.
"They were smart," says Motosue, of Chinatown's founders. "They gravitated to this area because of instant commerce."
Such business opportunities were tied to the nascent merchant area's location near Oahu's government and financial centers as well as Honolulu Harbor, which then served as the primary arrival site for visitors from the U.S. mainland and elsewhere.
Beginning in the mid-1800s, Chinese laborers were recruited by Hawaii's plantation owners to work in sugar and pineapple fields. As the decades passed and thousands of workers wrapped up their labor contracts, many moved into what was then a dilapidated stretch of Oahu's south shore rather than re-up for work in the fields.
These days, Chinatown continues to serve as a gateway or "transition zone" for immigrant groups endeavoring to make a go of it in the United States, says Motosue, who serves as vice present for the nonprofit Hawaii Heritage Center. In addition to China, many business owners and other residents of the district maintain close ties to Japan, Vietnam, the Philippines, Thailand, Laos, Korea and other points in Southeastern Asia.
Before our morning tour group is ushered along the sidewalk-lined streets of the 27-block district for two hours of exploring, Motosue invites us to return to the Heritage Center later to peruse its gallery of artifact exhibits, photos and various news clippings. The center is a resource offering many stories of Chinatown's multicultural immigrant population as well as the histories of Hawaii laborers from locales as far flung as Puerto Rico and Scotland to Greece, who settled elsewhere in the Islands.
For me, the Chinatown Historical & Cultural Walking Tour is an almost instant feast for the senses.
Within the first few blocks, we see buildings boasting modern and vintage architectural styles, hear snippets of curbside conversations spoken in Mandarin and Tagalog, savor the scent of awapuhi (ginger), pikake (jasmine) and plumeria flowers radiating from area lei stands, and taste sweet, chewy peanut-sesame candy from a Chinese bakery.
Our guide, Bertrand "Bert" Kobayashi relays a steady flow of intriguing facts and figures as we amble along and drop by various busy shops.
A longtime Hawaii politician currently serving in the State House, Kobayashi grew up on Oahu. Here and there on our walk, wafting aromas of fresh-baked pastries and still-steaming char siu-stuffed dumplings prompt Kobayashi to buy bags of goodies, which he shares with us.
"Chinatown is not a place for people on a diet. Chinatown is a place for hungry people," he quips.
By the tour's midway point, Kobayashi has already led us through several long-established area businesses.
Among them is an acupuncture and traditional Chinese medicine shop, Fook Sau Tong, where scores of apothecary drawers lining a wall behind the counter hold various Chinese herbs, and the faint scent of some unknown fragrant plant swirls in the air like incense. Its proprietor, Dr. Suen Hang Yee, has been serving residents for half a century.
Tour guide Bertrand "Bert" Kobayashi relays Chinatown history.
We also duck into bustling, century-old Oahu Market, a covered, open-air patchwork of stalls where customers shop for everything from pigs' heads and just-caught fish to crispy roast pork, various types of poke, and fruits and vegetables both familiar and exotic.
Exiting the market's lively clamor of blades striking butcher blocks and customers chatting with vendors, our tour group treks to a nearby Shinto shrine and an incense-infused Taoist temple. The tranquil sites are situated on either side of freshwater Nuuanu Stream, which empties into Honolulu Harbor from its namesake valley a few miles mauka (inland) and serves as a boundary separating Chinatown from the warehouses of Honolulu's industrial Iwilei district.
In the late 1880s, Chinatown's total acreage was nearly three times as large as it is today. As we stroll by Nuuanu Stream, Kobayashi explains that the boundary changes were linked, in part, to two devastating Chinatown fires.
The first of these was an accidentally set blaze, that destroyed eight blocks of mostly wood-constructed shops, restaurants, temples and more than 7,000 homes of Chinese and Native Hawaiians over three days in 1886. The second, 14 years later, was an attempted "controlled burn" of a building, ignited by Hawaii Board of Health officials to stop the spread of an out-of-control outbreak of bubonic plague.
"The winds shifted," Kobayashi explains. "Then the fire burned for more than two weeks, wiping out a great part of Chinatown."
More than 4,000 homes, occupied mostly by Chinese and Japanese residents, in the still primarily wood-constructed district were destroyed.
The area's core was again rebuilt in the early decades of the 20th century, albeit with fewer homes than businesses. Since then, Chinatown has pushed on through various challenges: prosperity, decline, neglect and, in recent decades, energetic waves of preservation, renovation and rejuvenation.
It's clear there remains much history to hold onto in Chinatown. Winding back toward the Heritage Center, located in the hub of the district's lively hustle and bustle, we learn that even the worn granite-block sidewalk under our feet owns some history.
An incense-infused Taoist temple is one of the Chinatown tour's tranquil stops.
"You are standing on stone that's probably 200 years old," says Kobayahi. "It's ballast stone—used to weigh down empty ships that sailed here from China to pick up sandalwood."
In the early 1800s, King Kamehameha the Great began exporting the aromatic wood, which grew wild and plentiful on Hawai'i's uplands, to Asian markets, where it was prized for its herbal and medicinal values.
About four decades after these first ships arrived from China, hulls filled with the stones we stand on, came the first tenacious immigrants who would establish and, to this day, define Honolulu's Chinatown, as well as leave their mark on Hawai'i history.
Quite a story. Quite a tour.