Digital TV in Hawaii comes early for endangered bird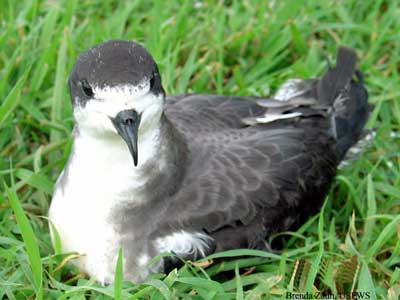 A government-funded technological innovation threatens the livelihood of an entire species on their tropical island home. Sounds like a plotline worthy of the Sci-Fi Channel, but it's true.
You've probably seen advertisements for the nationwide mandatory conversion from analog television to a digital feed, scheduled for February 17, 2009. However, in Hawaii the switch to digital TV will take place about a month earlier—on January 15.
Why's that? An endangered, volcano-dwelling bird called the Hawaiian petrel.
The petrel, or 'uaʻu, is a small, nocturnal bird with a chirp that has been compared to the sound of a yapping puppy. The species lives and breeds only on the rocky slopes of Haleakala on Maui.
Over time the petrel's numbers have declined. While the numbers aren't exact, biologists estimate around 1,000 petrels remain on Haleakala.
With the switch to digital, many analog transmission towers that sit on Haleakala will be torn down. Since the Hawaiian Petrel's nesting season starts in February, there is major concern that the demolition would seriously—and perhaps irrevocably—affect the petrel population.
In response, federal wildlife officials are hastening the transition in January so as not to disrupt the nesting season. New digital transmission towers will be erected at lower elevations on the island.
Note: The island of Kauai, which is served by low-power translators, will make the digital transition at a later date.
For more information on the digital switch, click here, or call 1-888-CALL-FCC (1-888-225-5322).