Head to Chef Sheldon Simeon's Newest Restaurant Venture for Local Favorites
The Simeons recently revived a Maui mainstay, refining its menu and freshening its appearance.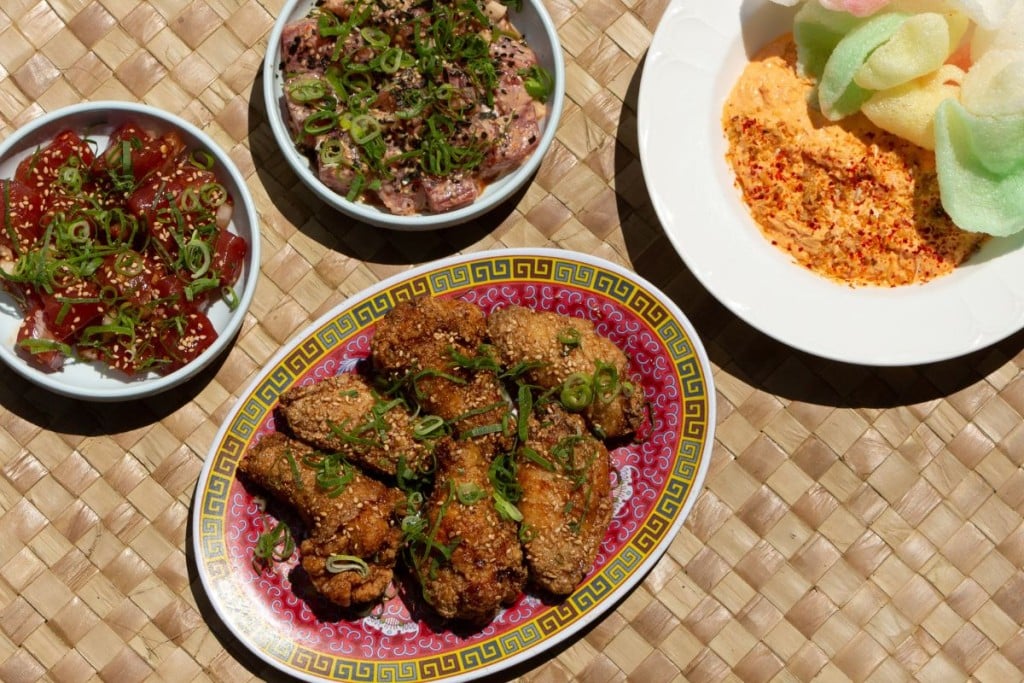 With its flamingo pink sign, Tiffany's has always been impossible to miss on Wailuku's Lower Main Street. Inside, faithful regulars could be found sitting at the family-run bar or crowded around a table for pau hana (after work) drinks.
For nearly 20 years, Tiffany's has been a beloved Wailuku watering hole. Since the Orite family opened the restaurant in 2003, it has garnered a loyal following of local Maui customers—including Tin Roof owners Sheldon and Janice Simeon. When the Simeons learned the Orite family was planning to call it quits, they seized the opportunity to preserve the local establishment.
"Tiffany's has always been the spot for kamaʻāina," Sheldon Simeon said in a news release. "I have so many memories there from over the years and could not stand to see it close its doors. While we promise not to touch some of the dishes that locals have come to know and love as Tiffany's favorites, I'm excited to add more Filipino-inspired fare, and refresh some of the other offerings. We are honored to be a part of this legendary operation."
Regulars at Tiffany's will immediately notice the new selection of dishes. Simeon condensed the broad 150-item menu to a more defined 50. Diners will now find stir fried squid with gochujang, mapo tofu with Sichuan pepper and Wailuku saimin with pork belly on the refreshed menu. Tables can order crispy won ton chips to dunk in spicy kimchi dip or fresh ʻahi poke to share. And loyal customers can feel reassured knowing their favorite honey walnut shrimp with candy mayo and kimchi fried rice will remain.
While the menu at Tiffany's has always featured local classics that bring together Japanese, Chinese and Korean flavors, Simeon's offerings continue to showcase the diversity of Hawaiʻi's local cuisine. Having been born and raised in Hilo, Simeon is committed to celebrating the flavors and dishes unique to the Islands. From his restaurant ventures and cookbook to competing twice on "Top Chef," Simeon's work is inspired by the meals and history shared among those who settled in the Islands to work in plantation fields, including early immigrants from China, Japan, Korea, the Philippines and Portugal.
Tiffany's also offers an array of vegetarian, vegan and gluten-free choices. And like the food, the restaurant's full bar will also spotlight Hawaiʻi brands and use local ingredients when possible. Guests can order local beers, classic cocktails and creative shots.
Along with the dining experience, the Simeons revamped the interior and exterior of the restaurant. Inside, an abstract pattern adorns the walls by artist Gregg Kaplan. The team also flew in Honolulu-based artist, Jeff Gress, to paint lettering throughout the interior. Guests can spot lyrics from songs like "Two Person Party" by Three Plus.
Outside, the brick building is now a sleek charcoal gray and remains hard to miss with the iconic pink Tiffany's signature, a familiar sign for any Wailuku local.
Tiffany's, 1424 Lower Main St., Wailuku, Maui, tiffanysmaui.com.