Discover unbelievable panoramic views at St. Regis Princeville
Contemporary and luxurious décor plus stunning scenery equal a dreamlike experience.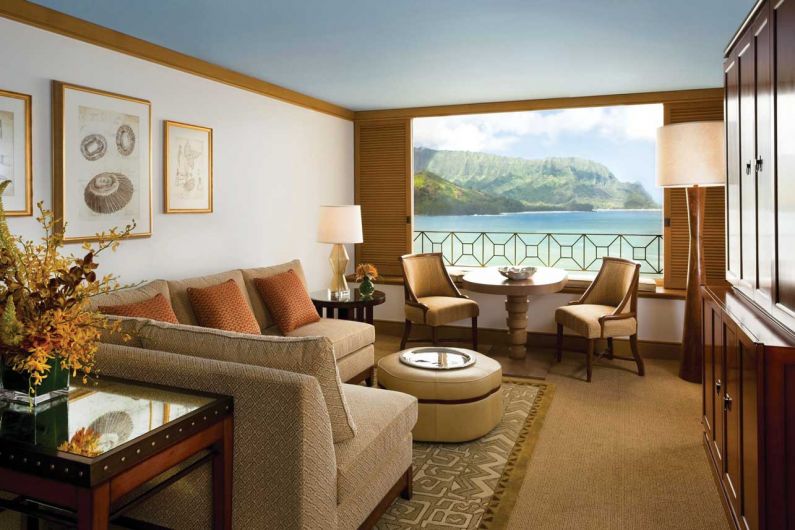 I wasn't prepared for the amazing discovery I would find waiting for me inside Room 1102. I had already been stunned by the panoramic views from the St. Regis Princeville's ninth floor lobby of Hanalei Bay, and the gorgeous blues of the resort's pool fronting a beach in the same line of sight as breathtaking Makana peak. I didn't think there were any more surprises in store for my already sensory-overloaded eyes. But I was wrong.
Stepping inside the foyer of my Prince Junior Suite, I'm led into a large bedroom, living and dining space. The décor is contemporary and luxurious—dark wood furniture, including a custom built entertainment console, a goose down comforter bed and a dining table perfectly positioned in front of a wide, picture window. Staring outside, I drop my jaw at the sight. The shimmering orange sun is beginning to set, just to the right of Makana peak, sending glittery sparkles across the ocean while colors of cotton-candy pink dance over the dark green mountains. Unbelieving, I take a step back from its hypnotic beauty and take a look at the next room, a spacious marble two-vanity bathroom with a large, hot tub below another window spanning wall to wall—it's the same view as the living room! Proving to be the best bathroom suite I've seen, I return to the living area, when there's a knock at the door. My personal butler has arrived.
A signature service of St. Regis' hotels for more than a hundred years, its butlers will arrange coffee or tea for your mornings, unpack and pack your suitcases, and press any garments as needed. I open the door and my butler greets me with a big smile, introducing herself and giving me another tour around my room. She answers my most pressing question of how to open the living room's glass window, then shows me a unique feature in the bathroom—a privacy switch that turns the see-through glass into a white-frosted pane with a touch of a button. She tells me she'll be back later to unpack my bag, once I take a moment to settle in. I repeat to myself that this is not a dream.