Disney Cruise Line set for first-ever Hawaiian Islands sail in April 2012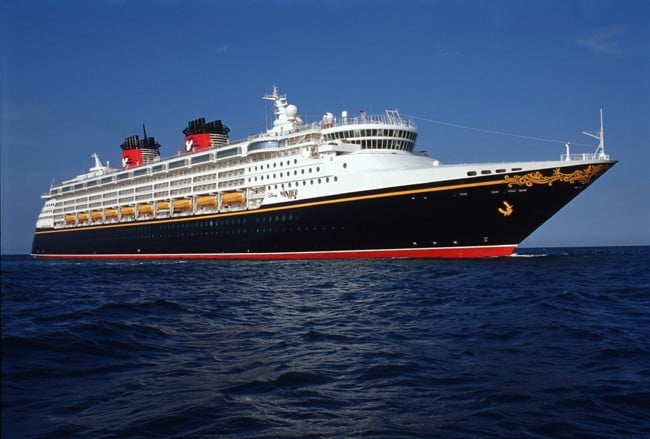 Next spring, a Disney Cruise Line ship—complete with Donald Duck and nephew Huey on the stern and a Steamboat-Willie bow—will skim Hawaii's waters for the first time.
The Disney Wonder, a 964-foot ship that holds 2,700 guest passengers, will shove off from the Port of Los Angeles on April 29, 2012, bound for the Hawaiian Islands. The 15-day cruise will dock at Hilo on the Big Island on May 4; Kahului, Maui on May 5; Honolulu, Oahu on May 6; and Lihue, Kauai on May 7. On the way back to the U.S. Mainland, the cruise will dock in Ensenada, Mexico on May 13 before ending in Los Angeles on May 14.
Between stops, the cruise's nine days at sea will feature entertainment, ranging from ample meet-and-greet photo opportunities with Disney characters to stage shows and, yes, shimmering displays of pyrotechnics arching high above the waves.
Rates for the cruise start at $1,800 per person for a standard inside stateroom, based on double occupancy.
Sailing since 1999, the Disney Wonder is stacked with hundreds of cast and crew members who cater to guests on 10 decks. Disney officials describe the ship's interior as art nouveau, characterized by an "art from nature" feel, with whimsical and swirling wave designs. Various Magic Kingdom touches include a statue of Ariel from "The Little Mermaid" and the designation of Tinkerbell as ship "godmother."
Karl Holz, president of Disney Cruise Line and New Vacation Operations, said in a news release issued earlier this month: "With the Disney Wonder conveniently sailing from Los Angeles, and given our plans to open Aulani, a Disney Resort & Spa, Ko Olina, Hawaii this summer, the timing couldn't be better for our guests to enjoy a cruise through the awe-inspiring islands of Hawaii."
Disney's Aulani resort is slated to open Aug. 29, 2011. Initially, the 21-acre site in West Oahu will have 200 hotel rooms and 73 Disney Vacation Club 2-bedroom units. Disney is already taking reservations.
By the end of the year, another 130 rooms and 134 Vacation Club units will open at Aulani. A remaining 274 Vacation Club units will open in 2013.
For more information about Disney Cruise Line's Hawaii cruise, click here. For updates on construction of Disney's Aulani Resort & Spa, click here.