Disney Cruise Line's inaugural 15-night Los Angeles-to-Hawaii voyage under way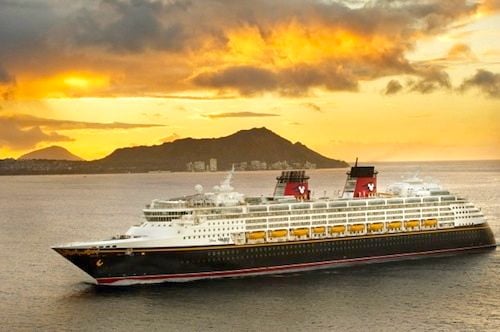 The Disney Wonder — a 964-foot ship that holds 2,700 guest passengers — is skimming Hawaii waters for the first time. In the middle of a special 15-night cruise, it arrived in Honolulu yesterday.
The Disney Cruise Line ship — complete with Donald Duck and nephew Huey on the stern and a Steamboat-Willie bow — pushed off from the Port of Los Angeles on April 29. Last week, it sailed to Big Island, stopping at Hilo, and then to Kahului, Maui. The island-hopping continues today with a stop in Kauai's Lihue area. On the way back to the U.S. Mainland, the cruise will dock in Ensenada, Mexico on May 13 before ending in Los Angeles on May 14.
Between stops, the cruise's days at sea will feature entertainment ranging from meet-and-greet sessions with Disney characters to stage shows and, of course, shimmering displays of pyrotechnics above the waves.
Disney Wonder's arrival in Hawaii marks the first time that the cruise line has sailed to the Islands. Disney Cruise Line is offering a second cruise — a 14-night Hawaiian voyage — that will depart from the Port of Los Angeles on Oct. 14. No other future cruise to Hawaii has been announced.
Sailing since 1999, the Disney Wonder is stacked with hundreds of "cast and crew members" catering to guests on 11 decks. Disney officials have described the ship's interior as art nouveau, characterized by an "art from nature" feel, with whimsical and swirling wave designs. Various Magic Kingdom touches include a statue of Ariel from "The Little Mermaid" and the designation of Tinkerbell as ship "godmother."
For more information about Disney Cruise Line's Hawaii cruise, click here.