Disney's fourth "Pirates of the Caribbean" flick will film in Hawaii this summer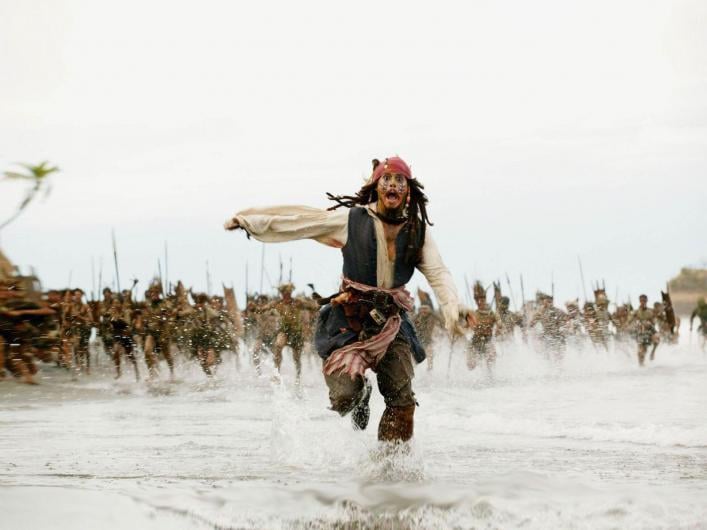 Hide the okolehao! Captain Jack Sparrow is coming to Hawaii.
Walt Disney Pictures' fourth film in its hugely successful Pirates of the Caribbean adventure-comedy franchise will film on Kauai and Oahu this summer, it was announced this morning.
The upcoming flick, titled Pirates of the Caribbean: On Stranger Tides, will again star Johnny Depp in his Academy Award-nominated role of Captain Jack Sparrow. Also returning for their fourth runs on a Pirates production are Geoffrey Rush as Sparrow nemesis Captain Hector Barbossa, mega-producer Jerry Bruckheimer, and screenwriters Ted Elliott and Terry Rossio.
Rob Marshall (Chicago, Nine) will take over directing duties from Gore Verbinski, who helmed the film series' first three installments. On Stranger Tides is slated for a May 20, 2011, release.
Walt Disney Company president and CEO Bob Iger met with Hawaii Gov. Linda Lingle last Friday to share news of Walt Disney Pictures' intention of filming a presumably large portion of On Stranger Tides in the Islands. The production is expected to generate an estimated $85 million in total spending while in Hawaii. Disney had previously shot brief scenes for the series' third film Pirates of the Caribbean: At World's End on Maui and Molokai in 2006.
Said Bruckheimer, in a statement, "We've always sought out the most extraordinary and exotic locations for the Pirates of the Caribbean films. … Hawaii provides an amazing range of both land and seascapes, and we're delighted to return for On Stranger Tides."
Pirates of the Caribbean: On Stranger Tides' Kauai and Oahu filming locations were not immediately announced.
Hawaii has proven a favorite location of Disney film and television productions in recent years. Disney's last major Hawaii film production was its Touchstone Pictures unit's Pearl Harbor in 2001, which spent a substantial portion of its estimated $140 million budget filming at Oahu's Pearl Harbor U.S. Naval Base.
Walt Disney Pictures' animation division based the setting of its 2002 feature Lilo and Stitch on Kauai, incorporating characters and plot devices taken straight out of everyday Hawaii life after much pre-production research on the island. The Walt Disney Company's ABC-TV network has based production of every season of its popular adventure-drama series Lost on Oahu since 2005—including the series' currently-in-production sixth and final season.
Other Hawaii-based Disney productions over the last two decades include 1998's Six Days Seven Nights, 2000's Dinosaurs, 1998's Mighty Joe Young and 1997's George of the Jungle.
Meanwhile, construction continues on Walt Disney Parks & Resorts' Disney Vacation Club Resort Hawaii on 21 acres of beachfront at West Oahu's Ko Olina Resort & Marina. The resort is slated for a 2011 grand opening.