Driftwood Maui brings boho-chic to Makawao
This curated store melds Island fashion with rustic charm in historic Makawao, Maui.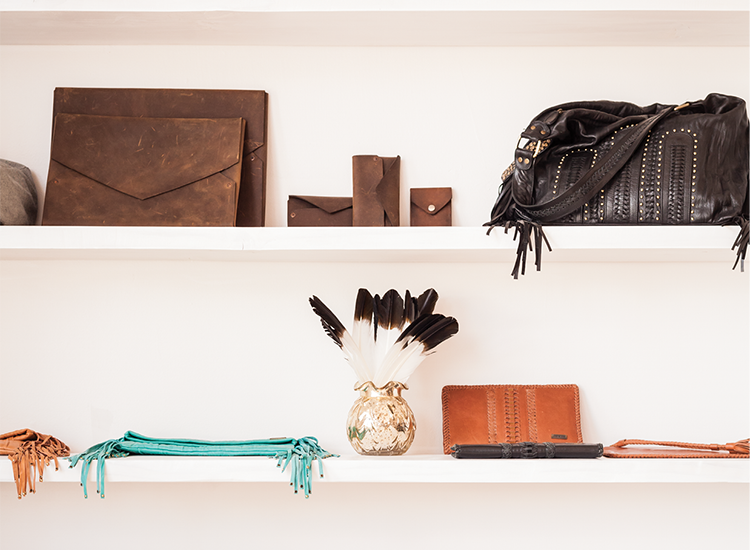 As owner and aesthetician of Paragon Salon in Makawao, Carrie Gebb spent 15 years making people feel beautiful.
But a bad case of tendinitis forced her to reevaluate her idea of success and consider another dream she had always hoped to pursue: fashion. She decided to give her loyal clientele another way to be chic and pampered, and this past spring opened Driftwood, a lifestyle boutique. Within its doors is everything from jewelry and food products to clothing and housewares that fit Driftwood's curated style, which Gebb calls "modern Bohemian luxe."
Driftwood fronts Makawao Avenue, in a building that has served as a landmark in the historic town for two decades. The store is only two doors down from her salon and previously had been occupied by celebrated photographer Randy Jay Braun, who closed his longtime art gallery.
When renovating the building, Gebb utilized the simple bones of the structure, creating what she describes as a modern-rustic style. "I wanted something that was more modern, but it also had to be very Makawao or it wouldn't make sense," she says. "I didn't want to completely take away from the paniolo (cowboy) charm, so we tore the place apart, but put a lot of natural elements back into it."
For the interiors, Gebb enlisted the help of her husband, Ariel, to install metallic epoxy floors to create a foundation flavored with ohia lehua wood posts, distressed barn-wood fitting rooms and cowhide rugs.
"The truth is, Makawao rocks," she says. "My heart sings when I am at a higher elevation. Growing up in Colorado where there was such vastness—you would see for hundreds of miles on a mountaintop—for me, being on the slopes of Haleakala and seeing those big vistas, that's what I love. And the quaintness of Makawao is like nothing else."
And just like the store's artistic creation, the name had its own organic roots. "The name Driftwood is a convergence of two things I love very much, the mountains and the ocean," says Gebb. "It's the thought of the forest arriving at the sea." The idea celebrates the reclaimed wood trend so prevalent in home design. "The forest finds its way to the sea, gets tumbled around, maybe it travels somewhere, and washes up on another shore. It is entirely different, yet it remains the same."
Though she hopes her boutique will help innovate her beloved cowboy town, she intends to protect the integrity of its rustic charm by sourcing from local designers as often as possible. Local, luxury lifestyle lines Acacia Swimwear and Olympia Activewear are among the bestsellers, she says, along with local brands like Maui Preserved, Adoboloco, Foundwood, Monkeypod and Annie Fischer Designs. Stylish, but not too trendy, national favorites like For Love and Lemons, MiH Denim, Flynn Skye and The JetSet Diaries can also be found. When it comes to price points, Gebb explains the balance she seeks: "My shopping philosophy has always been quality over quantity. I look for brands that have outstanding fabric, design and construction. Nothing can elevate a woman's perspective like that perfect-fitting garment she loves and knows looks amazing on her."
Not only does Driftwood represent a new aesthetic for Makawao, but a new standard of service, which includes styling, tailoring and special orders. Gebb hopes Driftwood will invite more travelers to Makawao for luxe shopping, and to also experience the charm she fell in love with many years ago. "Makawao business owners are very connected to the legacy of our town and can share the history of the shop they keep," she says, "because we know and love our neighbors."
Those neighbors, Gebb deems, are every bit as dedicated to preserving the town and its close community, in true ohana (family) style. "Makawao is authentically quaint, and the last bastion of a truly historic town on Maui's north shore," she says. "So the more things change, the more they should stay the same."
1152 Makawao Ave., Makawao, Maui, (808) 573-1152. Open Monday through Saturday, 10 a.m. to 6 p.m., and Sunday from 11 a.m. to 5 p.m. Parking is located in front of the boutique and across the street in the Makawao Avenue municipal parking lot. driftwoodmaui.com.