Drivers, Slow Down and Watch for Nēnē at Hawaiʻi Volcanoes National Park
Three native geese at the national park on Hawaiʻi Island have already been killed by cars.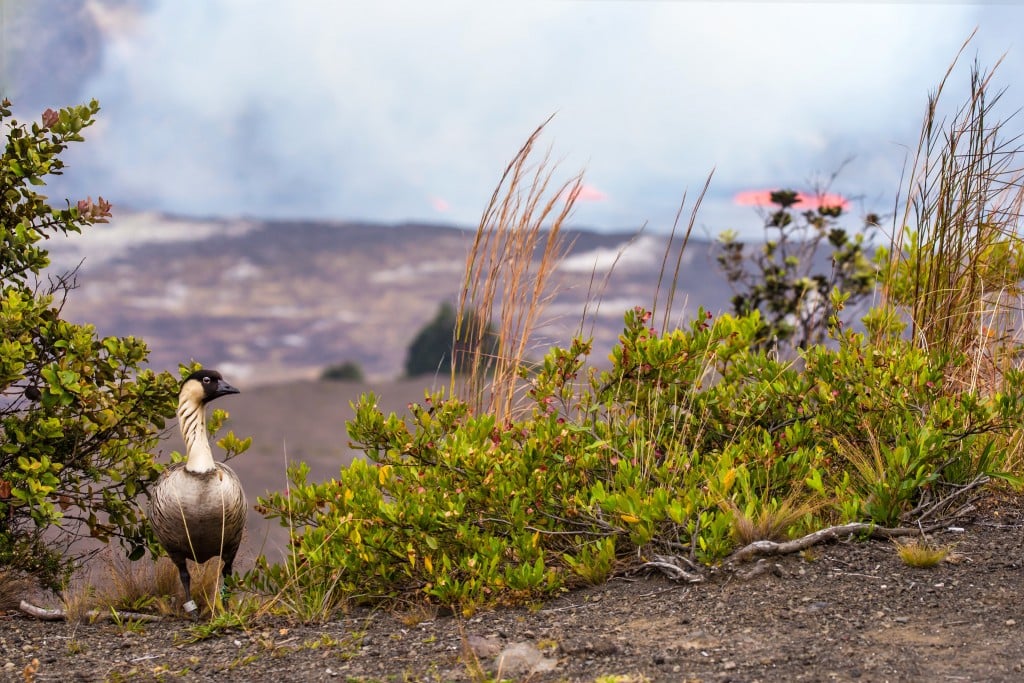 The National Park Service is urging drivers at Hawaiʻi Volcanoes National Park to slow down, as the third nēnē (Hawaiian goose) was struck and killed by a car last week.
October is the start of breeding and nesting season in Hawaiʻi for this native bird, listed as threatened species under the Endangered Species Act. In the last month, three nēnē were fatally struck by cars on Chain of Craters Road despite signs warning motorists to slow down and watch for these geese.
The park is also asking visitors to stop feeding nēnē, which makes them feel comfortable around humans and vehicles. Park staff have observed geese feeding on piles of rice, crackers and other food left behind in the parking lot and surrounding area. If feeding continues, the park is considering closing the lot.
"It is tragic that three rare nēnē are dead because of speeding or inattentive motorists in the park, especially a mated pair at the start of breeding and nesting season. We need everyone to slow down, watch out for wildlife and understand that the park is their habitat," said Hawaiʻi Volcanoes National Park superintendent Rhonda Loh.
Nēnē are the largest native land animals in Hawai'i and the world's rarest goose. October through May is their breeding and nesting season, which is crucial for their survival. During this time the geese are focused on eating and often forage from dawn to dusk as they get ready to nest. They blend in with their surroundings and, in low-light periods, are especially hard for motorists to spot.
Hawai'i Volcanoes National Park and conservation partners began efforts to recover the species in the 1970s through a captive breeding and reintroduction program. The Nēnē Recovery Program continues today, and around 165 birds thrive in the park from sea level to around 8,000 feet. Nearly 3,500 nēnē exist statewide.
Visit here for more information about the nēnē. To report nēnē on the road in the park, call (808) 985-6170. Outside the park, call (808) 974-4221.