Dry Idea: The Story Behind Maui's Favorite Noodle Dish, Sam Sato's Dry Mein
Unique to Maui, this noodle dish is served all over the island—but Sam Sato's is arguably the best.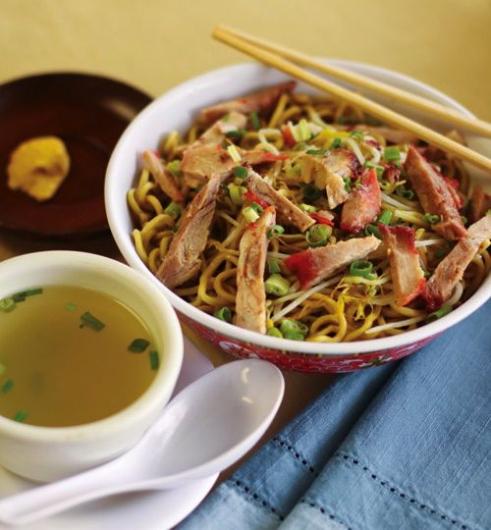 We thought we were early for lunch. It was 9 a.m., after all.
But by the time we walked up to the entrance of Sam Sato's, an unpretentious, old-time restaurant in Wailuku's industrial area, a crowd of hungry patrons were already gathered, names written on a little yellow pad at the takeout window. Waiting to get in. Stomachs growling.
Of course, we fell into line, too. We wanted noodles. And no other noodles on Maui would do. We were hungry for Sam Sato's famous dry mein—a bowl of seasoned saimin-like noodles that, for more decades than many residents can remember, has been a Maui comfort-food favorite.
A dish largely unique to Maui, a version of dry mein can be found on the menus of dozens of eateries there. Many believe, however, that Sam Sato's is tops.
"When you're on Maui, you gotta eat here," an Oahu construction worker, on island for just the day, said to me as we waited to get in. "This place is the best."
The history of Sam Sato's is one of much movement, all of it on Maui. It was in 1933 that second-generation Japanese-American plantation worker Sam Sato, with his wife, Gladys, first opened a little restaurant bearing his name in Spreckelsville, a sugar-plantation camp on the road between Kahului and Paia. Success followed and the Satos moved the restaurant two more times—to Puunene, in 1963, and Happy Valley Village in Wailuku in the 1980s—before settling in its current Wailuku location in 1993.
Dry mein made its first Sam Sato's menu appearance while the restaurant was in Puunene, created by one of the kitchen's Chinese cooks. The dish is now easily the restaurant's bestseller, its combination of al dente noodles, bits of char siu pork, bean sprouts and cut green onions the epitome of local comfort-food simplicity at its best.
"Sometimes, on a busy day, we use 350 pounds of noodles," said Kirk Toma, Sam's 34-year-old grandson, who now manages the restaurant. "That's a lot of noodles."
The restaurant's noodles are one key to the dish's fame. Sam Sato's has been using the same noodles crafted by the Iwamoto Natto Factory in Paia for decades—a slightly thicker and chewier version of traditional saimin noodles. (For the uninitiated, saimin, though it resembles the Japanese noodle dish, ramen, is a simpler Hawaii-born noodle-soup creation flavored by dashi—broth—and spare garnishes.)
"Dry" refers to the dish's soup-less presentation. The standard recipe calls for the noodles to be boiled, drained and quickly tossed in a mixture of soy sauce and oil, though not fried. Sam Sato's one-ups this with the other key to its dry mein's popularity—abandoning mere soy sauce and oil for its own noodle-seasoning mixture, a closely guarded recipe known only by select family members and a single restaurant employee. If that employee goes on vacation?
Another order of dry mein heads out to a table at Sam Sato's.
"We pretty much close down the restaurant," said Toma, laughing.
After mixing each order, the dry mein is transferred to a saimin bowl and served with a side cup of dashi for dipping, sipping or pouring over the noodles.
"People don't need the dashi to eat it," Toma said. "Some people don't even use it."
If dry mein were the only menu item bringing hungry Mauians to Sam Sato's, business would likely still be booming. As it turns out, though, the restaurant is about more than its noodles.
Sam Sato's homemade manju—traditional Japanese baked pastries filled with sweetened bean and starch pastes—have also been a top seller since the restaurant's 1933 opening. The recipes for the restaurant's two manju varieties, lima bean and azuki bean, haven't changed since Gladys Sato first created them.
Gladys also crafted the recipe for the restaurant's popular turnovers, filled with apple, peach, blueberry, coconut, pineapple and combinations of each. For Thanksgiving, Sam Sato's offers a pumpkin-filled turnover many fans wait for all year.
Said Toma, "The secret is in the dough."
Sam and Gladys Sato continued to talk story with customers and work in the restaurant through the 1980s, when Lynne and Charles Toma (Kirk's parents) took over. Gladys Sato passed away in 1989, and Sam eight years later.
These days, Kirk is charged with making the dough for the manju; Charles makes the fillings while Lynne usually takes over the side dashi and mixing the top-secret sauce for the dry mein. Kirk, who will be the third-generation owner of Sam Sato's when his parents retire, plans to make sure his family's legacy remains a part of life on Maui for years to come.
"There are a lot of mom-and-pop [businesses] closing left and right and we're still here," said Kirk. "We have a lot of people from the Mainland who come every year, or college kids who come back on their breaks to eat here. That's one of the reasons I wanted to take over: to keep this going."
Our wait outside finally over, we were seated in Sam Sato's main dining area, packed with hungry patrons. Many knew the servers by name. Most were eating bowls of dry mein paired with grilled teriyaki beef skewers, a favorite local pairing with saimin. Others were feasting on hamburger and fries combos and plates of chopped steak, teriyaki beef, hamburger steak or beef tomato, a sugar-plantation-era dish with Chinese origins.
Still, it was clear that noodles—dry mein, in particular—will likely always rule the menu at Sam Sato's.
"People just like noodles," said Kirk Toma. "Noodles are our comfort food."