Duke Kahanamoku Challenge's water races, makahiki games set for weekend in Waikiki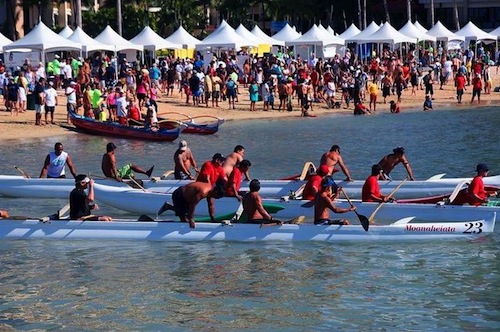 If you're in the Waikiki area this weekend, you can catch a glimpse of Hawaii of yesteryear at the 27th annual Duke Kahanamoku Challenge. Paddlers will line up for open-ocean races in outrigger canoes. And on the beach, there will be huki kaula (Hawaiian tug-of-war) and other traditional makahiki games.
The Duke Kahanamoku Challenge, a fundraiser for the Waikiki Community Center, is slated to get under way at 9 a.m. on Sun. Feb. 12 with a double-hulled canoe procession at the Hilton Hawaiian Village (Duke's beach and lagoon). The double-elimination quarter-mile canoe sprint race starts at 10 a.m. The water competitions will wrap up with an invitational stand-up paddle relay race set for 2 p.m. in the lagoon.
On shore, the Hawaiian makahiki games will feature the ulu maika (sand bowling); niu relay (short coconut run); moa pahee (sliding); kukini (messenger run) and huki kaula. Residents and visitors are invited to take part in the games.


There is no charge to play makahiki games, watch the races, or catch performances by Hawaii musicians and a hula halau (group). The event also will feature handmade Hawaiian arts and crafts. The entertainment lineup ranges from the Royal Hawaiian Band to singers Melveen Leed and Raiatea Helm.
Also, each year, the challenge honors water sports legends of Hawaii. This year's honorees once comprised the Duke Kahanamoku Surf Team: Paul Strauch, Jr., Fred Hemmings, Joey Cabell and Butch Van Artsdalen (posthumous). The team's pursuits marked Kahanamoku's last in-depth involvement in surfing before he passed away in 1968.
Funds raised from the Duke Kahanamoku Challenge — sponsored by Hilton Hawaiian Village Waikiki Beach Resort and Hilton Grand Vacations — will enable the nonprofit Waikiki Community Center to provide assistance to area families and individuals in need. Proceeds will also go toward maintaining the center as a place for visitors and area workers and residents to participate in community affairs, socialize and learn together. For more information about the Waikiki Community Center, click here.