Duke's OceanFest celebrates Hawaii athletic legend with water sports, tributes, Aug. 21-28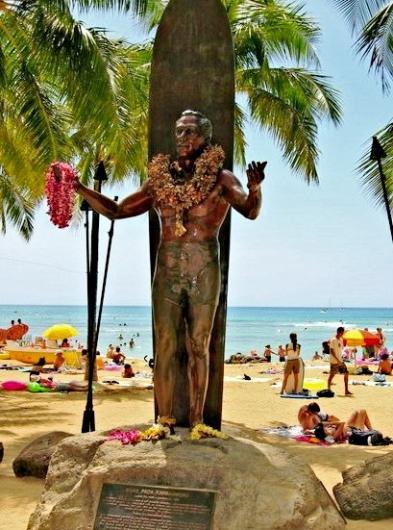 Look up the term "waterman" in the Hawaiian Dictionary. In place of a written definition you'll find an image of Duke Kahanamoku. Nah, that's not so — just kidding. However, if you know even a little about Kahanamoku (1890-1968), you know he was synonymous with surfing and swimming (as well as the spirit of aloha) in Hawaii.
The 10th annual Duke's OceanFest, Aug. 21-28, will celebrate the 121st anniversary of Kahanamoku's birth with water sports competitions and exhibitions including longboard surfing, tandem surfing, surfboard water polo, a one-mile swim race, and the 2011 Hawaii Paddleboard Championships. For a complete schedule of this year's OceanFest events, click here.
The weeklong celebration of Kahanamoku's the life and legacy will start with afternoon opening ceremonies on Sun., Aug. 21 at Hilton Hawaiian Village, followed by the Hawaii Waterman Hall of Fame awards dinner at the resort in Waikiki. The 2011 inductees are: big wave surfing legend Peter Cole; Ethel Kukea, who dominated women's surfing in Hawaii during the 1950s; Aileen Soule, a swimmer and diver who, at age 14, won a gold medal in the 1920 Olympic Games in Antwerp, Belgium; and Nainoa Thompson, who, since 1976, has played an integral part in the design, construction, sailing and navigation of the voyaging canoe, Hokulea.
If you're in Waikiki on Wed., Aug. 24 — Duke's birthday — have your camera ready for a 7 a.m. ceremony, during which the "Duke" statue (pictured, above), near "Queens" surf area on Waikiki Beach, will be heavily draped in long lei strands. That day's fest sports lineup includes the start of the Toes on the Nose longboard classic, tandem surfing and "legends contest," all of which will continue through Fri., Aug. 26.
Both the Hawaii Paddleboard Championships and Duke's Waikiki Ocean Mile Swim are set for Sat., Aug. 27. The 10-mile paddleboard race will start at 11 a.m. in Maunalua Bay, near Hawaii Kai. The swim race, which will get under way at 9 a.m. , starts and wraps up on Waikiki Beach.
A descendant of Hawaiian royalty, Kahanamoku (pictured, left) was born and raised in Honolulu. He was almost 22 years old when he won his first Olympic gold medal. Kahanamoku went onto represent the United States in the Olympics for the next 20 years.
During the 1912 Olympic Games in Stockholm, Kahanamoku won his first Olympic gold medal and set a world record in the 100-meter free-style, and won a silver as a participant in the 200-meter relay. He won his second and third gold medals in 1920 during the Antwerp Olympics, again breaking his world record in the 100-meter free-style and setting a world record on the free-style relay team. In the 1924 Paris Olympics, he won a silver medal in the 100-meter free-style. And in the 1932 Los Angeles Olympics, he received a bronze medal as an alternate on the U.S. water polo team.
The organizer of OceanFest, the Outrigger Duke Kahanamoku Foundation, calls Kahanamoku the "father of international surfing," and notes that museums and memorials in Australia, California, Florida, New York, Hawaii and elsewhere pay tribute to his influence on surfers and the sport of surfing.
For additional information about Duke's OceanFest and the Outriggre Duke Kahanamoku Foundation, click here.