Eat, drink and go Maui. The Kapalua Wine & Food Festival happens this week.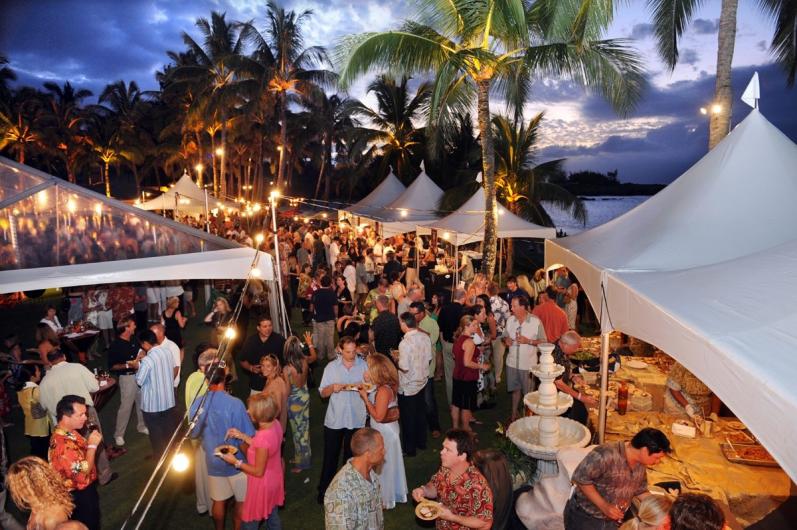 Think four days of gastronomic and oenophilist nirvana, throw in an oceanside location at one of Maui's premier luxury resorts and you'd still have to actually attend the Kapalua Wine & Food Festival to truly grasp its grand appeal for foodies.
The 28th annual edition of this pioneering and esteemed Hawaii food and drink festival happens this week from June 11 to 14 at its usual location—west Maui's celebrated Ritz-Carlton Kapalua Resort.
If your love of food and wine extends beyond tasting to learning about both as well, the Kapalua Wine & Food festival is worth the price of admission. Daily events include culinary demonstrations and interactive wine and food tastings hosted by master sommeliers, renowned chefs and industry pros. Master Sommelier Fred Dame (below pic, pouring) has once again orchestrated the fest schedule. And the weekend is anchored by two of the most amazing grazing dinners you're likely to experience: The Grand Tasting on Friday, and Seafood Festival on Sunday.
Can't do the $800 per attendee four-day festival pass, which includes entry to most of the Kapalua Wine & Food Festival's biggest events? Here's what we'd selectively consider if we were going (each event running from $125-$145 per person; all included in the four-day fest pass):
The Grand Tasting
6-9 p.m., Friday
Take it from us, the name fits. A New Orleans French Quarter reminiscent "Carnival" theme on the Ritz-Carlton's Beach House Lawn at sunset. A Creole-inspired menu crafted by the resort's culinary team, matched with more than a hundred wines from around the world. Seafood Etouffee with red beans and rice. Crawfish and sherry bisque. Baked Gulf crab and cheese grits with crackling bread. Corn battered red fish and pickled okra salad. Uh-huh. Where do we sign up? Click here for the full menu.
Day After Alchemy
10:30 a.m.-noon, Sunday
If forced to choose between the fest's culinary exhibitions, we'd have to pass an "in the kitchen" luncheon with James Beard "Best Chef in America: Southwest" award-winner Robert McGrath, and DLTs (duck breast bacon, organic field greens, tomato marmalade, green garlic aioli on crisp brioche) at Chef Scott Giambastini's "An Organic Experience" for this culinary exhibition. Why? Day After Alchemy is a sommelier competition with a goal of creating the best weekend hangover cure. Plus, who can resist a menu of breakfast fare that includes the sinisterly-named "huevos rancheros from hell?" Not us.
Walla Walla and Cheese
2-3:30 p.m., Sunday
A sampling of international cheeses from aficionado Kent Torrey of The Cheese Shop (Carmel and Santa Barbara, Calif.), paired with wines from the Washington/Oregon border's Walla Walla Valley region. The appeal here? Torrey's bringing some serious cheeses with him. Naturally, we follow where the cheese goes. Those seeking to keep their palates solely reserved for wine may want to stick to the tastings "Psycho Pinots" (1:30-3 p.m., Friday) and "Raising Reisling from the Dead" (2:30-4 p.m., Saturday).
Seafood Festival
6-9 p.m., Sunday
A food fest within the food fest showcasing seafood from Pacific and Island waters, and featuring 30 dishes from 15 of Maui's most-lauded restaurants. Just graze from restaurant to restaurant, chef to chef. If you're a seafood lover, we won't waste words on you. Click here for the menu.
Click here for Kapalua Wine & Food Festival information, ticket prices and purchase, and Ritz-Carlton Kapalua accommodation packages. A schedule of events is here.
Bring an appetite. Save a trip to the gym for next week.