Eat Healthy, Kauai's new destination for conscious foodies in Wailua
The former Caffé Coco restaurant has been rebranded with a new name and a new menu.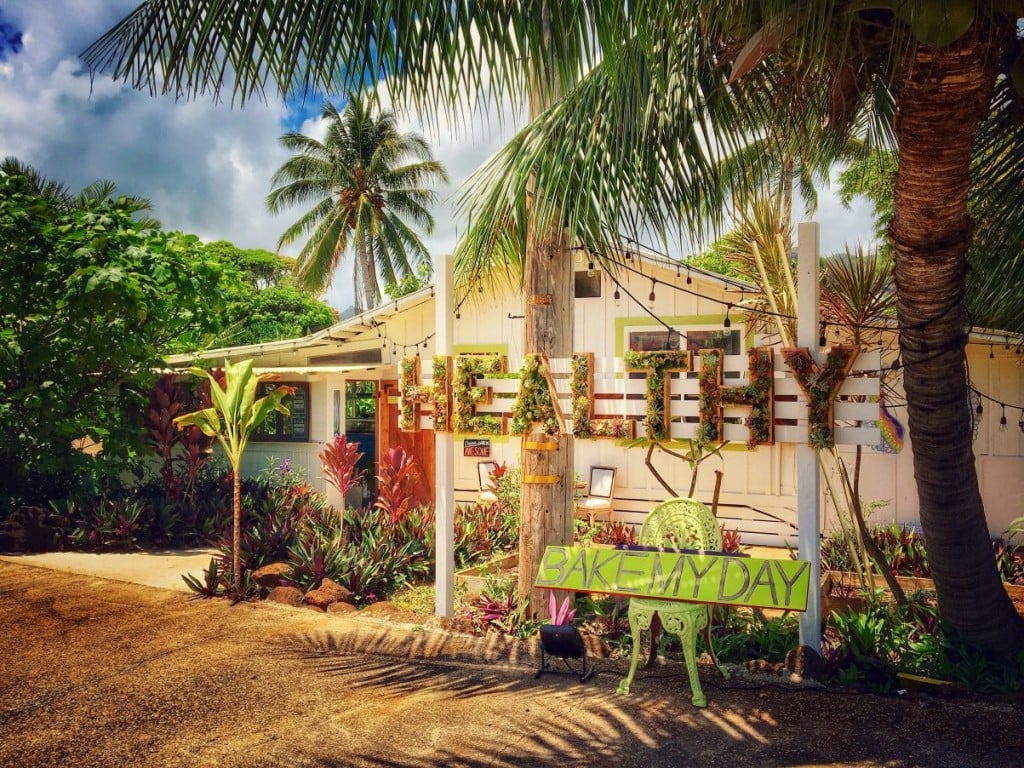 Inside a tiny, cream-colored shanty shrouded by coconut trees, vegan chef Hollan Hamid cooks up delights that are sweet and savory. On a floor of crushed sea glass in the backyard garden, diners feast on Hamid's delicious, plant-based creations—lilikoi (passion fruit) cake or blackened tofu over sautéed kale and mustard-cape—surrounded by green vines and banana plants. This is Eat Healthy—a new restaurant concept on Kauai's Coconut Coast serving up nourishing, organic dishes in a dining room that resembles the jungle. (There's even an organic bug spray station.)
"It's healthy home cooking," says Hamid, who has a culinary degree in pastry making. "We have acai bowls, baked goods, pasta—all the foods we love, and we prepare them in the healthiest way possible without sacrificing any of the flavor. And we've got this very quaint, fun, backyard setting that looks like what you see in the Adam Sandler-goes-to-Hawaii movies. On top of that, we're supporting so many local farmers."
Open daily for breakfast and lunch from 8 a.m. to 1:30 p.m., Eat Healthy offers health-conscious meals starring Kauai-grown produce. The cafe specializes in vegetarian and vegan dishes. Gluten-free options are plentiful. Everything is delicious.
Menu favorites include the tofu sandwich ($15), which is smothered with tangy house-made peanut sauce, and the avocado toast ($12), which comes perfectly salted and topped with tomato and clover sprouts. Acai bowls ($10 – $12) come in all colors and flavors, with toppings that range from chocolate chips and goji berries to chlorella powder and maple syrup. The beverage menu includes a green tea matcha latte, coconut milk-based smoothies and a kombucha float served with homemade coconut-berry ice cream.
"We're really trying to teach you to hunt for your own health," Hamid says.
The cafe reopens for daily dinner service from 5 to 9 p.m. At night, the open-air garden dining room is sparsely lit by Edison light bulbs, which make the floor of green and blue sea glass sparkle. When the sky is clear, the moon and stars steal the show. On a recent weekday, the rotating menu of dinner specials included vegetable pasta in a wine and coconut cream sauce ($22) and a tofu charmoula platter with Indian raita, chili pepper sauce and samosa ($22). Don't forget to save room for dessert! A tropical fruit turnover is a must.
Located in the heart of Wailua, Eat Healthy operates in the old Caffé Coco building, which Hamid bought and restored in 2011. She ran the restaurant for years under its old name before rebranding the concept to incorporate her own health-conscious recipes.
In addition to the restaurant, Eat Healthy also operates a small giftique, where Hamid stocks grab-and-go foods and the restaurant's homemade condiments and sauces, as well as jewelry, sarongs, crystals and small gifts crafted by local artisans.
In the future, Hamid hopes to expand the cafe's hours of operation and launch a series of cooking classes, where participants can learn how to prepare some of Hamid's most popular cuisine.
"It's very yummy," Hamid says. "You come in knowing it will be healthy and you leave remembering that it was good."

---
8 a.m. to 1:30 p.m., 5 p.m. to 9 p.m. 4-369 Kuhio Hwy., Kapaa, (808) 822-7990, eathealthykauai.com.