Eat Local at this Kapaa, Kauai Restaurant and Bar
The Local Kauai serves colorful cocktails and tapas made with ingredients sourced almost exclusively from the Islands.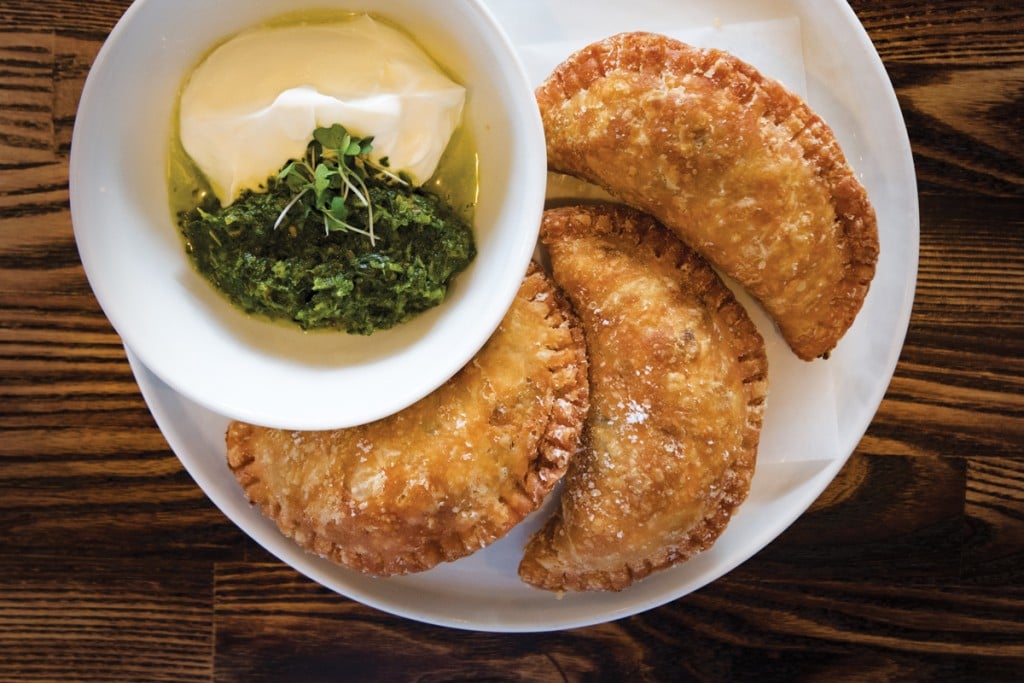 On a corner in Kapaa, at a comfortable bar that was once Eastside Café, my taste buds are in a state of disbelief.
"These are the best empanadas I've ever had," I tell Erin Keller and José Cortez, husband-and-wife co-owners of The Local Kauai. And I'm not lying: Filled with purple Okinawan sweet potatoes, Hawaiian sweet corn, queso fresco, ají piqué and housemade crema, I can't believe the flavors that are emerging with each bite. Calling the ingredients fresh is an understatement, and that's what The Local Kauai is all about.
After working at James Beard Award-winning Thai restaurant Pok Pok in Portland, Oregon, and moving to Kauai to work as executive chef at the Hanalei Bay Resort in Princeville, Keller, tall, donning a light-blue apron, her hair held tightly in a bun with a pencil and Sharpie, found the island's food scene lacking. "There weren't a lot of places that were actually fresh, from the island. Everyone has the same coconut shrimp that's frozen and came from somewhere off-island. And to me, that just isn't as exciting."
Cortez, who's from Venezuela and previously worked as a waiter at the hip Kauai eatery, Bar Acuda, shared the same thought. "It's frustrating to know that people come to Hawaii, and they envision a tropical paradise where you're sipping on these amazing, colorful cocktails," Cortez says, "and everyone's selling pre-packed, frozen piña coladas that come from a carton."
The bar's filling up now, and the crowd is a mix of Kapaa residents and visitors. Cortez slides two wildly vibrant drinks onto my table. "They're 100 percent local," he says. "We like to highlight what we have the most of on Kauai and what we can locally source, and there are quite a few cocktails on our menu that are made entirely of local fresh juices and Hawaii-made spirits."
Served to me is the bright pink Dragon's Breath (a mix of Maui-made Fid Street Gin and Kauai Juice Co. dragonfruit kombucha), and the light-green Garden Isle, which looks more like an energy smoothie than a cocktail. Unable to choose, I help myself to sips of both drinks, with the Garden Isle's fresh, earthy flavors, no doubt created by the mix of cucumber and lime, paired with its heavy portion of basil, winning me over.
Finished with my plate of empanadas, Keller emerges from the kitchen holding a basket of spicy buttermilk fried chicken wings, which Cortez describes to me as "that bar food that everybody knows and loves, but with a unique oriental twist." The same ideology runs true for all of The Local Kauai's menu, which uses ingredients found almost entirely in the Islands. Reprinted every Thursday, the menu is in a state of constant change, depending on what Keller can find from local farmers and farmers markets.
"It forces you to get really creative," Keller says to me as I'm chowing down on a piece of chicken, which is covered in homemade hollandaise sauce, topped with chocolate habanero hot sauce and crisped to perfection. "You have to let go of a lot of stuff if you're going to try to stay true to supporting local farmers and businesses, and you really have to adapt, but I feel like I totally accepted it and now I love it." Soaking up the last morsel of sauces with my remaining chicken, I have to agree. Creativity is delicious.
The Local Kauai is coming alive. The already packed bar is at capacity, and the dining room is filled with laughter, the clanging of utensils and the scooting of chairs. And although the bar and restaurant now seems like the go-to Kapaa taphouse, as Keller tells me, it almost didn't happen.
"We had to fight to get this place, we didn't have a ton of money and we almost got bought out by somebody else. I remember bawling my eyes out at the Hanalei Pier because the broker called and said, 'Someone outbid you guys,' and we didn't even know anyone else was looking at it," Keller says. "And then a week later, they backed out and all of my dreams were coming true. It was just a crazy rollercoaster."
Filled with some of the best bar foods I've ever had, and fearing an oncoming kanak attack—that sudden sleepiness that comes from eating too much—I finish the night with dessert. One spoonful of the salted caramel crème brûlée satisfies my sweet tooth, and the Kona sea salt pairs perfectly with the rich custard base. It's no surprise that the French classic tastes so good, as Keller once owned and operated her own wholesale crème brûlée company.
On my way out, I see an idle waitress tussle the golden blond hair of a patron's child; they must be regulars. Cortez is chatting casually with Dylan Scott, co-owner of Kauai Juice Co., and I reflect on what Keller told me in regard to the future of The Local Kauai. "I feel like we still have an infant to raise; I don't want to start putting my energy elsewhere," she said. "We're not planning on going anywhere anytime soon."
The Local Kauai  
Open from 3 to 9 p.m., Wednesday through Sunday. 4-1380 Kuhio Hwy., (808) 431-4926, thelocalkauai.com.