Eat your Fill of Authentic Texan BBQ at Sunset Smokehouse
Get a taste of central Texas at the Wahiawa barbeque joint that's smoking the competition.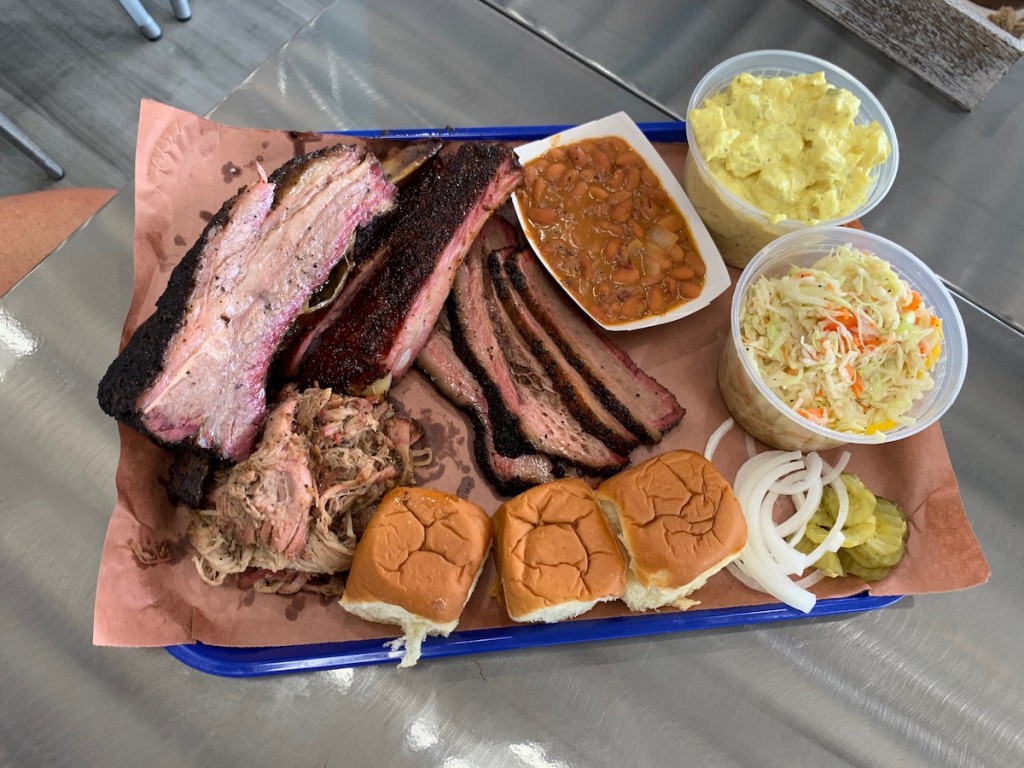 There's plenty of food Hawaii is known for: saimin, kalua pig, pineapple, poke. Barbecue isn't usually one of them.
Which is why, as I walk through the doors of Sunset Smokehouse in the Central Oahu town of Wahiawa, I'm not sure what to expect.
Originally started as a food truck parked in Sunset Beach in 2016, owner James Kim moved the Central Texas barbecue joint known for its 12-to-16-hour smoked meats to Wahiawa a year ago. Within the past two months, he started serving his sought-after grinds from the brick and mortar behind the truck.
The second you make your way through the smokehouse's doors, you can already tell from the smell that your commute into Wahiawa was well worth it. Just behind the counter, Kim is hard at work, hand-slicing and serving every plate of barbecue for his customers.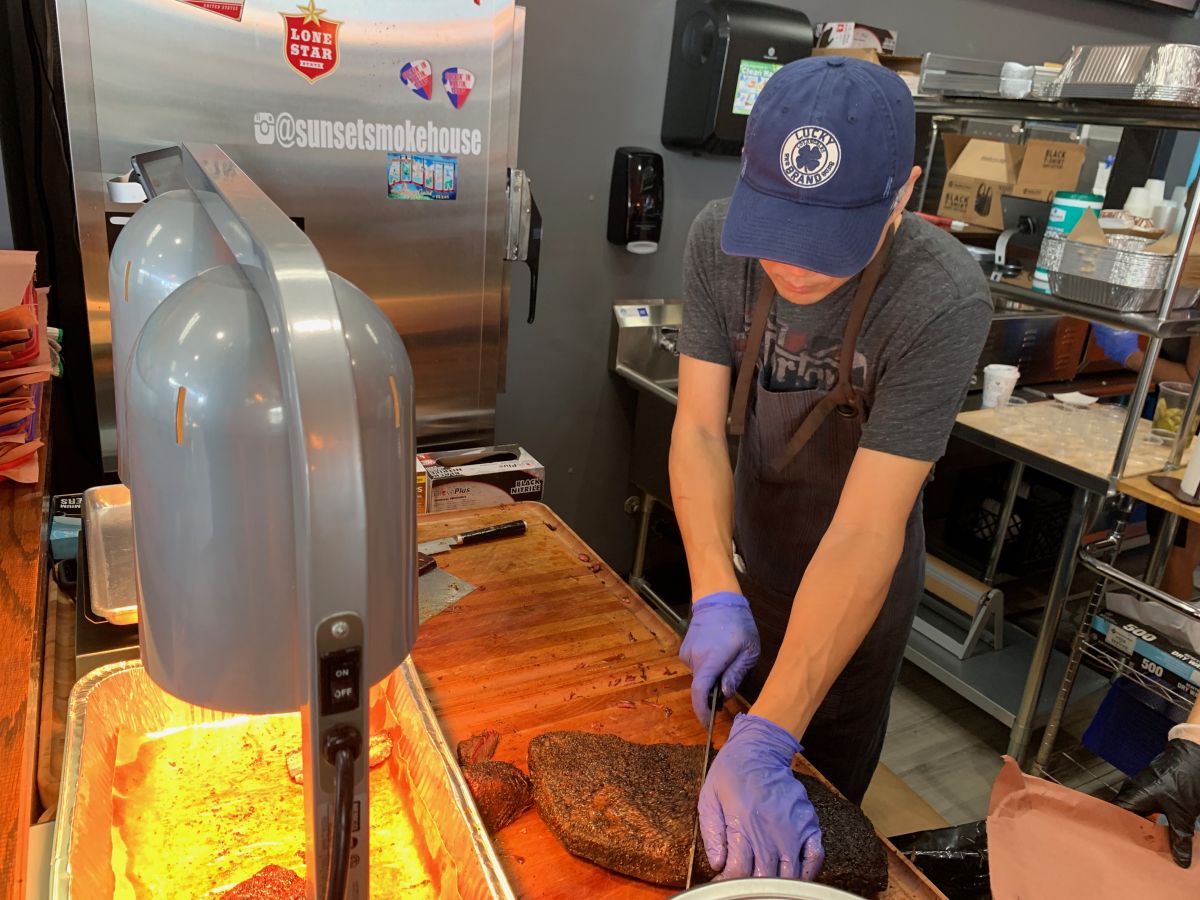 I try a little bit of everything—you can order meats by the half or full pound, sausage by the link and sides by the scoop, pint or quart. I walk away with a tray of pulled pork, beef brisket, pork ribs and even a special 1.5-pound beef rib that Kim slips onto my plate with a smile. (If you're interested in trying this rib fit for a T.rex, be sure to call ahead of pre-order, as it's not always on the menu.) I also snag some sides: mustardy potato salad, sweet and zesty Hill Slaw, some spicy pinto beans and a glass bottle of Mexican Fanta.
The pork rib glides right off, making it easy to clean off a bone. It's juicy, flavorful and everything I didn't know I was missing out on before I walked through Sunset Smokehouse's doors.
I'm not used to liking extra fat on my meat, but the woman working the register was right when she pointed to the sign beside the counter—"No fat, no flavor!"—and suggested I give the fatty brisket a try. It just melts in your mouth, with no unnecessary chewiness from the smooth layer of added "flavor." I try the lean brisket, too, and it still packs that smoky sweet flavor. (You can get fatty, lean or a mix of the two when you order your brisket.) It's so tender, you don't even need a knife: The side of my plastic fork works like a charm. The smokehouse actually doesn't even have plastic knives available.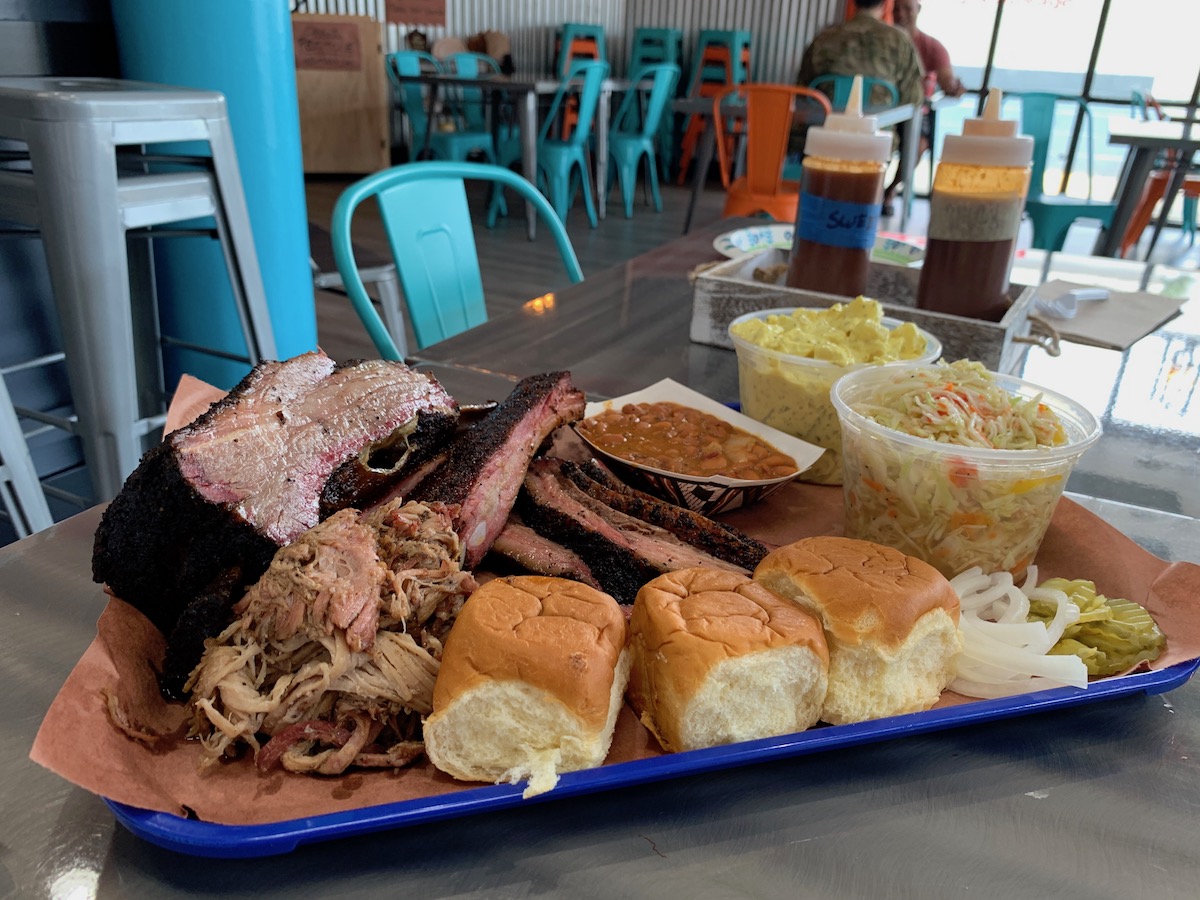 This beef is the core of Central Texas barbecue, Kim explains. While other Southern barbecue styles favor pork dishes, Austin (where the Texas native picked up his barbecue skills) cares a lot about its brisket and beef sausage.
The entire smoking process serves just to highlight the flavor of the meat itself. I'm amazed to learn that there's no unusual ingredients or recipes behind the mouthwatering platter of food in front of me. They're just covered in a salt and pepper rub and smoked using hickory, mesquite (not local kiawe) and occasionally post oak wood from the Mainland for over half a day in Kim's custom-made 500-gallon smoker.
Despite the use of Hawaiian sweet rolls, the focus of the smokehouse isn't on Hawaiian-Texas-fusion. It's a classic Central Texas barbecue joint—just sandwiched in the middle of Oahu.
"We try to keep it as authentic as we can from back home. That's why we use the wood and ingredients that we do," Kim says. "Barbecue is a huge part of our culture in Texas."
It's why Kim, previously a project manager for Samsung, ended up opening the smokehouse on Oahu. When he was visiting the island with his wife, Modesta, who grew up in Hawaii, they craved the Central Texas flavors from back home but couldn't find a single place to satisfy their hunger.
As they passed food trucks alongside the North Shore, Kim jokingly told his wife that they should open a barbecue place. And in 2016, they did.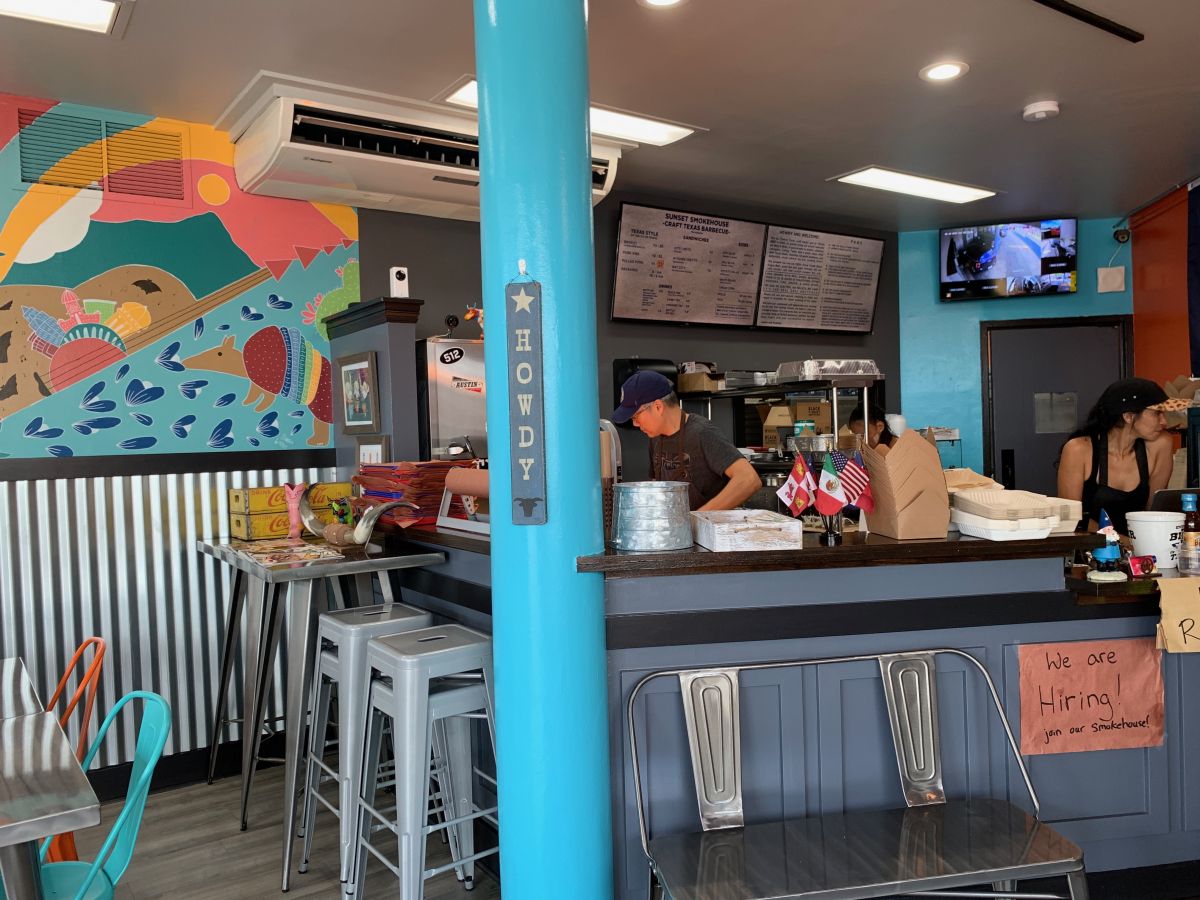 Nearly everything—including the sweet and spicy barbeque sauces found on tables inside—is made in-house. The only exceptions are the sweet rolls and pickles served on the side.
And I'm not exaggerating when I say I'm loving every bite I take—I'm even enjoying the potato salad, a food I typically avoid at summer cookouts.
I'm definitely going to need a to-go bag, but since the smokehouse is only open three days a week (Fridays 11 a.m. to 3 p.m. and Saturdays and Sundays 11 a.m. to 6 p.m.) and often sell out before closing time, I'm glad I've got a stash to pick at over the weekend. If it lasts that long.
Kim says he hopes to expand the smokehouse's schedule in the future. In a few weeks, he will be flying out to check on a new 1,000-gallon smoker being made in Texas. Once it makes its way over to Wahiawa, Sunset Smokehouse will be able to prepare more meat at a time.
Which is really saying something, considering the joint already barbecues anywhere from 700 to 1,000 pounds of meat over a typical weekend.
In addition to the work Sunset Smokehouse puts into its weekend batches, the truck occasionally heads over to Ward Village near Ala Moana. They also have fed the sets of "Magnum P.I." and "Hawaii Five-0."
Kim puts it best: "Who doesn't like smoked meat?"
11 a.m. to 3 p.m. or until sold out Friday, 11 a.m. to 6 p.m. or until sold out Saturday and Sunday, 23 S. Kamehameha Highway, Wahiawa, (808) 476-1405, sunsetq.com.