Eddie Aikau big wave contest begins with 45-foot North Shore Oahu surf. Watch it live online.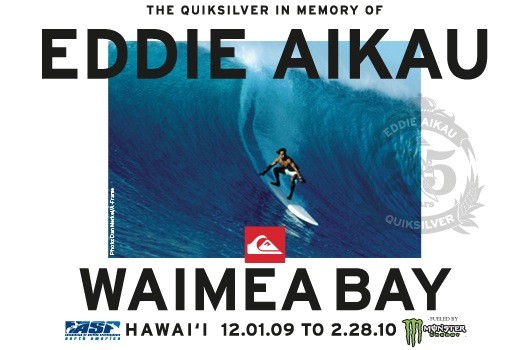 Waves heights between 35 to 45 feet on Oahu's North Shore today gave organizers of the The Quiksiliver In Memory of Eddie Aikau everything needed to green light the big wave surf contest for the first time in five years.
The surf contest, named after famed North Shore surfer and lifeguard Eddie Aikau, requires waves at least 40 feet tall along the face—or front side. Today's event was only the eighth time the competition has been held since its inaugural contest in 1985.
Waimea Bay surf peaked at 50 feet the last time the contest known as "The Eddie" was held was in December 2004. The National Weather Service predicted similar swells for the bay for this afternoon.
The Eddie Aikau contest is prestigious, featuring an invitation-only list of 28 big-name professional wave riders from Hawaii, the Mainland U.S. and around the world. Well-known pros out on the water at the contest's 8 a.m. start included Kelly Slater, Bruce Irons, Andy Irons, Sunny Garcia, Garrett McNamara and Ross Clarke-Jones.
At the time this article was posted, Slater had the early lead in first round competition points, followed by Bruce Irons and Ross Clarke-Jones. The contest was set to continue throughout the morning and afternoon.
If you can't be among the estimated 30,000 gathered at Waimea Bay, catch live streaming coverage from the famed North Shore surf spot here, provided by Eddie Aikau contest sponsor Quiksilver.