Eddie Aikau big wave contest waiting on expected Hawaii monster surf this week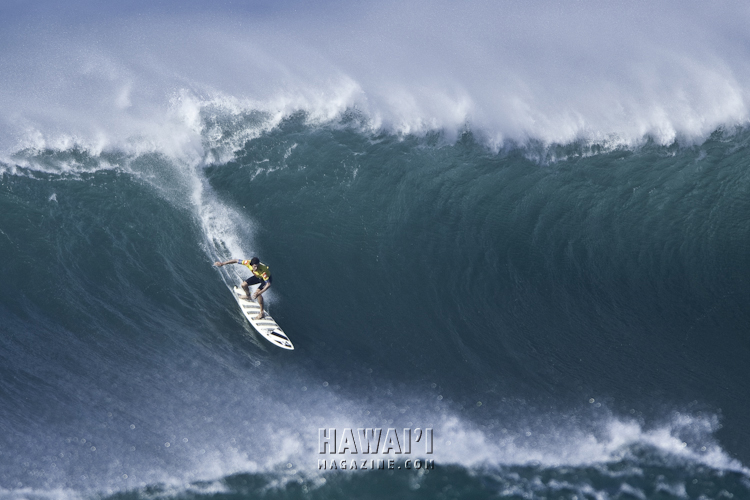 Surfers on Oahu's North Shore are keeping watch at Waimea Bay today, waiting to find out if surf conditions will be as massive as expected this week.
Massive enough, that is, to host the Quiksilver In Memory of Eddie Aikau, the famed Hawaii big wave contest.

The event, commonly called "The Eddie," calls for wave heights of at least 20 feet, during the North Shore's world famous winter big wave season. The contest has only been held eight times in the past 25 years.
The National Weather Service is forecasting a very large northwest Pacific Ocean swell to move into the islands on Thursday, possibly generating wave heights reaching "above-advisory" levels on both north- and west-facing Hawaii shores. Expectations are that wave heights will reach or exceed the required 20 feet to hold The Eddie.
A large storm system, covering more than 18,000 miles of the north Pacific, is the source of the expected North Shore swells. But forecasters are not always able to accurately predict just how big the surf will be—or whether it will even affect North Shore surf.
Eddie Aikau contest organizers expected to spend today monitoring forecasts to determine whether conditions will be ideal at Waimea Bay this week for the surf contest. Beyond this week, forecasters point to a favorable jet steam flow that will likely create extra-large surf through the end of the month and into February.
The holding period for The Eddie ends on Feb. 28.
The last time the big wave contest was held was in December 2009, when Greg Long from San Clemente, Calif. won the title.
The contest pays tribute to legendary Hawaiian surfer and North Shore lifeguard Eddie Aikau. The invitation-only professional contest is held over a single day—this season, between Dec. 1, 2010 and Feb. 28, 2011—when waves exceed the minimum 20-foot threshold. The purse this year is $98,000.
• Click this link for HawaiiMagazine.com photos from the 2009 Quiksilver in Memory of Eddie Aikau contest.
• For updates on this season's contest, visit the Quiksilver in Memory of Eddie Aikau official website.