Eight must-stop sights along West Maui's unexplored coast
Encounter beautiful seascapes on the winding route up to West Maui's north shore.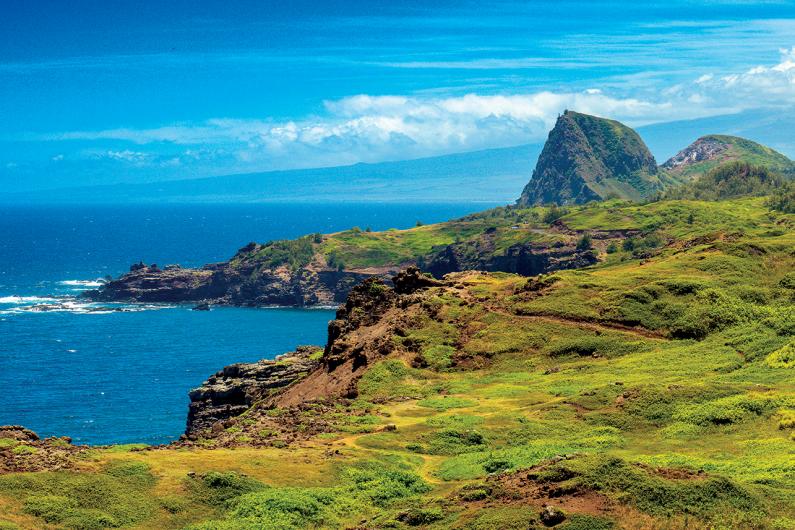 There's a stretch of road in West Maui, north of Lahaina and past Kaanapali, that twists and turns around the top of the island from Kapalua to Waihee along a beautiful, rocky coastline.
What to know about the road
The road, Hono-a-Piilani Highway, is named after the many hono (bays) on this route that were once ruled by Maui chief, Piilani—the popular Honolua Bay being one of them. This side of Maui is not often mentioned because of its rugged and undeveloped nature. There are no stores or gas stations; there aren't even restrooms for a large portion of the drive. Once past the Ohai Loop Trail, the road also shrinks to become the one-lane Kahekili Highway, hugging the sides of cliffs, which, at times, can be hairy. But, its scenery along these curvy roads, as you see from the photos, is spectacular. Some views left us simply speechless.
West Maui's Hawaiian history
Though much of the landscape is now uninhabited, Native Hawaiians once settled in the valleys and on the mountaintops sprinkled along the coast. They planted taro and sweet potato near the streams that pass through this moku (section of land), and traversed trail systems between the mountains, villages and the sea. One of the largest of these settlements remains in remote Kahakuloa—a quiet, picturesque town with a handful of families living, fishing and farming right where their ancestors did.
What to expect
We enjoyed our journey back in time through this untouched portion of the island, where few people venture to or explore. Whether you're interested in experiencing some or all of these places, we suggest putting your best driver behind the wheel and an observant navigator in the passenger seat. Then, stop at the many lookouts along the way; be prepared to hike, snorkel and swim; don't be embarrassed to honk as you go around blind corners and take your time around hairpin curves; and devote a day, or even two, creating unforgettable memories around West Maui's north shore.
1. Ohai Loop Trail
Named for the ohai native shrub prevalent along its cliffs, this 1.2-mile trail can be found between the 40 and 41 mile markers on Hono-a-Piilani (Highway 30). Visitors are given two options: take photos at the lookout two minutes up a small hill, or walk the trail. We strongly recommend the latter, which loops over and through the rolling green hills of coastline past native and non-native plants, such as lantana, guava, aalii and Christmas berry. The views only get better as you walk further along the coast, and at some vantage points—like atop one of its small puu (hills)—you feel as if you've entered a magical storybook land with endless photo opportunities. Midway through this easy loop trail, you'll find a lone bench waiting for you near the cliff's edge, where you can sit and ponder about the wondrous scenery and sparkling blue ocean around you.
ROAD TRIP TIP: Get there before the sun reaches its peak, and bring water and a hat; there is no shade.
2. Kahakuloa
The prominent natural feature of this small village is the steep, 636-foot headland—named Puu Koae (tropical bird hill)—and can be seen from the Ohai Loop Trail long before you get there. Maui chief Kahekili was known to dive from its cliff into the ocean long ago, before wind and wave erosion cut into the shoreline, making it an impossible feat to do today. But it's still an incredible landmark to admire from afar.
Kahakuloa (the faraway master) is named after an ancient loi (taro patch) located inland where its chief lived at the time; it also served as a puuhonua (place of refuge) for those who broke a law. Today, the quiet town has a population of around 100 and visitors on the one-lane road stop here to enjoy the views and visit the 128-year-old Kahakuloa Congregational Church. Also, fill up on food and refreshments from three options: Braddah Chic's lunch truck, a hot-pink shave ice and coffee stand, or Julia's. Take your time and browse all of them, but, if you have to choose but one, we recommend Julia's, where you can buy banana bread loaves, jams and refreshing lemonade.
3. Mokuleia and Honolua Bays
These two hono right next to each other are equally beautiful but very different. Mokuleia is only accessible by a stairwell that takes you down from the highway to a sandy beach where you can swim and lounge. Honolua, on the other hand, has a rocky beach, but offers great snorkeling in the summer months. Both bays are part of a marine life conservation area, which means that the fish are generally larger and more plentiful, making it a very popular destination for visitors who want to snorkel. Plus, Honolua also has the only bathroom—a porta-potty—for miles.
In these waters, you'll find surgeonfish, goatfish, parrotfish, bonefish, mullet and, occasionally, the once abundant akule (bigeye scad). But, remember, this is their home. "Be careful not to walk on the coral, or sit or stand on it," says Skippy Hau, aquatic biologist for the State Department of Land and Natural Resources. If you can't swim well, bring something to help you float so you won't need to touch down onto the coral. Hau also discourages visitors from feeding the fish, because it could potentially make them more aggressive in the future. So, do bring a picnic lunch, but leave the food on the shore.
ROAD TRIP TIP: Park along the highway; no fishing or removing any of the bays' resources is allowed, dlnr.hawaii.gov/dar.
4. Waihee Ridge Trail
On the east side of West Maui, and right across from Mendes Ranch, turn onto Maluhia Road, which takes you to the start of this intermediate-level, 2.5-mile hiking trail that begins at an elevation of 1,000 feet and zigzags upward to 2,563 feet. Along the way, you'll take in views of the Waihee Gorge, Makamakaole Gulch and a faraway waterfall can be seen.
Begin the approximately three-hour hike early, before the clouds move in, and wear sturdy shoes for this uphill and sometimes muddy trail. When you reach the end, you'll feel as if you're on top of the world, with views of Central and East Maui (as seen on our cover).
ROAD TRIP TIP: No camping allowed; grab a walking stick and bring plenty of water. hawaiitrails.ehawaii.gov.
5. Nakalele Blowhole
The most popular attraction on this route is the blowhole, which spouts water high into the air and sprays visitors who are in the path of the wind—a natural phenomenon resulting from waves crashing into a sea cave beneath the surface. It's fun to watch, but keep in mind that it can be dangerous, and people have been swept away by waves. There are no guardrails, like the ones at Halona Blowhole on Oahu, so stay away from the spout, and use common sense as you take in this sight.
ROAD TRIP TIP: Bring water for the short, but hot, hike. Between mile marker 38 and 39.
6. Mendes Ranch
Located near the town of Waihee, on the east side of West Maui, this ranch offers 1.5-hour, morning and afternoon horseback-riding tours over the interlinking dirt trails on its large property, with stunning views of the rocky coastline, high cliffs and beautiful blue sea. From its high elevation, you can also see the lower plain of Central Maui and the majestic Haleakalā on a clear day. After signing the necessary waivers, meeting the staff and getting equipped with a helmet, you'll be paired with a horse that fits your skill set (ours were Blondie, Mikey and Cowboy). You'll then have a few minutes to practice guiding your horse around the corral before the tour begins.
The horse ride is more of a horse walk, as the horses stroll down and around the ranch's acres of land, but, unlike some tours, you do have the option to let your horse gallop or trot at a couple of points, if you're up to it, or you can choose to continue at a slower pace. The staff was very friendly and helpful, if, for instance, your horse decided to stop in favor of snacking on tall grass. They also shared knowledge and history of the land—even picking guava from the trees to offer guests a slice of fruit.
When the afternoon ride is over, there's a barbecued lunch of chicken, pasta and salad that you should opt for at an additional cost, because not only is it hot and ready when you return, but you'll also like the opportunity to stretch your legs and relax before getting back on the road.
ROAD TRIP TIP: To get to your ride on time, we recommend driving by way of Highway 3400 (Waiehu Beach Road). 3530 Kahekili Highway, Wailuku, (808) 871-5222, mendesranch.com.
7. Kaukini Gallery
On a cliff above Kahakuloa, there's a large gallery and gift shop, seemingly sprung out of nowhere sitting on the edge of a 150-acre ranch. Aside from it being the only store (and public bathroom) on this stretch of highway, it also contains a collection of some of the best artwork from Hawaii you'll have the pleasure of browsing in one place.
In the '90s, the owner, Karen Lee Noland, was an art major on Oahu when her family asked if she could move to Maui and take care of her grandfather on his ranchland along Kaukini Ridge. Noland remembers working in his yard and people driving by would stop her "every five minutes" to ask for directions or to use her bathroom. "You don't realize how many people are on that road." A few years later, she decided to live on the ranch permanently and opened her own gallery on the family's front porch in 1993. At first, she featured 12 local artists, and today she has a whole building, with more than 100 artists, including her own paintings.
Noland frequents art shows and craft fairs around the Islands to find local and upcoming artists to feature in her store and, if customers can't afford the originals, there are prints for $15 to $20 available, too. "We try to keep something for everyone and have a price point that's affordable," she says. Other items for sale include ceramics, wood, baskets, housewares, children's books and jewelry, which is her No. 1 seller.
Open 10 a.m. to 5 p.m., Kahakuloa, (808) 244-3371, kaukinigallery.com.
8. Kapalua Trails
This area is known for its resorts, but there are a number of hiking trails in and around the hotels, ranging from easy to moderate and low to high elevation, worth a day of exploring all on its own. Among them are the 1.25-mile Honolua Ridge and .5- to 3-mile Maunalei Arboretum Trails, and the 5.75-mile Mahana Ridge Trail, which wanders from Maunalei Arboretum to the Kapalua Village Center.
Easier trails include the Kapalua Village Walking Trails, which are golf-cart paths on a former golf course, and the Coastal Trail fronting the Kapalua resorts and running from Kapalua Bay Beach to D.T. Fleming Beach Park.
Go online to kapalua.com or visit the Kapalua Village Center for maps and further information, (808) 665-4386.