Elvis fans to celebrate 40th anniversary of "Aloha from Hawaii" worldwide concert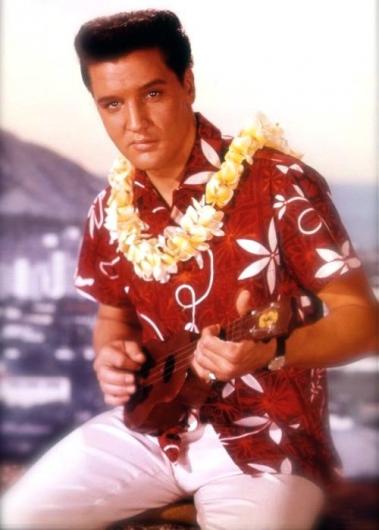 Memphis-based Elvis Presley Enterprises Inc. this week announced a vacation package to Hawaii tied to the 40th anniversary of his Aloha From Hawaii concert held on Jan. 14, 1973 in Honolulu.
The package, Jan. 10-15, 2013, will feature concerts, panel discussions and tours of Elvis-related locations on Oahu, such as Diamond Head and Hanauma Bay, which were featured prominently as the backdrops in the films Blue Hawaii (pictured, right) and Paradise, Hawaiian Style.
The Aloha From Hawaii concert was broadcast live via satellite from the Honolulu International Center — now the Neal Blaisdell Center. It was the first musical event to be broadcast worldwide by satellite.
The concert served as a fundraiser for the Kui Lee Cancer Fund. Lee, a Hawaii composer and entertainer who died of throat cancer in 1966, was the composer of the song "I'll Remember You," which was recorded by Elvis. Aloha From Hawaii featured that song along with several older hits and tunes from the 1960s and '70s. The lineup ranged from "Blue Suede Shoes" to "Can't Help Falling in Love" and the Beatles' "Something."
According to a press release issued by Elvis Presley Enterprises, the vacation package dubbed Elvis Presley's Aloha from Hawaii, the 40th Anniversary Celebration, includes a five-night stay at the Hilton Hawaiian Village Wakiki Resort.
Here are some of the celebration's highlights
• Ultimate Elvis Tribute Artist Contest (hosted by Legends in Concert Waikiki) — 8 p.m. on Sat., Jan. 12, 2013 at the Royal Hawaiian Theater in The Royal Hawaiian Center, just a few blocks from the Hilton Hawaiian Village. Legends in Concert Waikiki is also presenting an Elvis tribute show spotlighting top-notch tribute artists on Fri., Jan. 11 and Sun., Jan 13, at 8:15 p.m.
• Aloha From Hawaii screening — Mon., Jan. 14 (evening) at Neal Blaisdell Center. Elvis fans will gather in the venue where four decades ago Elvis took the stage for his famous concert. The screening of the Aloha from Hawaii show will feature re-mastered video on giant, multiple screens. Included will be rare footage and audio, according to Elvis Presley Enterprises.
The celebration's concerts will feature musicians who performed with Elvis at the Aloha From Hawaii show and other Elvis fan favorites, according to Elvis Presley Enterprises. Among the guests slated for Elvis-related panel discussions are Jerry Hopkins, author of Elvis in Hawaii and Jan Shepard, Elvis' co-star in King Creole and Paradise, Hawaiian Style.
For additional information about Elvis Presley's Aloha from Hawaii, the 40th Anniversary Celebration, click here.