Experience kalo culture on a Waikiki rooftop
Learn to harvest this culturally significant plant during free monthly workshops.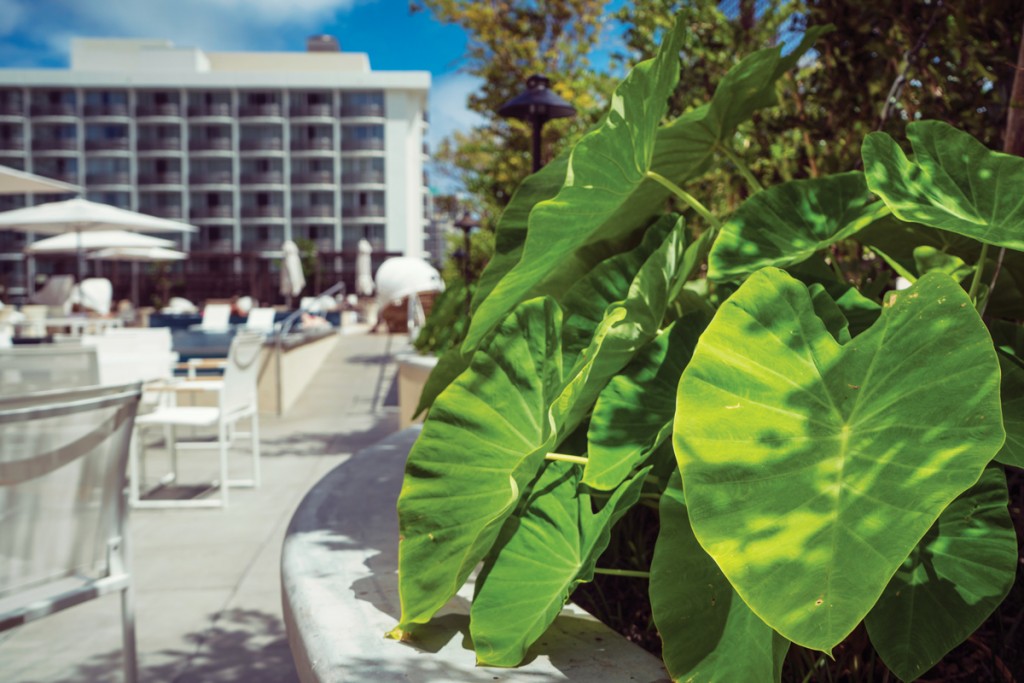 On a bright Tuesday afternoon, the roof of the Hyatt Centric Waikiki is buzzing. Couples relax on chaise lounge chairs and kids splash in the shallow pool. Just to the right is an unassuming rectangular garden, large heart-shaped leaves swaying in the breeze. These kalo (taro) plants were originally planted for aesthetic purposes, but thanks to a partnership with Daniel Anthony, a local farmer and vocal proponent of Hawaii's local food movement, the plant has become a food and educational resource. In fact, it's the only public place in Waikiki where kalo is being grown and harvested.
Once a month, the hotel holds a free two-hour workshop where Anthony shows hotel guests, visitors and kamaaina (longtime residents) how to prepare laulau using leaves from the kalo garden. Laulau is a traditional Hawaiian dish with steamed luau leaves enveloping a fatty ball of pork and butterfish.
Anthony, who grows kalo in Kaneohe and makes and sells poi, partnered with the Hyatt Centric last spring. "We're transforming (this garden) from something that's beautiful to something that's both beautiful and cultural," he says.
The program has been a hit. On the last Tuesday of each month, 10 to 15 people gather around Anthony while his kids play in the pool nearby. He brings each participant a booklet on kalo, which includes the history of the plant, its significance in Hawaiian culture and ways it can be prepared. Then everyone dons gloves and starts harvesting leaves. The kitchen prepares the laulau filling and Anthony demonstrates how to make the softball-size dish. Instead of the traditional ti leaves, the bundle is wrapped in tin foil.
While the laulau is steaming, Anthony answers questions and pounds kalo, demonstrating how to make poi and its more solid sibling, paiai by hand. "I get a lot of people who end up falling in love with poi," he says.
Anthony says it's been rewarding to have participants, especially those who live on the island, learn about this staple food and its continuing ties to Hawaiian culture. "There was no reason for me as a farmer to go to Waikiki, until now," he says. "There's a responsibility that I've inherited, to malama honua, to care for the taro."
Hyatt Centric Waikiki Beach, 349 Seaside Ave., Honolulu, (808) 237-1234.