Explore Maui's Unique Underwater Ecosystems, Up Close
Atlantis Submarines' sustainable efforts not only help grow the Valley Isle's aquatic habitats, its submarine adventures give you a firsthand look at life under the sea.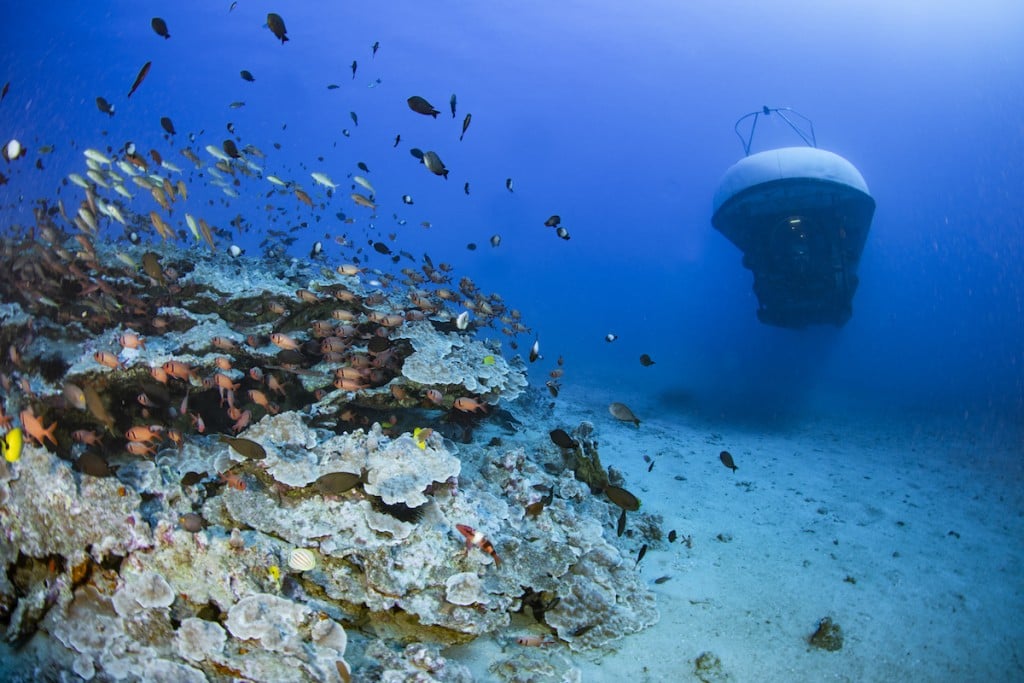 In December 2005, the Carthaginian II—a three-masted, steel-hulled sailing ship built in 1921 that previously served as a cement freighter and floating whaling museum—was scuttled. This historic schooner is now considered one of the greatest sunken wrecks in the United States and has become an artificial reef for a variety of aquatic creatures, including long trumpetfish, golden cleaner wrasses, Pacific orange-spine unicorn fish, white-and-black striped sergeant major fish, and even a family of grumpy-looking orange frogfish. You can still visit the Carthaginian II, located about a half-mile off the southern coast of Lahaina, one of Maui's westernmost (and most-visited) spots.
There's only one catch: It's resting on a sandy seabed 97 feet below the water's surface. Not an easy attraction to explore while holding your breath.
Fortunately, though, there's a better option: a cozy ride in the world's most technologically advanced passenger submarine, courtesy of Atlantis, Hawai'i's premier marine tour operator. Aboard air-conditioned and relatively spacious 65-foot vessels, nearly 50 people can comfortably enjoy the aquatic sightseeing journey, peering out at the underwater world of wonders through large viewing portals.
A ride aboard an Atlantis sub isn't just remarkable, it's also sustainable. The company's eco-friendly submarines are battery-powered and emit zero fumes, pollutants or emissions of any kind. They also move quietly through the water without disturbing fish or marine life. "We were using green electric vehicles underwater before they were widely available on land," says Jim Walsh, general manager of Atlantis Submarines Maui. "They're also quiet, so as not to disturb the natural aquatic wildlife."
Atlantis is also the team behind the purposeful sinking of the Carthaginian II, spending close to $350,000 on environmental studies to ensure the former vessel was sunk properly, and to help safeguard the Carthaginian II for marine life. In 1989, the company was also responsible for creating Hawai'i's first artificial reef off the shores of Waikīkī, and has helped place several other underwater habitats throughout the Islands. "It's all part of being a company committed to doing our part to be a steward of the ocean," Walsh says.
After three decades of providing ocean tours in the Hawaiian Islands to over 10 million guests, Atlantis Submarines is committed to respecting and protecting the ocean and its creatures through its submarine tours.
Whether you're viewing the ocean from above water or submerging in a sub, Atlantis Submarines is the leading tour company of choice. And it's sustainable.