Explore the Majestic Nāpali Coast with Kauaʻi Sea Tours
Adventure along one of the world's most spectacular coastlines aboard a luxury catamaran or on a thrilling ocean raft.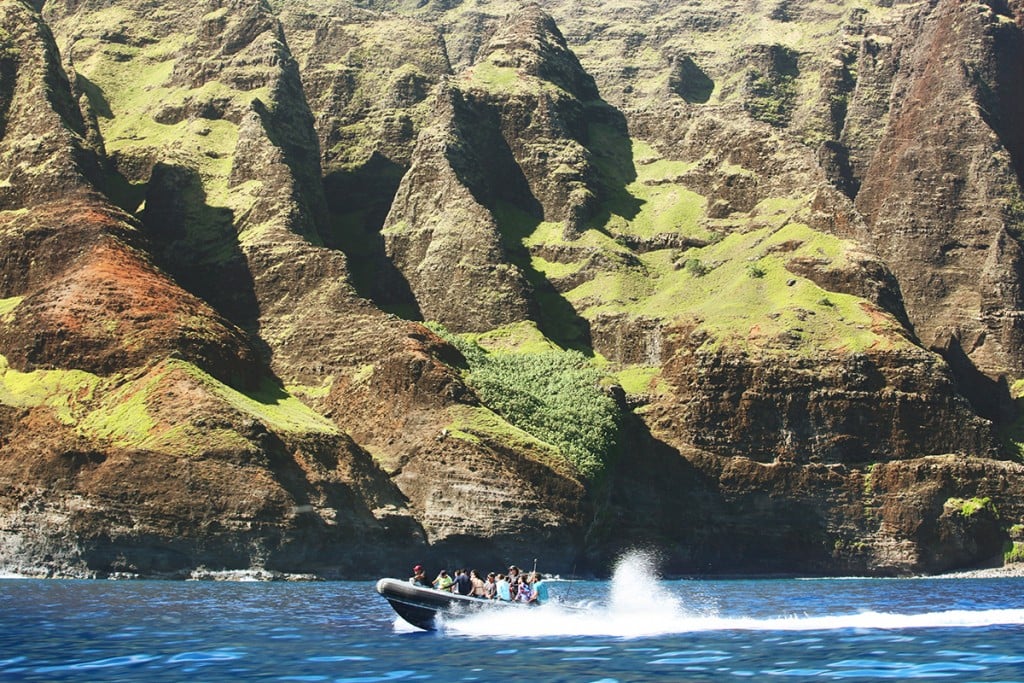 Looking up at the coastline from the water, you can clearly comprehend how this place derives its name. Nāpali means "the cliffs" in Hawaiian.
Kauaʻi's majestic Nāpali Coast is a 16-mile marvel of lava rocks, sea caves, emerald green valleys and steepled mountain peaks laced with waterfalls.
As if that weren't enough to lure you here, this otherworldly landscape can often be counted on for views of rainbows, leaping spinner dolphins, spouting humpback whales, gliding Hawaiian green sea turtles and flying white-tailed tropicbirds.
This remote coastline is inaccessible by car, and can only be seen by sea, air or foot. If a helicopter tour or a grueling 22-mile round-trip hike doesn't sound like your brand of adventure, then consider experiencing the Nāpali Coast by sea—a deep blue sea out of which bright green cliffs rise up from the beach like the spires of a gothic church.
With Kaua'i Sea Tours, you'll enjoy the Nāpali from the same vantage point as the ancient Hawaiians who once lived here and journeyed through its magnificent valleys by canoe. The friendly and knowledgeable captains and crew will indulge you in the history and legends of this special coastline, passionate about deepening your understanding and respect for the cultural significance behind the Nāpali's natural jewels.
"For me as a Native Hawaiian born and raised on this island, I take pride in this," says Captain Kauaʻilikimaikalani, who has been leading tours of the Nāpali Coast for 15 years. "Everybody talks about this coastline and the waterfalls and sea caves, but it's not only beautiful—it's historic. Thousands of Native Hawaiians lived on the Nāpali coastline from about A.D. 500 until the 1930s. When you learn about it, what you see takes on a special meaning."
Kaua'i Sea Tours offers three kinds of excursions, on three distinct types of vessels: a deluxe tour on the 60-foot sailing catamaran Lucky Lady, an express tour on the 40-foot power catamaran 'Imiloa, and a rafting adventure aboard a 24-foot rigid-hull inflatable boat.
The company's signature Nāpali Snorkel tour is offered on both deluxe and express tour vessels; it's 4.5 to 5.5 hours long depending on the vessel, and includes snorkeling, breakfast snacks and lunch. The goal is cruising along the coastline of the Nāpali and stopping at waterfalls and sea caves along the way.
The rigid-hull inflatable rafts are agile enough to dart into sea caves and go through waterfalls. They're one of the best ways to really get up close to the coastline—but this exhilarating tour is not for the fainthearted. Captain Kauaʻi recommends the raft adventures only to those ready for a "good arm and ab workout."
In the summertime, Kauaʻi Sea Tours offers a raft adventure called the Nāpali Beach Landing that allows customers to get off the raft, picnic and go on a guided tour of Nuʻalolo Kai Beach, a sacred and historic remote location hidden within the Nāpali Coast.
No matter which tour you choose, you'll experience an unforgettable day on the water while taking in some of Hawaiʻi's most staggering views. An amalgamation of vibrant coral reef, soft sandy beaches and towering cliffs, the Nāpali dazzles, much like nature's rendition of a gilded imperial palace.
Passengers catch a first glimpse of the Nāpali Coast at Polihale, a spacious 17-mile stretch of white-sand beach guarded by shade-casting sea cliffs. As the Nāpali coastline unfolds, passengers learn its cultural and geological history while taking in its jaw-dropping aesthetic. One of the most famous sites along the way is Miloliʻi Beach. The site of an ancient Hawaiian settlement, modern-day Miloliʻi is a reclusive beach often populated by Hawaiian green sea turtles, or honu, and endangered Hawaiian monk seals. Growing on the vertical cliff faces above the beach are exotic plant species found nowhere else on Earth, and deep in the valley are extensive stonewalled terraces assembled centuries ago by early Hawaiians who called this rugged coastline home.
Farther down the coast at Nualolo Kai, the remains of an early Hawaiian settlement are still intact. Bursting with botanical and archaeological wonders, the beach here is sandwiched between dramatic amphitheater-shaped cliffs and a pristine coral reef. The water is calm, typically clear and teeming with colorful fish, offering some of Hawaiʻi's best snorkeling. (This is one of the snorkeling destinations for the raft adventures.)
Every evening, Nāpali Coast dinner cruises depart out of Port Allen Harbor on the west side of Kauaʻi. These tours offer the opportunity to wine and dine while checking out the island's natural beauty. You'll cruise in style and comfort as the sun sinks into the sea and the coast bathes in hues of red and purple. Then it's time to step up to the bar for beer, wine or a mai tai—Hawaiʻi's ultimate tiki cocktail.
"We play music, we have fun, we keep it laid-back," says Captain Kauaʻi. "If it's your first time on the Nāpali, be ready to take pictures, be ready to laugh a lot and be ready to see some amazing sights and sacred places."
Kauai Sea Tours
4353 Waialo Rd, Ste 2B-3B
Eleele, HI 96705
(808) 335-5309
kauaiseatours.com