Explore the USS Bowfin submarine at Oahu's Pearl Harbor
Head down the hatch and into a historic WWII submarine.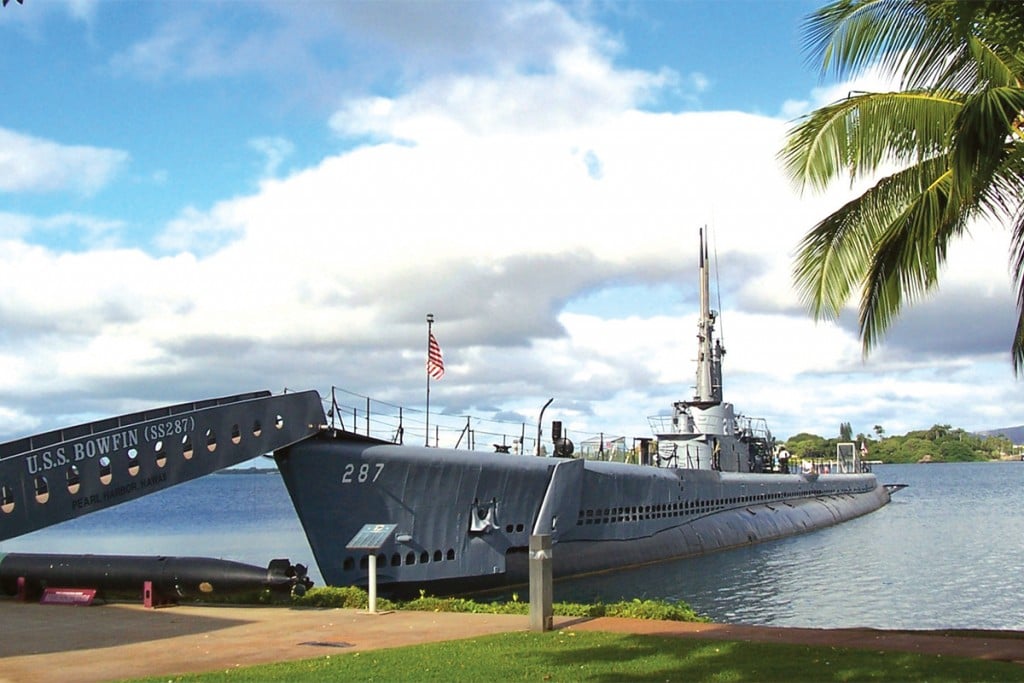 Ready to dive in? A World War II submarine is tied up to shore at Pearl Harbor, just beyond the visitor center's grassy park, its hatchway open for you to descend.
Inside the Bowfin, an audio tour leads you through the eight compartments from bow to stern. Within this 16-foot-wide hull, a crew of 80 men worked and slept in shifts on shared bunks, some next to the torpedoes. The walls are covered with cables and tubes.
The Control Room's panel of red and green lights, dubbed the "Christmas tree," showed whether each hull opening was closed. Past the crew's mess and sleeping area, where up to 36 hammock-like bunks could hang in stacks, are two engine rooms and the maneuvering room, with its bank of big silver speed control levers set at waist height.
Emerge on deck from the aft torpedo room and pass the conning tower on your way back to the gangplank. The Bowfin's mission during World War II was to disrupt shipping around Japan, so civilian freighters were in her crosshairs. The sub also proudly displayed on her battle flag the outline of a torpedoed bus, blown up along with a quay it was parked on in a Japanese harbor.
Across a courtyard is the museum, focused on all things submarine. Here you'll also find a fish mounted as though it's swimming through the air, feisty and ready for a fight. It's a bowfin, for which the nearby sub was named. There's a helmeted deep-sea diving suit from 1961, looking like it came from Jules Verne's Nautilus.
Shiny insignia pins from foreign submarine forces are on display, as is a model of the USS Hawaii, homeported at Pearl Harbor. The information posted on the exhibits is skimpy, so plan on taking the museum's 40-minute audio tour.
In the park outside (free admission), you'll stroll past weaponry such as a Poseidon C-3 missile and a World War II suicide torpedo designed to be ridden and steered by a Japanese diver (some 900 lives were lost in the human torpedo program).
A seaside circle of memorial stones honors the 52 American submarines and the more than 3,500 submariners lost during World War II.
USS Bowfin Submarine Museum and Park
11 Arizona Memorial Drive; 7 a.m. to 5 p.m. daily except Thanksgiving, Christmas and New Year's Day. Admission is $15 for the self-guided tour ($8 for military, seniors and kamaaina, $7 for children age 4 to 12). Children under four years old are not permitted on the submarine. Military personnel in uniform are admitted free to the submarine and museum. (808) 423-1341; www.bowfin.org.