Explore Waikīkī Without the Traffic—Or Cars—on Open Street Sundays
For the next three Sunday mornings, Kālakaua Avenue shuts down so bikers, joggers, walkers and rollers can take to the street.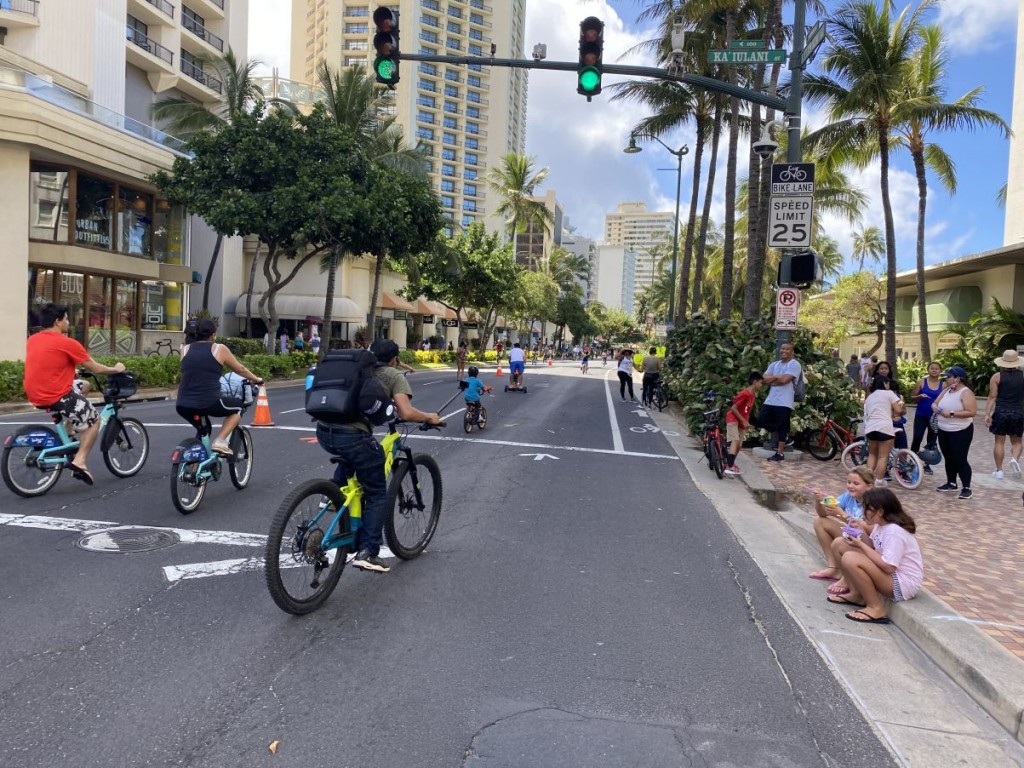 Ever want to walk down Kālakaua Avenue, Waikīkī's main drag, without having to worry about cars or traffic? Well, now's your chance.
The City & County of Honolulu has decided to shut down a half-mile stretch of Kālakaua Avenue—from Seaside to Kapahulu avenues—for any cars or motorized vehicles. It isn't closed to bikers, joggers and walkers, however, and those who want to stretch their legs can enjoy the normally bustling road for the next three Sundays (June 21, June 28, July 5) from 6 a.m. to noon.
Open Street Sundays launched on June 14. We saw local residents and visitors traversing the avenue on skateboards, rollerblades, rented Biki bikes and on foot. And with so many individuals taking advantage of the road, Waikīkī's beachside walkway was significantly less crowded; meaning there were fewer bodies obscuring that iconic Waikīkī Beach shoreline.
Parking was also pleasantly easy to find. Dozens of empty stall could be found at the International Market Place, which is always a good choice with its low hourly rate and $10 validation, while the Royal Hawaiian Shopping Center offered complimentary three-hour parking as long as you make any purchase. Yes, even a cup of coffee at Vintage Island Coffee or Starbucks works.
Along Kālakaua Avenue, many businesses had reopened their doors and were ready to take in customers again, from cafés to clothing stores. There's even limited outdoor seating at some locations, like Kai Coffee, so if you want to take a break with an iced coffee and watch the crowd roll on by, you can—and by all means should.
For more information, visit the Hawaiʻi Bicycling League's website.