"Explosion-like" earthquakes, lava fountains stir Kilauea volcano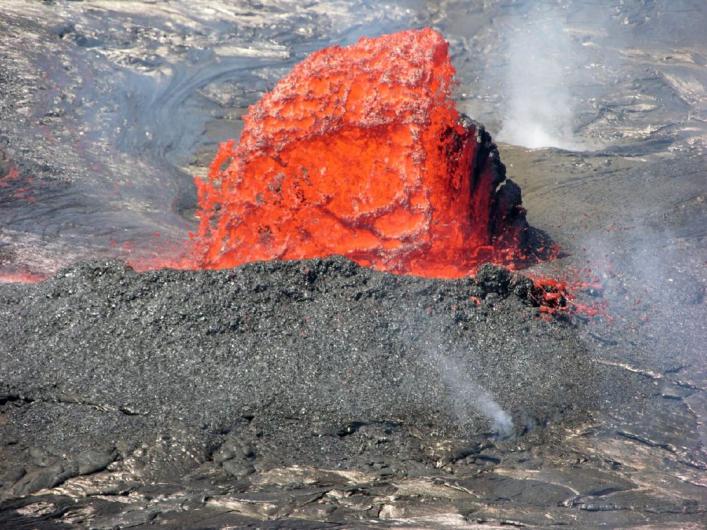 Earthquakes, explosions and lava fountains! Oh, my!
After a couple of business-as-usual months at Kilauea—steam and ash plumes at the summit, lava flowing into the sea—the volcano on Hawaii's Big Island is showboating again.
Just after midnight this morning, a couple of "small explosion-like" quakes rocked the summit area of Halemaumau crater vent, according to geologists at the Hawaiian Volcano Observatory. The larger of the two earthquakes at 12:38 a.m. was given a preliminary measurement of magnitude 3.0.
Geologists reported the usually incandescent Halemaumau vent went dark for several minutes following the explosions. Rock dust and more ash than usual was found near the vent at daylight.
Further downslope, lava flowing underground from Pu'u O'o vent to the Puna coastline surfaced about six miles from shore, shooting fountains up to 45 feet high on Sunday (top photo, click for larger view). The breakout was one of several (second photo, click for larger view) occurring over the last several days about two miles from the Pu'u O'o vent. The area is not open to the public, nor visible from the oceanside visitor area near Waikupanaha.
The 45-foot fountains from the Sunday morning breakout initially caused a diversion, significantly reducing lava flowing into the ocean. But by afternoon, the explosive show of magma meeting ocean started up again, just yards away from the visitor area.
Geologists believe the recent surface breakouts were due to increased gas pressure in Kilauea's extensive underground tube system, caused by greater lava production.
No explanation was given for this morning's summit quakes.
Need to catch up on Hawaii volcano news? Click here for HawaiiMagazine.com's collection of posts on Kilauea activity in 2008.
CLICK THE SCREEN SHOT BELOW for United States Geological Survey video of the breakout flows and lava fountains, shot yesterday.