Family friendly events this weekend at Waikiki Aquarium, Honolulu Academy of Arts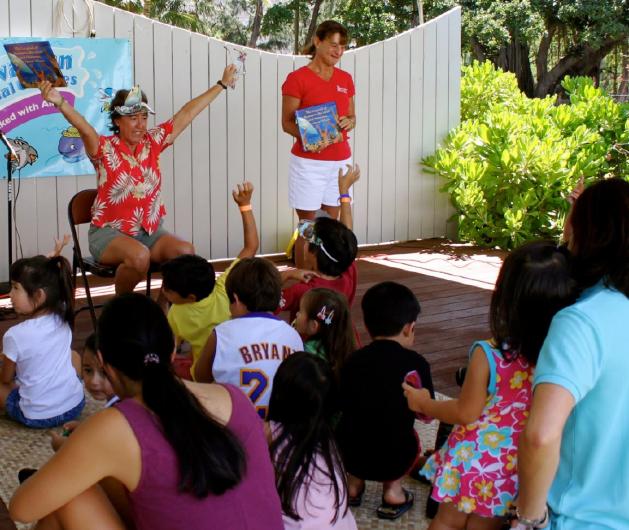 If you're on Oahu this weekend and looking for some family friendly fun that also serves as an opportunity to step up Hawaii-related smarts, you're in luck.
On Sat., Sept. 17 the Waikiki Aquarium will host its second annual Ocean Literacy Day. And on Sun., Sept. 18 the Honolulu Academy of Arts will spotlight the art of lauhala (palm leaf) weaving with a family event titled Woven Wonders.
The aquarium event, 10 a.m. to 1 p.m. will feature storytellers (pictured, right) reading from popular books about the ocean and its underwater creatures while costumed characters — including mermaids — entertain on the lawn. The Royal Hawaiian Band will also perform songs about Hawaii's marine life. 

Event participation will be included in daily admission. Daily admission is $6 for local residents, active duty military with identification, students with ID and senior citizens; $4 for youths ages 13-17 and persons with disabilities; $2 for juniors ages 5 – 12; and free for children 4 and under and Friends of Waikiki Aquarium members. General admission is $9. For more information, call (808) 923-9741 or click here.
Woven Wonders, a free event, is set for 11 a.m. to 5 p.m., with activities wrapping up at 3 p.m.
Visitors will be invited to learn about the hala tree and how to clean and strip its lau (leaves). They will also weave their own stars and fish to take home. In addition, members of the Handweaver's Hui will lead a cardboard loom-weaving activity, teaching visitors how to make colorful coasters out of yarn and fabric.
The event will feature Hawaiian-style musical entertainment, with Rick Rickard and playing hapa haole songs from 11 a.m. to 1 p.m. Then, from 1 p.m. to 3 p.m., kumu hula and Na Hoku Hanohano Award winner Kimo Alama Keaulana and friends will perform traditional Hawaiian music.
Whole Foods will have a menu of Hawaiian dishes available for purchase. Also, the Honolulu Academy of Arts will give a free copy of Life in the Pacific of the 1700s to the first 200 people who walk through the event's doors.
Woven Wonders is inspired by an exhibit that opened last month at the Academy titled Ulana Me Ka Lokomaika i: To weave from the Goodness Within. It showcases papale (hats) created by master lauhala weaver Gladys Kukana Grace — a recipient of a National Endowment for the Arts' National Heritage Fellowship — and some of her students (pictured, left — "Aunty Gladys" in center). Thirty of Aunty Gladys' students will be on hand at the event to help visitors learn about the Hawaii art form.
For additional information about the event, call (808) 532-8700 or click here.