Farmhouse Meets Coastal in this Remodeled Kitchen
TV host Kanoe Gibson combined her two upbringings—in Hawai'i and Missouri—into her Hawai'i Kai kitchen.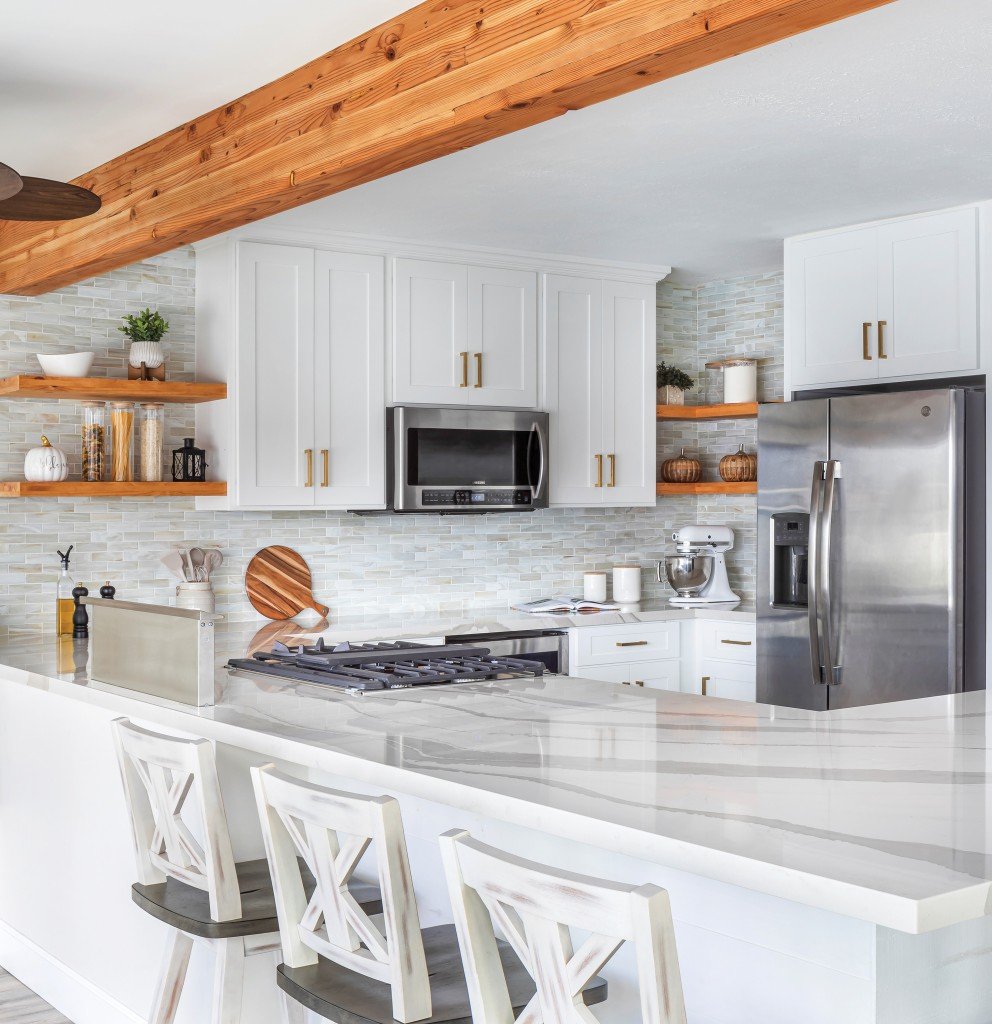 It's not every day a leak from an upstairs bathroom results in a dream kitchen. That's what happened to Kanoe Gibson, co-host of "HI Now."
"We had no intentions of renovating our kitchen unless we won the lottery," she says, laughing. "But we had a flood in our kitchen, so we were forced to do it."
Gibson, who grew up in both Hawai'i and Missouri, wanted to combine two distinct styles—coastal and farmhouse—in her kitchen. She enlisted the help of All Things New to transform her small, enclosed galley kitchen into something more open and modern.
"In our house, the hub for our family is the kitchen," says Gibson, who shares the Kuapa Isle townhouse with her husband and two kids. "We're always in here."
She worked with Richie Breaux and Tiffany Pestana-Breaux of All Things New to come up with a design that incorporated her two styles while opening up the kitchen to create a more functional space for the family.
The once closed-off space was gutted and the small wall between the kitchen and the rest of the living area was removed. This allowed Breaux to expand the kitchen and give her more counter space and storage. And as a bonus, Gibson now has panoramic views of the marina.
Initially, Gibson wanted an island, but Breaux convinced her a peninsula would give her much more usable space—and he was right. "There's so much more counter space, seating and storage now," Gibson says.
To get that coastal-meets-farmhouse look, Breaux installed Shaker-style white cabinets with gold hardware, open shelving, quartz countertops with riverlike vein designs, an apron-front kitchen sink and a beachy glass tile backsplash.
An avid cook, Gibson had always dreamed of installing a gas range but wasn't sure if it was possible. "A lot of homeowners think it's not an option, but it is," says Breaux, who partnered with Hawai'i Gas on the project. "It's all about where you strategize locating the propane tanks. It's not as hard as homeowners think it is."