Felicia dissipating over Hawaii. Storm watch lifted statewide.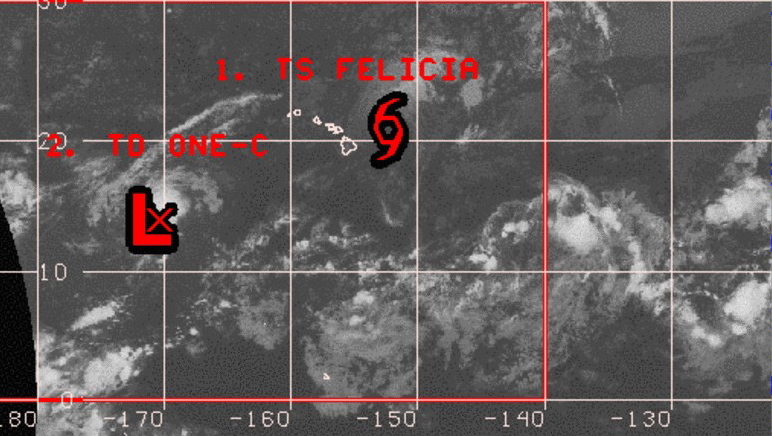 The National Weather Service lifted storm watches for Maui, Molokai, Lanai, Kahoolawe and Oahu at 11 a.m. (Hawaii time) as Tropical Depression Felicia began dissipating on its pass through the Islands. The former hurricane and tropical storm had been downgraded to a tropical depression earlier in the day.
At 11 a.m., the National Weather Service was reporting that Felicia had maximum sustained winds of 35 mph, and was located about 120 miles east of Kahului, Maui, and about 210 miles east-southeast of Honolulu, Oahu. At that time, the storm's movement had slowed down to 9 mph.
A tropical storm watch for the Big Island of Hawaii was canceled at 11 a.m. Monday.
Forecasters said Felicia could still produce localized heavy rains and gusty winds on Maui, Molokai, Lanai, Kahoolawe and Oahu today and Wednesday as its scattered remnants pass south of those islands. Felicia's effects on Hawaii weather, however, are now expected to be significantly diminished.
If you're in Hawaii now or planning to be in the Islands in the next couple of days, click the below links for regularly updated National Weather Service forecasts detailing Felicia's continuing weather effects on each of the Hawaiian Islands.
• Big Island of Hawaii (Hilo and east side)
• Big Island of Hawaii (Kailua-Kona and west side)
• Kauai (Lihue, Kapaa, Poipu, south shores, east shores)
• Kauai (Hanalei, Princeville, Kilauea, Waimea, Napali)
• Maui (West Maui, Lahaina, Kaanapali)
• Maui (Central and East Maui, Kahului, Wailuku, Hana)
• Maui and Lanai (Wailea, Makena, Lanai City)
• Molokai (Kaunakakai, Kalaupapa)
• Oahu (Honolulu, south shores, east shores)