Find Authentic French Pastries in a Nursery in Windward Oahu
Origin Bakeshop is an adorable bakery hidden in an orchid nursery en route to the North Shore that you don't want to miss.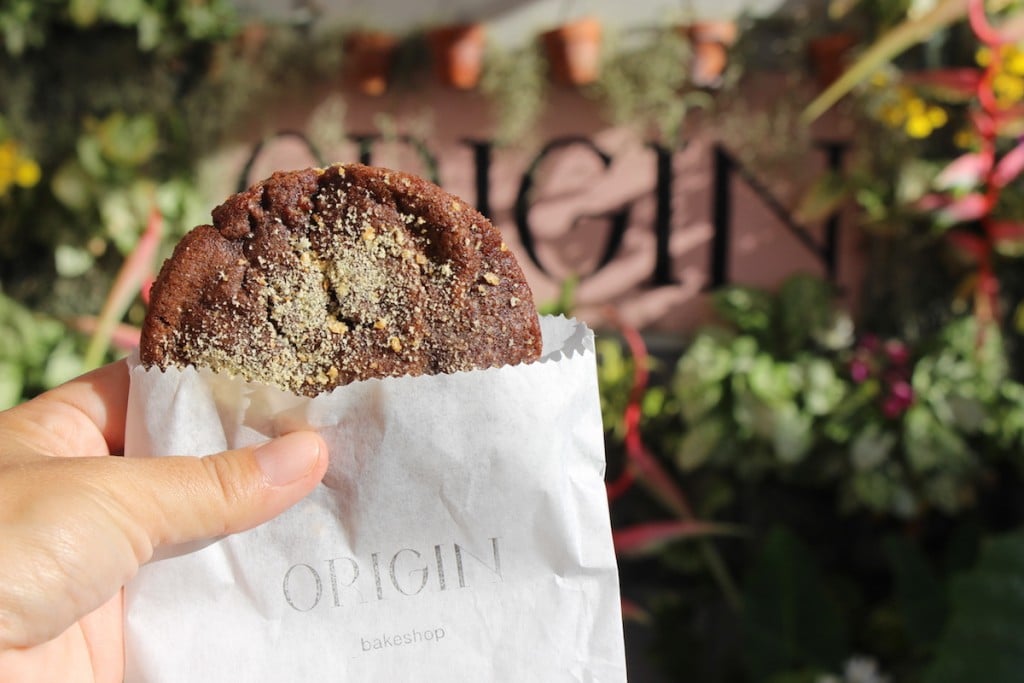 (As of 2021, the bakery is permanently closed.)
A few months ago, a friend posted photos on Instagram of perfect cookies and canelés wrapped in white paper from a bakery in the most unexpected place: a shipping container on the corner of an orchid farm in Waikane, a rural area in Windward Oahu.
Called Origin Bakeshop, this little French-inspired bakery popped up at the end of March on Kamehameha Highway, right before Kualoa Ranch. It's run by Andrea Hidano, whose grandparents own the orchid nursery, Nona's Orchids, on which the bakery stands, and her French husband Jeremy Rousselet. Both are trained pastry chefs who moved to Oahu last year after living and working in New York City.
I convinced my pastry-loving mom—it really wasn't a hard sell—to accompany me on the 30-minute drive from Honolulu to this part of the island. Yes, just for baked goods.
The 20-foot pink-trimmed shipping container is hopelessly charming. Hidano smiles as we walk through the enchanting space she and her husband created, with shelves of potted succulents and orchid plants alongside the couple's neatly packed pastries. Today's lineup includes buttery croissants, pain au chocolat, brioche au Nutella and several cookies. It's hard to pick just one—so we buy one of everything.
We had arrived early, so the shop was fully stocked. I had heard that by late morning, some of the items—particularly the more popular cookies and croissants—are often sold out. I order the pain Suisse, a chocolate chips- and custard-filled pastry that's typically the first to go. It's the kind of dessert you think about later—and wish you had bought several more of for the road. (I know I did.) And the croissants are perfection, bringing back memories of trips to Paris, where I would eat a pain au chocolat (or two) every morning.
View this post on Instagram
Hidano says the tiramisu cookie is one of Origin's bestsellers. It's chewy like soft brownies with a hint of coffee and topped with ladyfinger crumbs. Another is the chocolate chip, rose and cardamom cookie, a grown-up version of the classic chocolate chip cookie with floral notes and the distinctly aromatic cardamom spice. (All of the cookies are $3 each.)
You won't find ordinary scones here, either. The one on the menu today is the peach, white chocolate and pink peppercorn scone ($3.50), baked in the shape of a small loaf. The scone is moist and buttery—a surprise since I normally slather butter on scones—and the pop of peppercorns is a fun addition. "It's really fun to see the kids [from the neighborhood] come in and understand what pink peppercorns are now," Hidano says, who grew up in this area. "It's been really cool to see that happen."
On special is the brioche au Nutella ($4), a perfectly baked brioche stuffed with a glob of the sweet hazelnut spread. I still think about that bread.
You won't find malasadas or pineapple soft serve here—and you likely never will. While the couple isn't ruling out using local and seasonal ingredients, they plan on sticking to what they love and do best: European-style and viennoiserie pastries.
And that's fine by me.
Origin Hawaii, 48-449 Haupoa St., Kaneohe, Oahu, (808) 239-8535, @originhawaii
(The bakeshop closed in 2020.)