Find Out Why Master Chef Graham Elliot is Now on Oʻahu
The award-winning celebrity chef is running Pounders Restaurant in Lāʻie.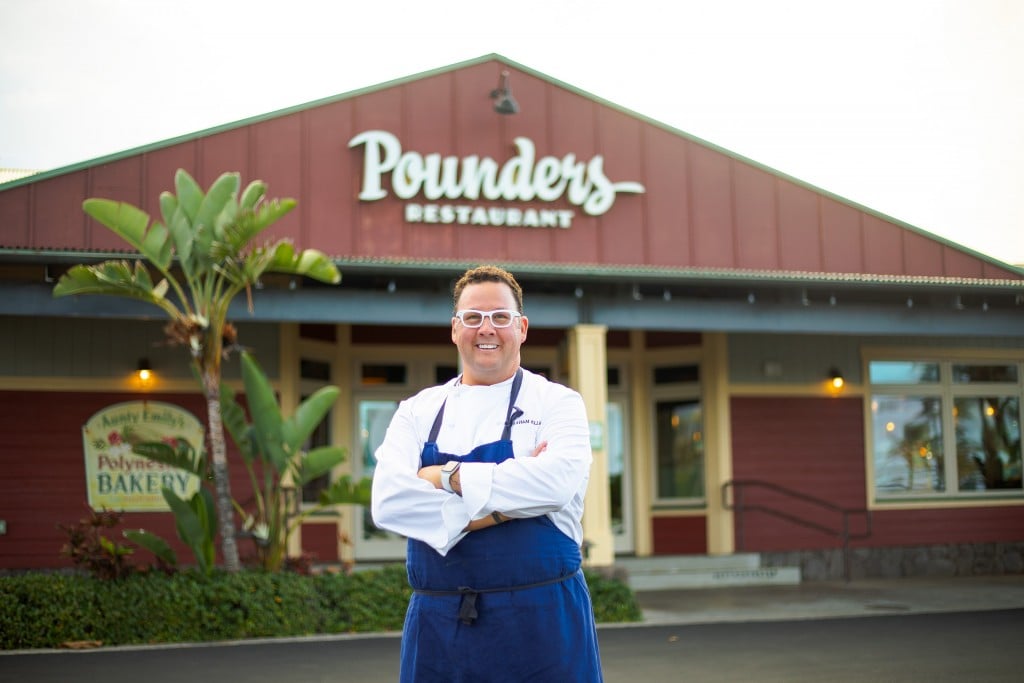 For years, Pounders Restaurant, the signature eatery at the Polynesian Cultural Center, was churning out burgers, steaks, sandwiches and pizzas to visitors to the center or on their way to Oʻahu's North Shore.
But a couple of months ago—and almost by chance—chef, cookbook author and "MasterChef" judge Graham Elliot was named the restaurant's executive chef, steering it into a new and exciting direction.
"This marks a culinary revolution for us," says Greg Maples, vice president of food services at PCC. "We're hoping this sets the tone for the rest of the Polynesian Cultural Center."
The new menu reads more elevated than the old one, with pūpū (appetizers) and entrées like roasted beet poke, New Zealand mussels in coconut milk and red curry, ʻahi tataki salad dressed in a kalbi sauce, char-grilled heʻe (octopus) with roasted potatoes and a fennel salad and crispy whole Big Island sunfish with a hot-and-sour sauce.
"I'm inspired by what's around us, what's in season," says Elliot, a self-described Navy Brat who grew up in ʻEwa Beach on Oʻahu. (He even has the town tattooed on his arm.) "We don't have signature dishes, we have ʻright now' dishes. We want to highlight ingredients at their peak."
Dishes will rotate all the time, Elliot says, based on the availability of local ingredients, some of which are grown at PCC. But some items—burgers and pizzas cooked in the restaurant's kiawe wood-fired brick oven—will be offered consistently. (Elliot even has his own burger, the Grahamburger, with brie cheese, charred onion and garlic-mayo.)
Foodies and fans of "MasterChef" may be bewildered—why would Elliot, who boasts a long list of accolades including the title of Best New Chef by Food & Wine Magazine, take over the kitchen at Pounders? His eponymous restaurant, Graham Elliot, in Chicago was awarded two Michelin stars in 2008; he spent 10 seasons on "MasterChef" and "MasterChef Junior"; and he served as a judge on the Emmy Award-winning Bravo TV show "Top Chef." Why Lāʻie? Why now?
"COVID changed a lot of people's mindsets," Elliot says. "You realize life is short and I decided I wanted to do what makes me happy."
He sold his Chicago restaurant and moved to Oʻahu to surf, skate and spearfish. He thought he would hold culinary classes, do cooking demonstrations, whatever it took to stay here. "[Hawaiʻi] has always felt like home," he says.
He met Felix Tai, executive chef at PCC, and hit it off. Pounders needed an executive chef, and the rest is history.
Elliot is hoping to add cooking classes and maybe a food truck concept to his already-busy schedule at PCC and wants to create a different culinary experience at Pounders. (The restaurant doesn't serve alcohol, so that's a challenge.)
"It's not fine dining here," he says. "It's fun dining."