Find the Sweetness in Life with Kauai Wellness Company Sweetfern Living
Whether it's yoga, chef training or health consultations, Kela Yzeiraj brings Ayurvedic wellness to her clients.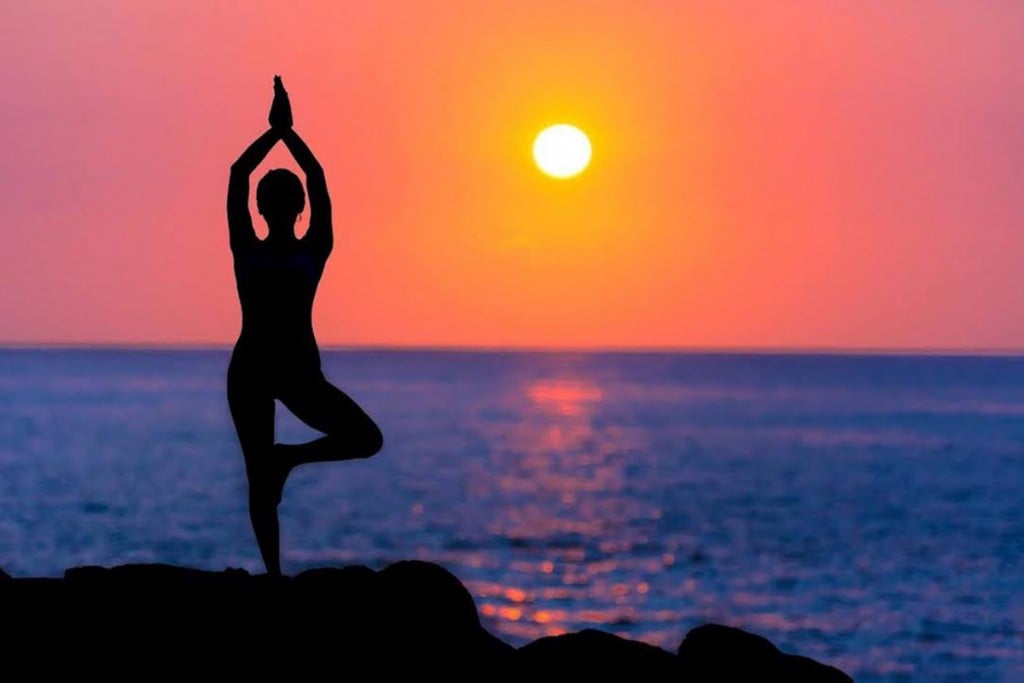 Kela Yzeiraj was born on Albania's Mediterranean coast, a tucked-away landscape of wild mountains and undeveloped crescent beaches. She came to the Bronx, New York as a refugee from the civil turmoil in the early 90s. Amid towering concrete buildings and blaring car horns, her early years were defined by contradictions.
As a young adult, Kela arrived on the Hawaiian island of Kauai. What she found among its rugged coastlines, clucking roosters and twisting banyan trees was the comfort of home. The Garden Isle's unmanicured mountainscapes and powdery beaches recalled the untamed splendor of her native Albania and she immediately felt at ease in the middle of the Pacific.
"When I came to Hawaii, I realized the connection between our bodies and nature," Kela said. "I felt more capable, more conscious, more aware and more alive. There's a sense of sweetness to life and I really felt that I was about to find that again just by being here."
Kela started Sweetfern Living, a holistic adventure wellness company that offers travelers and locals in Kauai a carefully curated menu of natural living workshops, private classes and custom services, including yoga, Ayurvedic cooking, chef training, health consultations and more.
Whether it's a private yoga class on the lanai or an Ayurvedic cooking demonstration in the kitchen of your rental home, Kela makes her services easily accessible by traveling to her client's vacation accommodations or out in nature.
Her clients include both visitors to and residents of Kauai who adhere to an Ayurvedic lifestyle and those who are interested in holistic wellness but haven't yet been introduced to Ayurveda, an ancient system of medicine rooted in India. (Its name means "knowledge of life" in Sanskrit.)
Designed more than 3,000 years ago, the Ayurvedic wellness system is an integral part of India's health care system. In recent decades, this ancient modality promoting physical, mental, emotional and spiritual well-being has been adopted into American culture. It is an ideal pairing for other Eastern modalities, such as yoga, that have similarly been introduced into the Western consciousness as a method of achieving health and healing. Often considered yoga's sister science, it encourages individuals to self-empower their health with a direct experience of themselves and nature.
"I'm at this point in my life where I've been inspired to want to support people in accessing their sense of best self and letting go of the habitual mind that can keep us in stagnation in our lives," Kela said. "Moving more toward balance and harmony, that's what I can help people to do."
Kela is a certified yoga teacher specializing in Raja yoga, a style of Hindu yoga that seeks to unify the mind, body and spirit for the benefit of the practitioner's healing and empowerment.
Raja yoga incorporates the eight limbs of yoga, drawing on meditation, controlled breathing, devotional offerings and asana postures to emphasize alignment, balance and breathwork. Kela offers classes for beginner, intermediate and advanced level practitioners and tailors them according to the client's needs.
In addition to standard yoga classes, Kela offers special occasion opportunities, such as yoga for bachelorette parties or adventure yoga, where she leads her clients on a gentle hike to a coastal hillside or mountaintop for a unique yoga session outdoors in the sanctity of nature.
"Kauai is a really exotic place to come and learn these ancient modalities," Kela said.
She is also a certified 600-hour Ayurvedic health counselor with firsthand experience in permaculture farming. Her work as a farmer, yogi and Ayurvedic student has culminated with the creation of an exciting menu of seasonal recipes and wellness consultations.
Her popular Ayurvedic breakfast pizza is prepared with cassava root and flax meal crust, salt, hummus, cabbage, walnuts and fresh parsley. Another favorite menu item is cilantro basmati rice, served with limed split peas, a bowl of coconut-broccoli soup and a side of baked purple sweet potato.
Drawing on Ayurveda's millenniums-old principles and techniques, she offers these delicious, wholesome meals as a tool to detoxify and purify the body and mind and promote easy and balanced digestion, or agni.
Kela's recipes incorporate a wide range of spices, oils and herbs. All ingredients are fresh, organic and local when possible.
"The goal is to have people's digestive systems go back to an optimal place where they are getting satiated and energized," she said.
Sweetfern Living clients are as involved as they wish to be in the process of curating a well-balanced Kauai wellness retreat. Kela will do all the shopping and cooking, presenting her clients with an exquisitely prepared Ayurvedic dish. Or she'll invite her clients into the process, training them in the Ayurvedic tradition and leaving them with the knowledge and skill to nourish themselves with Ayurveda when they return back home.
Clients can opt for a single yoga class, Ayurvedic meal, or health consultation. They can also choose packages of services to sustain them throughout the entirety of their vacation.
Kela also makes and sells a collection of handcrafted herb-infused sunflower oils for massage. She's continually adding to her menu of wellness offerings based on new skills she acquires and the interests of her clients.
"I'm focused on offering nourishment and revitalization," Kela said. "I'm here to provide people a holistic wellness experience with a sense of adventure and balance. I offer tools that visitors can be inspired to take back with them and share in their homes and in their communities around the world."
Stay tuned for future chef and massage trainings in the coming year.
For more information, visit sweetfernliving.com.