Find Tranquility Amongst the Trees and Trails of Hoʻomaluhia Botanical Garden
Get lost in the rainforest flora at Ho'omaluhia Botanical Garden, O'ahu's youngest—and largest—botanical garden.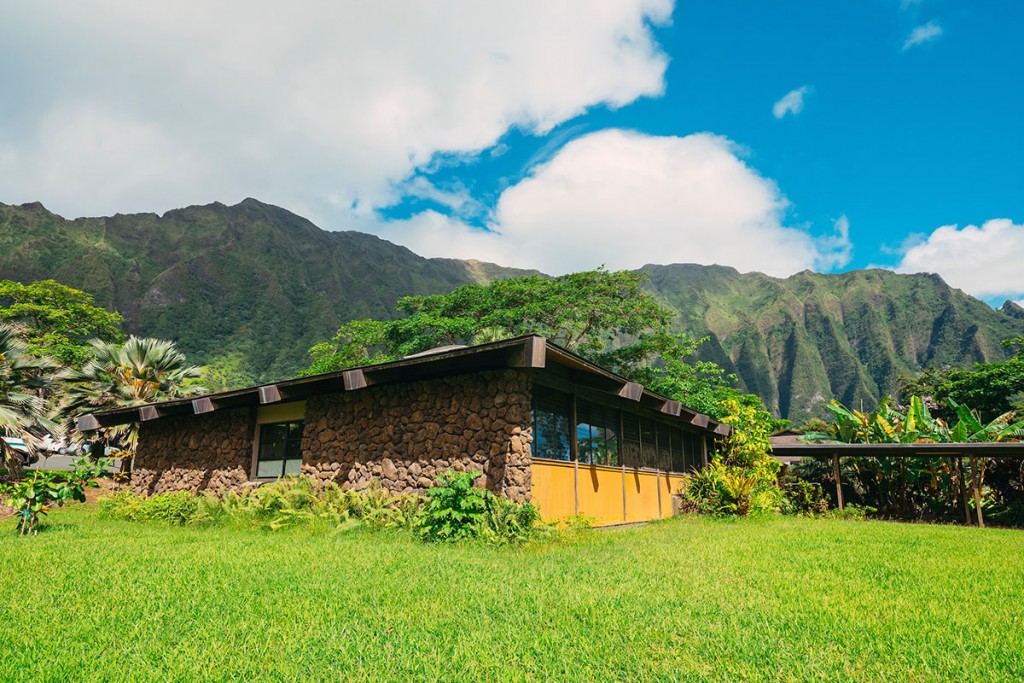 "An hour in the garden puts life's problems in perspective." 
This is on a sign posted on the door of Ho'omaluhia Botanical Garden's visitor center. I've only been here a minute, but I can already understand the sentiment on a spiritual level. Ever since my girlfriend, Kaila, and I crossed the the Ko'olau Mountains on the Pali Highway and came out on the other side, I could feel the dull thrum of my daily stresses soften. By the time we passed the quiet neighborhood bordering the garden, filled with one-story homes and little yards with mango and plumeria trees, I felt like I could relax a little. And then we entered the garden, and I found room to breathe. Four hundred acres, to be exact.
Ho'omaluhia Botanical Garden is the youngest—and largest—botanical garden owned and operated by the city and county of Honolulu. There are four others: Foster Botanical Garden, Wahiawā Botanical Garden, Koko Crater Botanical Garden and Lili'uokalani Botanical Garden. The garden's lush property, located in Kāne'ohe on the east side of O'ahu and extending all the way to Interstate H-3, makes an impressive first impression as you enter through its verdant driveway. It feels like you're driving into a new world, as tropical flora of unknown—to us—origin and exaggerated size come into view. This is an actual, living, breathing rainforest. It smells like one, looks like one and even sounds like one.
Turns out, I'm half-wrong.
"We are first and foremost a flood control facility," says Olive Vanselow, who has been a recreation specialist at Ho'omaluhia Botanical Garden since 1985 and, despite her extensive tenure and plant resource management degree from the University of Hawai'i at Mānoa, simply describes herself as an "outdoor person." She has met Kaila and me at the visitor center to give us a quick briefing about the grounds before we set off. "An opportunity came about because of an unfortunate situation, which was two floods—one in 1965 and another in 1969," says Vanselow about the origins of the garden, which was opened in 1982. After the residents affected by the flooding petitioned for something to be done about the situation, the U.S. Army Corps of Engineers worked with Honolulu Botanical Gardens to develop a flood control facility that could double as a rainforest-themed botanical garden.
Originally meant to be a much smaller garden, another city project prompted the expansion of the yet-to-be-built Ho'omaluhia Botanical Garden. "The Interstate H-3—which is right behind the garden—created a big concern from the community, so this facility was enlarged. And that's how we ended up with 400 acres," says Vanselow. The garden, which is free to enter and is only closed on Christmas and New Year's Day, also provides the surrounding community with "breathing space" as Vanselow puts it. The land, which was once used by ancient Hawaiians primarily to farm bananas and, before that, kalo (taro), has been put to good use once more.
With the help of a map provided by the visitor center, we roughly plan out our trek. Our first stop will be the reservoir lake, Loko Waimaluhia, which is 12 feet at its deepest and covers 32 acres, with the capability to expand to 150 acres in the event of flood-level rainfall. Then we'll visit each of the six gardens within the garden, which are based on geographical locations—the Philippines and Malaysia, tropical America, India and Sri Lanka, Melanesia, Polynesia, Africa—and trek the lake loop trail on the way back. Easy.
As Kaila and I stand on the shores of Loko Waimaluhia, which, in 'ōlelo Hawai'i (Hawaiian language) means lake of tranquil waters, we admire the hundreds of koi (carp) that spend their days bobbing their bright orange bodies along the lake's shoreline. I look back down at my note-filled map and realize we're not just lost—we're super lost. We went left where we should have gone right and Kaila and I can't find a landmark, aside from the lake—which is humongous—to get us back on track. But that's OK. Getting lost in a place like Ho'omaluhia Botanical Garden is just part of the fun. A mix of residents and visitors are enjoying the area's flat, grassy surroundings, setting up picnic blankets and snapping selfies with the fish. I hear pieces of three separate conversations, each in a different language. Kaila, my intrepid adventuring partner, finally points in a direction. "This way?" she asks. "Sounds good to me," I say in agreement.
We're behind schedule, and it's probably because I keep stopping to read every sign I can find. Almost all of the trees and flowers in the garden are accompanied by nameplates and I take endless enjoyment in the small lessons to be learned from these informative placards. Did you know the pandan wangi of Southeast Asia, a stubby looking plant with long green leaves, is related to the Hawaiian hala tree? We pick our favorite plant names—Kaila goes with gumbo limbo (Bursera simaruba) and I, the more mature one in the relationship, can't get over that a tree was named stinkwood (Ocotea bullata). Kaila poses next to a palm frond more than double her size while I take her picture. Who knew learning about botany could be this fun?
After a short photo op at an elevated lookout over the lake, we continue our trek and come across the Kahua Kū'ou campsite. It's one of the five campsites at Ho'omaluhia Botanical Garden; camping permits are required and highly coveted—and I can see why they're so hard to come by. Waking up in the heart of nature has its own rewards. Falling asleep to the sounds of rustling rainforest greenery and awaking at the base of the majestic Ko'olau Mountain Range must be worth the effort it takes to get one of those permits.
Following a series of questionable turns, a few more "This way?" "Sure!" exchanges and a couple of dead ends, we arrive at our final destination, the lakeside loop trail—but have to turn back midway through. Our adventurous guise is quickly whisked away after a dozen or so mosquito bites and an encounter with a section of trail that's just a little too muddy. As we shift course and head back to my car, I think back to the sign on the visitor center doors. "An hour in the garden puts life's problems in perspective." Well, in my case, two hours there made me forget about my problems altogether.
Ho'omaluhia Botanical Garden
Open from 9 a.m. to 4 p.m. daily; admission is free. Camping reservations can be made at camping.honolulu.gov, and more information on the garden can be found at honolulubotanicalgardens.com. It is recommended that all visitors bring rain gear, hiking shoes and insect repellant.