Find World-Famous Lady M Mille Crepes Cakes in Waikiki
Waikiki Tea House opened this summer, serving these sought-after Japanese-style cakes and local teas.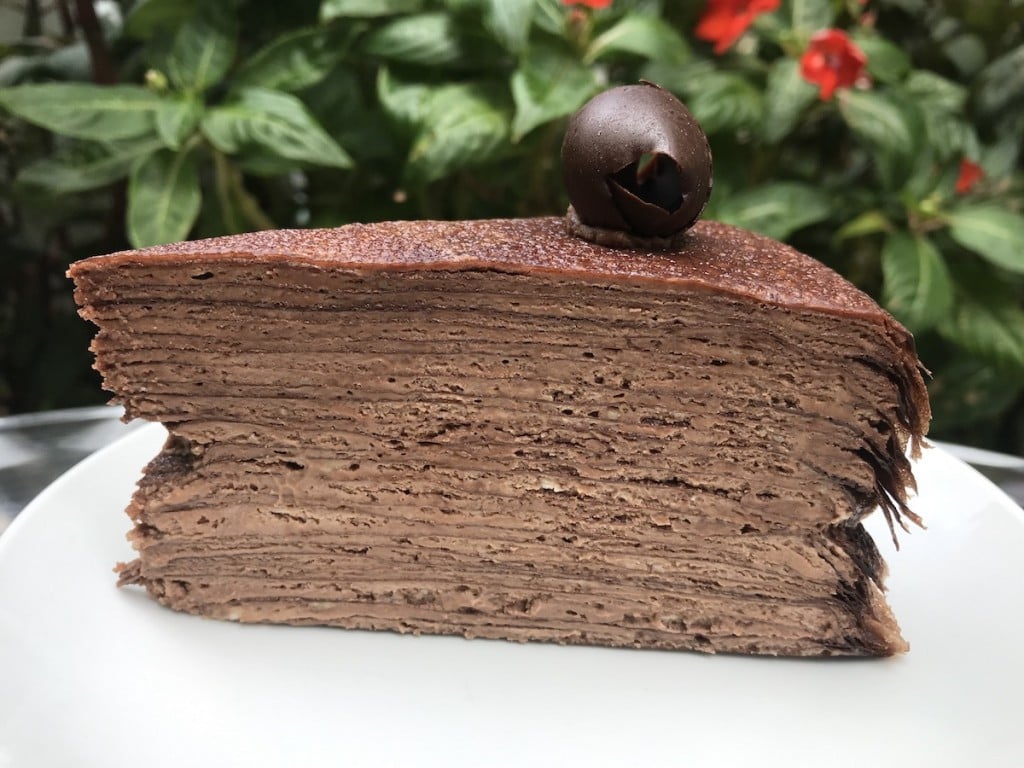 I had only heard about the famous Lady M Mille Crêpes from New York City, with its 20 thin crêpe layers, each separated by a lightened pastry cream.
While Lady M has more than 30 cake boutiques around the world, including seven in China, I would have had to travel to Los Angeles or Singapore to try a slice.
Until this summer.
Waikiki Tea House, a charming café located next to Henry's Place on Beach Walk, opened in May, serving gourmet local coffees and teas—and the world-famous Lady M crêpe cakes.
Turns out, the founder of Lady M—Ken Romaniszyn—has Hawaii ties. (His family also owns nearby Wasabi Bistro.)
The delicate cakes are flown in almost every day from New York City to Waikiki. The menu at the Waikiki Tea House features several flavors of these cakes, which boast no fewer than 20 paper-thin, handmade crêpes layered with pastry cream. The most popular is, of course, Lady M's signature classic mille crêpe cake, which is ethereal and easy to eat. The lilikoi (passion fruit) and green tea crêpe cakes are also popular. Slices range from $8 to $9 each and whole cakes can cost up to $90. (And yes, people do buy whole cakes!)
My favorites were the lilikoi (seasonal on the Mainland) and chocolate crêpe cakes, which add just enough flavor to the light crêpe. The former features a pastry cream infused with the sweet-sour fruit; the latter uses a rich-but-delicate chocolate pastry cream.
Chocolate lovers will crave the chocolate arc-en-ciele, with its alternating layers of dark and milk chocolate mousse and topped with a silky dark chocolate ganache. And the Checkers cake is striking in appearance, with a checkerboard of vanilla and chocolate sponge cakes.
Waikiki Tea House also serves a variety of tea and Kona coffee drinks—perfect with a slice of these cakes. And even though it's located on a busy side street in Waikiki, it feels quiet and intimate here. I spent over an hour with a girlfriend visiting from Texas, slowly savoring a few slices of cake and sipping an iced tea. It felt like I was on vacation—instead of working.
View this post on Instagram
Waikiki Tea House plans to introduce different flavors—Lady M has more than 20 other flavors, including the coconut crêpe cake that will undoubtedly do well here.
Waikiki Tea House, 234 Beach Walk, Waikiki, Oahu, (808) 886-6000, waikikiteahouse.com