Finding Serenity Amidst the Pines at Hotel Lanai
Hotel Lanai in Lanai City has undergone its first major renovation in over a century, giving you a great excuse to discover the Hawaii town's country charm.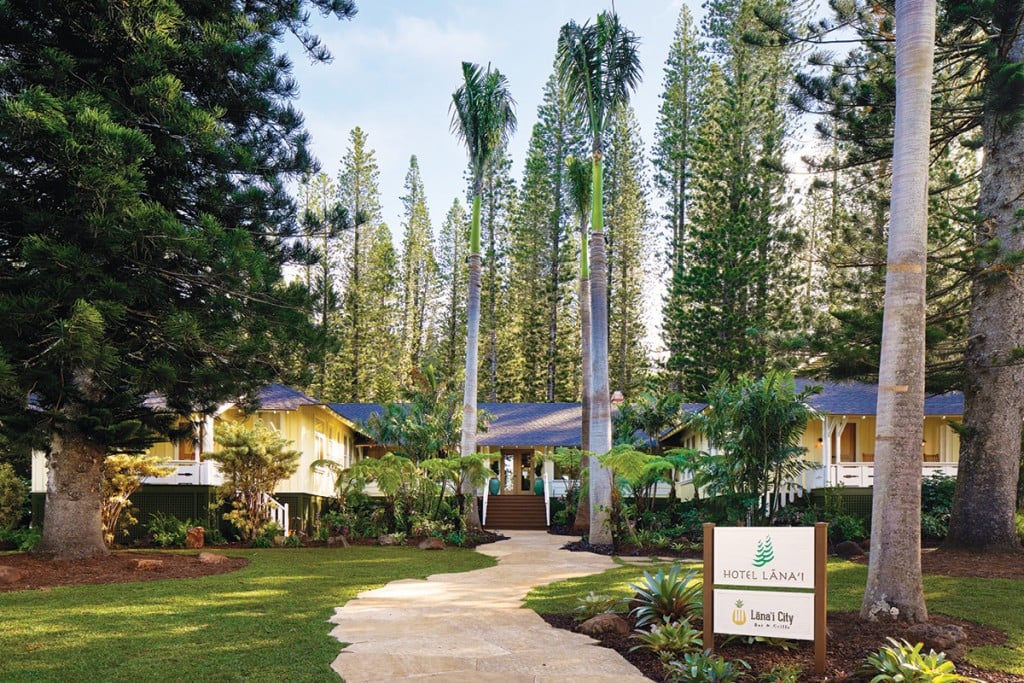 Watching the sunset from Hotel Lanai's quaint lanai (porch) is like nothing I've seen before. Dipping below Lanai City, the sun's fierce daily ritual is more pronounced, the city's towering pine trees adding to the scene's overall glowing grandeur.
After night has taken over, I find myself unable to rise from my snug rocking chair. A powerful serenity has taken over my body, thanks to the absolute quietude I'm experiencing, something not found along the busy streets of Honolulu, from where I hail.
Thinking back on my short time on Lanai, I felt this peace of mind from the moment I got off the plane at Lanai Airport.
"So, this is Lanai City," says Mike Hanog, a part-time driver of Dela Cruz Taxi Service, one of the island's only taxi companies. He is often the first face visitors see when traveling to Lanai. Hanog, who was born and raised here, takes my girlfriend and I around the entirety of Lanai City and points out the movie theater, grocery store and lunch spots—in about three minutes. To call it a city might be a bit of an overstatement. It's more like a town—a small one at that—with a ton of personality and charm. Born and raised in Haleiwa on Oahu, where dirt roads and pickup trucks full of surfboards are the norms, I immediately feel at home on these country streets.
As he drops off my girlfriend, Kaila, and me at Hotel Lanai, Hanog confirms my worst fear: "Sorry, cash only." As I fruitlessly dig around my luggage, hoping a 10-dollar bill will magically appear, Hanog clasps me on the back. "Hey man, don't worry about it, just pay me when I pick you up." A sense of relief washes over me. This was the first of many times I experienced the radiant friendliness of Lanai locals during my trip. Grabbing our bags, Kaila and I head up the newly renovated steps of Hotel Lanai.
For the first time in its over-a-century-long existence, Hotel Lanai, one of the island's two hotels (and the only one geared toward travelers on a budget), has had a face-lift. This was big news for little Lanai. The boutique hotel closed in May 2018 for seven months of renovations and resumed business in December 2018 with more than just a fresh coat of paint. Many were worried about the hotel losing its signature rustic sensibilities; however, as I sit in the reception area with a cup of the hotel's Earl Grey tea, snacking on a plate of complimentary oat biscuits and looking out of the room's large windows at the charming streets of Lanai City, I know the owners kept what made the inn so special to begin with.
The plantation-style rooms, with their hardwood flooring, natural wicker furniture and open-air lanai, evoke a sense of homey charm. That part hasn't changed. But the renovations have added some much-needed updates: Modern amenities, such as large flat-screen TVs, high-tech Toto toilets and touch-screen temperature and shade controls, provide the sort of luxury vacation experience that would be hard to get at a resort in Waikiki. The resort's signature restaurant, Lanai City Bar & Grille, has also been given a complete makeover, and now features hardwood interior décor and an open-air, nonchalant atmosphere.
Although the hotel room, and its king-size bed, are alluring, Kaila and I decide to walk around the town, the edge of which is just a few hundred feet away from the hotel. Exiting through our veranda, which connects to the street, we start our brief expedition at the Lanai Culture & Heritage Center (730 Lanai Ave., lanaichc.org), to learn the history of Lanai, from its days before Western influences to its time as the world's largest pineapple plantation. Our next stop is Blue Ginger Café (409 7th St., bluegingercafelanai.com), where I feast on one of the best loco mocos I've ever had. And, after talking story with the shop clerk of the Lanai Art Center (339 7th Ave., lanaiart.com) for nearly an hour, we decide to head back to the hotel, waving and smiling to the island residents who greet us along the way. And as much as I want to sit and talk with every friendly person, I have a dinner reservation to get to at the new and improved Lanai City Bar & Grille (828 Lanai Ave., lanaicitybarandgrille.com).
I've never met anyone like Joel Harrington. As head chef of Hotel Lanai's restaurant, Harrington is charismatic, full of wild stories and errs on the side of eccentric. Decked in gold accessories, from golden spoons in his pocket to gold-painted nails, Harrington's motto is "all gold, all the time." To prove it, he's even got AGATT (all gold, all the time) tattooed on the back of his hand. After being seated, Harrington tells me about how he's absorbing and learning Lanai's authentic Hawaii flavors by asking his local cooks to make breakfast, favoring Filipino dishes such as pancit noodles and chicken adobo.
Whatever Harrington's doing to acclimate himself, he's succeeding. The food at Lanai City Bar & Grille perfectly mixes the flavors of the Islands with Asian and American influences. I'm talking Tex-Mex-inspired short rib croquettes that melt in your mouth and a venison loin dish that uses deer from Lanai. Kaila's entreé, a thick slice of mahimahi mixed with crunchy tempura sitting on a bed of kimchi rice, has me drooling, and I use the excuse of "research" to take a few big bites.
Sitting on the curb the next morning, waiting for Hanog to arrive in his big white van, I'm sad that I have to leave so soon. Lanai, and its compact city, has been a truly unique Hawaii experience. I can't think of another place in the Islands where the streets are so quiet, the people are so friendly and your taxi driver will accept a day-late payment with a laugh and a smile.
Hotel Lanai
For Hotel Lanai reservations, visit hotellanai.com or call (808) 565-7211.