Five Diamond dining in Honolulu at Chef Mavro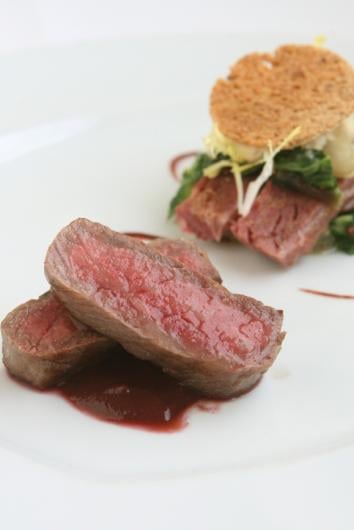 Congratulations to Honolulu chef George Mavrothalassitis. In addition to being named one of the 40 best restaurants in the United States by Gayot, Chef Mavro, his small 60-seat Honolulu restaurant, has won an AAA Five Diamond award.
His is the only independent restaurant in Hawaii to be awarded Five Diamonds, and one of the few nationwide.
That meant we had to drop by the King Street restaurant to renew our acquaintance with Mavro's farm-to-table Hawaii regional cuisine.
You can order dinner at Chef Mavro in three-, five- and six-course options. But so many people have asked to taste everything on the menu, the restaurant now offers an 11-course menu as well.
We couldn't resist. We ordered all 11 courses from the Fall menu, each small, each powerful and refined.
The flounder, for instance, came crispy with a rice flake crust, with a tamarind curry sauce so subtle it defied description, and a savory pastry made with pistachios.
It's impossible to describe every single course—you might die of hunger if we did—but we must mention the dish pictured above, two perfect small slices of stunningly tender Wagyu beef accompanied by a powerful bit of housemade corned beef atop fricassée of swiss chard with mustard crème fraiche.
The dinner is more than 11-courses, really. Mavro, being Mavro, actually includes three desserts—lilikoi malasadas with pineapple-coconut ice cream, a citrus trio and an array of chocolate desserts that includes the world's best milk chocolate peanut butter bar and chocolate-Coke float.
Each course comes, if you wish, with a specially selected wine to match it. Dinners at Mavro range from $69 for three courses ($108 with wine) to $165 for all 11 courses ($250 with wine). (Click here to see the complete fall menu.)
When the AAA gave Mavro his Five Diamonds, they not only said, "The flavors of each course were amazing," but they added, "The prices seem quite reasonable given the level of dining." We agree, we've paid much more in New York, Chicago and San Francisco for meals of this caliber.