Fly to Hawaii for Roy's $1,000 dinner. Free!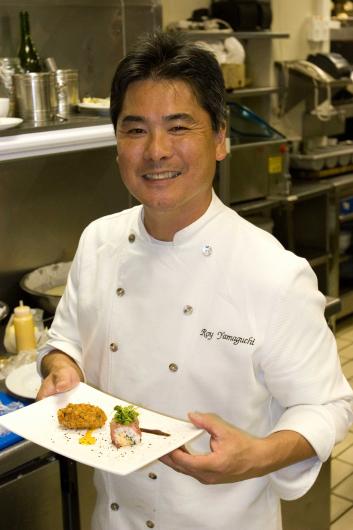 Our Chicago correspondent, Peter Van Buol, did a post for us on Hawaii's best known chef, Roy Yamaguchi, and the Chicago stop in Yamaguchi's 20th anniversary tour of the United States.
We got curious about what Roy planned for the 20th anniversary celebration in Honolulu.
Hang onto your hat–there's a magnificent $1,000 a plate fund-raising dinner, featuring 20 outstanding chefs.
You can fly to Honolulu and be there for free.
A little publicized sweepstakes on Roy's Web site is the place to enter. The prize first-class airfare for two from American Airlines and four nights at the new Embassy Suites-Waikiki Beachwalk.
Here's what you'd be attending:
Saturday, Oct. 4, will be dinner at the Honolulu Fish Auction, $10,000.00 per table of 10.
Sunday, Oct. 5, will be a grazing event at Kapiolani Community College. Admission: tentatively $200.

The list of visiting chefs includes Charlie Trotter (Charlie Trotter's), Rick Tramonto (Tru), Lee Hefter (Spago Beverly Hills), Floyd Cardoz (Tabla), Nobu Matsuhisa (Nobu, Matsuhisa) and more than a dozen others.