Food! Crafts! Hula! Culture! Hawaii's royal palaces shine at weekend event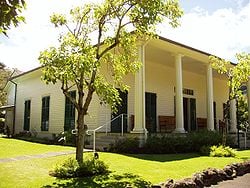 On Oahu this Saturday? Curious about the history of Hawaii's monarchy? Want to eat, drink and be cultured—all for a good cause?
Here's an event you won't want to miss.
A "Day at Queen Emma Summer Palace" is Daughters of Hawaii's annual fundraiser for the restoration of Queen Emma Summer Palace in Honolulu and Hulihee Palace in Kailua-Kona on the Big Island of Hawaii. The event takes place this Saturday, Oct. 3, from 9 a.m. to 5 p.m., at the Queen Emma Summer Palace in Nuuanu Valley.
Admission is $6 for adults and $1 for children. The event is open to the public.
Chef and poke master Elmer Guzman of Hawaii seafood restaurant Poke Stop will on hand, preparing culinary creations. You'll find poi pounding, kapa making, quilting and feather lei making demonstrations. Baked goods, crafts, haku lei and Hawaiian plants will also be on sale.
Jerry Santos, Danny Couch and other Hawaii musicians will entertain all day long. Local hula troupes Halau Pua Alii Ilima and Halau Na Kipuupuu are also scheduled to perform.
For more information on Saturday's event, click here or call (808) 595-6291.
Queen Emma Summer Palace (pictured, right, and on pg. 1) and Hulihee Palace once served as getaways for Hawaii's royalty. Located just outside of metropolitan Honolulu in lush Nuuanu Valley, the Queen Emma Summer Palace—also known as Hanaiakamalama—was the royal retreat for Queen Emma, her husband King Kamehameha IV and their son Prince Albert Edward Kauikeaouli from 1857 to 1885.
Hulihee Palace, which sits along the waterfront on Kailua-Kona's Alii Drive, was a favorite vacation spot of Kamehameha III, Queen Liliuokalani and King Kalakaua.
The palaces are now museums and historic landmarks—displaying artifacts of the Hawaiian monarchy including koa wood furnishings, spears and weaponry, feather capes, royal portraiture and gifts from foreign dignitaries like Queen Victoria and Napoleon III.
Hulihee Palace (pictured, left) in Kailua-Kona is finally opening to the public again this Wednesday, Sept. 30, following $1.5 million in restoration work. The palace had been closed since December 2007 to repair cracks in its plaster facade and exposed areas of its coral block construction caused by the Big Island earthquakes of 2006.
Hulihee Palace's new hours of operation will be Wednesdays through Saturdays, from 10 a.m. to 3 p.m. Hulihee Palace admission is $6 for adults, $4 for seniors and $1 for children under 18.
Meanwhile, the Queen Emma Summer Palace is open for tours seven days a week, from 9 a.m. to 4 p.m. Admission is $6 for adults, $4 for seniors and $1 for children under 18.