Food Network mag discovers Hawaii's loco moco. Here are our favorites.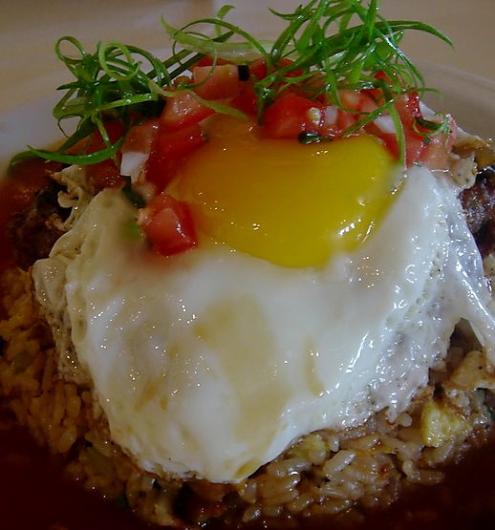 The June-July issue of Food Network Magazine recently hailed the loco moco at Hukilau Cafe in Laie, Oahu, as the best in Hawaii.
Not the best loco moco, as one might rightly expect. But the best burger in Hawaii.
"A loco moco is Hawaii's take on a burger," writes Food Network Magazine of the Hawaii comfort food favorite in its feature "50 States, 50 Burgers," honoring burgers from across the United States.
We found Food Network's assessment interesting. The classic version of a loco moco is a beef patty cradled on a bed of rice with a fried over-easy egg perched on top. A smothering of brown gravy binds the components together.
The loco moco is barely even a burger variant. When we crave a burger in Hawaii, we generally get a burger. Not a loco moco.
The loco moco's origins date back to 1949 at Hilo's Lincoln Grill where a group of hungry teenage athletes once arrived looking for something cheap to sate their appetites. The owner threw together some white rice, a beef patty and brown gravy to appease the young men. The fried egg would follow later.
Today, there are countless variations of the loco moco, featuring everything from Spam on top to fried rice underneath. Even established Island chefs are fond of paying homage to the humble dish. Hawaii Regional Cuisine pioneer Alan Wong's Ala Moana Center eatery, The Pineapple Room, serves a version (pictured, above) with a kiawe wood-grilled Maui Cattle Co. beef patty and two farm-fresh sunny-side-up eggs on a bed of fried rice. A rich veal jus blankets the dish.
Celebrities have also shared their love for the loco moco, although sometimes, as with Wheel of Fortune co-host Pat Sajak, with a slight twist.
"I substitute the hamburger patty with Portuguese sausage, which I like better, and I have my eggs scrambled as opposed to (over easy). But I love it because you can eat it for breakfast and not eat for three or four days," says Sajak.
So what had Food Network Magazine salivating over Hukilau Cafe's take on the loco moco? The gravy. The mag credits the gravy's rich, beefy tones for separating Hukilau's loco moco from the rest of the pack.
Hukilau Cafe indeed makes a fine loco moco. But HAWAII Magazine's staff has its own favorites:
The loco moco at Hawaiian Style Cafe in Waimea on the Big Island, is noteworthy for its quality and its sheer quantity, says HAWAII editor John Heckathorn. The café's loco moco is anchored by a flavorful full-pound beef patty. The Big Island grass-fed beef in the patty tastes like steak.
According to HawaiiMagazine.com online editor Derek Paiva, "The loco at humble mom-and-pop eatery Canoe's Lanai Restaurant in Lanai City on the island of Lanai (pictured, right) is the definition of local comfort food. A crisp over easy egg and juicy hand-pressed hamburger patty perched atop a mound of house-made fried rice, chockfull of bits of Spam, bacon and green onion. The homemade brown gravy topping it all is thick and rich—steeped with onion and beef flavor and a hint of soy sauce." He also warns, "Bring a defibrillator."
"The loco moco at Ted's Bakery on Oahu's North Shore is ono," says HAWAII Magazine associate editor Sherie Char. ("Ono" is the Hawaiian word for "tasty.") "The hamburger was nice, fat and juicy, smothered in gravy."
Honolulu's Like Like Drive Inn remains a tried-and-true favorite with the HAWAII staff for loco moco, your writer included. Says HAWAII Magazine art director Darin Isobe, "The hamburger is flame broiled and their gravy has a lot of flavor without being too salty. Wish I had one right now."
So do I.