Food Network's Diners, Drive-Ins and Dives in Hawaii. Here's where Guy Fieri dug in.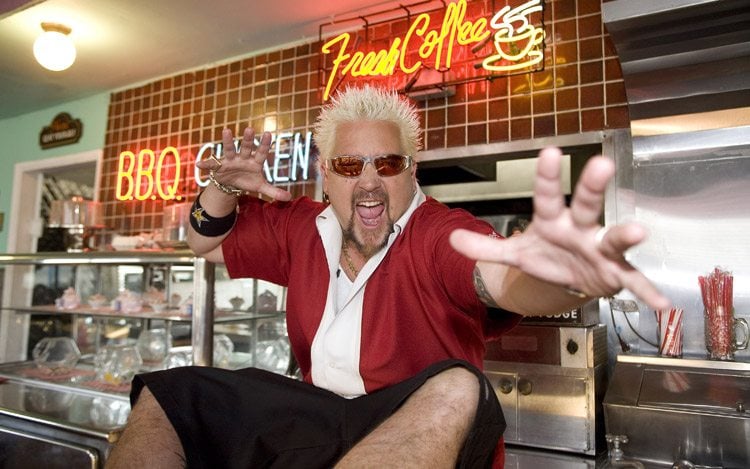 The "train to Flavortown" has finally made a stop in Hawaii.
Food Network personality Guy Fieri has been busy running around Oahu this week, filming segments for his popular show Diners, Drive-Ins and Dives. It's the show's first visit to the Islands.
On Diners, the ebullient Fieri—known more, perhaps, for his over-the-top antics at the DD&Ds he visits and spiked bleach-blonde hair than culinary chops—takes viewers on a continuing gastronomic road trip across America, showcasing dozens of casual eateries and dining institutions. For the restaurants Fieri checks out, a segment on "Triple D" is huge, guaranteeing exposure to millions of viewers across the U.S. who tune to the weekly show.
So where did Fieri wind up dining on his inaugural Hawaii visit?
Food Network wouldn't tell us. So we did what any curious fan of the show would do given the situation: We asked around town, made some phone calls and followed the tweets of Honolulu followers on our Twitter page—which, as it turns out, was flooded with Guy sightings all week. As a result, we were able to trace Fieri's footsteps to a number of eateries across Oahu.
Click the next few pages to find out where on Oahu Guy ate, what he ate and some behind-the-scenes stories of what went down at each stop. Hope you're hungry.
This seafood restaurant in the former sugar plantation town of Waipahu is best known for serving a multitude of incarnations of its namesake appetizer—which in its most basic recipe combines bite-size pieces of raw ahi (tuna), seaweed and salt. But chef/owner Elmer Guzman's large menu also offers a number of other seafood items including soups, sandwiches and to-go bento boxes.
What did Guy eat?
Poke, of course. And three kinds: a salmon poke laced with the Japanese seaweed and sesame seed condiment furikake, an ahi and opihi (limpet) poke, and a variety with oio (bonefish). For extra panache, Guzman said he also fried a whole moi (threadfin) on camera for the DD&D crew.
Weirdest reaction from Guy:
When he was scooping out fish meat. The bony oio can't be filleted like other fish, explains Guzman. Instead, oio is butterflied and the flesh spooned out before being mixed into the poke. The unconventional prep method "freaked his mind out," says Guzman.
Wackiest Guy moment:
Guy hurling fish guts. Guzman says: "I look up from my cutting board to see Guy throwing moi guts at his producer. At that point I'm like, 'What the hell is going on?'"
(In Waipahu Town Center, 94-050 Farrington Hwy, E-4, Waipahu, (808) 676-8100; and 95-1840 Meheula Pkwy, Mililani (808) 626-3400)

Hank's Haute Dogs
You'd never have to ask me twice to have a hot dog at Hank's. Still, hot dogs aren't the first dish that come to mind when most folks think of Hawaii food. But it's hard not to attract the attention of a show like DD&D when your hot dog joint regularly features sausages with unusual ingredients such as alligator, foie gras and Japanese Kobe beef … as Hank's does.
What did Guy eat?
Everything and then some. "We made every single dish on the menu at least four times. I know television can be such a long, continuous process," says owner Henry "Hank" Adaniya (pictured, above). Adaniya and his crew served up more than 100 hot dogs throughout the filming.
Guy's favorites:
"The Fat Boy." Picture a hot dog crossed with a BLT sandwich, and you've got the idea. Adaniya wraps a sausage in bacon, deep fries it, then serves it in a bun with mayonnaise, tomato and lettuce. Fieri also approved of Hank's take on the classic Chicago dog—appreciating "how true it stayed to the real thing"—and devoured the joint's opulent French fries—fried twice in duck fat.
Weirdest reaction from Guy:
Fieri was "very skeptical" about Hank's lobster hot dog—a seafood sausage made with ground lobster and fish. But his doubts proved short-lived, says Adaniya: "He took a bite and was like, 'Wow that really works!'"
Best Guy one-liner:
"You're the king of encased meats," Fieri told Adaniya. Says Adaniya: "Coming from him it's a pretty big honor."
324 Coral St., Honolulu, (808) 532-4265; and in the International Marketpace, 2330 Kalakaua Ave., Waikiki, (808) 924-9933

Rainbow Drive-In
Seeing as how "drive-in" is part of the show's title, it would've been criminal if Fieri overlooked this longtime local fave—with its rainbow neon signage lit bright each evening, arguably the most-recognized drive-in on the island. Rainbow is also one of the oldest drive-ins on Oahu—dug in deep at the same spot just off busy Honolulu thoroughfare Kapahulu Avenue, near Waikiki, for nearly 50 years.
What did Guy eat?
Rainbow's crew cooked up several items off the menu, all served plate lunch style. Guy feasted on Rainbow's chili plate, shoyu chicken plate and loco moco.
3308 Kanaina Ave. Honolulu, (808) 737-0177
Nico's at Pier 38

When your restaurant is a stone's throw from the ocean and right next door to the state's largest daily fish auction, your seafood better be good. Chef/owner Nicolas "Nico" Chaize delivers—serving up unpretentious plate lunch fare with the finesse of a classically-trained French chef. Fieri first checked out the Honolulu Fish Auction in the early hours of morning, then stuck around as the fish went from the auction block straight into Nico's kitchen.
What did Guy eat?
Ahi belly, pan-seared opah (moonfish) and a marlin burger. That's right—a marlin burger.
Pier 38, 1133 N Nimitz Hwy., Honolulu, (808) 540-1377

Highway Inn
This family-owned restaurant and local favorite has been serving authentic Hawaiian food for 60-plus years. Highway Inn is one of the most decorated Hawaiian restaurants in the state, having won numerous local awards—including our sister publication HONOLULU Magazine's prestigious Hale Aina dining award.
What did Guy eat?
The restaurant's management didn't want to divulge too many details about DD&D's visit, but shared that they prepared a number of items from their large menu for Guy to sample. That menu includes both Hawaiian food favorites (lomi salmon, kalua pig) and more unusual, yet still traditional fare (squid luau, butterfish stew and pipikaula—Hawaiian dried beef—pictured left, flanked alongside bowls of kalua pig and poi).
Guy's take on Hawaiian food:
Apparently, Highway Inn was one of Fieri's first experiences with Hawaiian food. The verdict? "He seemed to really like it," says Highway Inn owner Regina Toguchi. "Then again, our food is good."
94-226 Leoku St., Waipahu, (808) 677-4345
Broadcast dates have not been set for Diners, Drive-Ins and Dives' Hawaii-filmed segments. We'll let you know when they're on the Food Network schedule as soon as we do.